Joseph Gordon-Levitt Talks About His Passion: HitRecord's Collaboration with Logic
Band Together with Logic
Photo by Matt Winkelmeyer/Getty Images for SXSW
Music
Features
Joseph Gordon-Levitt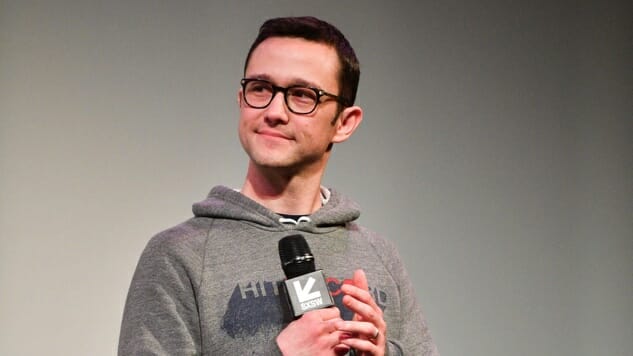 It's not a competition. It's a collaboration.
That's the spirit behind the latest TV special from Joseph Gordon-Levitt and his HitRecord community, airing now on YouTube. He enlisted Platinum-selling rapper Logic to collaborate on a new song with ordinary people from around the world.
Gordon-Levitt founded the HitRecord platform with his brother Dan 15 years ago, inviting his fans to collaborate on his own creative projects. When they opened the platform to allow the community to upload their own works, he was surprised to find collaboration came naturally. Now with the help of its more than 700,000 members, HitRecord has commercially released a host of projects from animated shorts to books and music and an Emmy-winning eponymous TV show.
For Band Together with Logic, that community has expanded once again. Gordon-Levitt joined Logic on stage at Madison Square Garden to announce the collaborative song. Logic laid down a basic track with a handful of lines, calling it "Do What You Love." And the community took it from there. Members would upload individual instrumental tracks that others could mix into a bigger sound. Logic listened to three very different mixes and started pulling out different tracks to make something completely new. Then they flew 21 different contributors from around the world to Los Angeles to hear the finished product—and to surprise them by making a music video together.
Gordon-Levitt joined me for a discussion at the Paste backyard studio in Austin, Texas, during SXSW, along with five of the contributors who were in town for the premiere: Ariea Bastami (vocals); Marybeth Kern (woodwinds); Luciano Nascimento, (marching snare drum); Lamar Jones (vocals); and Josh Driskell (piano). "Some of the folks here have been part of the HitRecord community for a long time," he said, "but some folks came because of Logic."
Among the 21 contributors were accomplished musicians, but others had never done anything on this scale before. Seventeen-year-old Driskell composed a piano line on a $5 app on his phone that was key to the finished product. "I played middle-school band, percussion," he said. "But if I'm being honest, I was not that great at it. I could have just left it at that because I didn't do band in high school and could have just quit music right then. But it was just the fact that I like creating music from scratch rather than just playing something someone else had made."
Inspired by a YouTube interview with one of Logic's producers, he taught himself online, practicing every day for six months. By the time he uploaded his first track to HitRecord, he had a classical composer in the community convinced he must be classically trained. That user incorporated it into a big string section, and Logic pulled it into the final selection.
For Gordon-Levitt, despite blockbuster Hollywood roles and continuous acting offers, he's feeling the pull of the HitRecord community. "People are like, 'Why are you spending all your time doing this other thing when you could be doing this or that in Hollywood,'" he said. "But it doesn't feel the same to me. Hollywood is great, and I'm very, very grateful to have been able to participate in all the Hollywood things I've done and I've been able to continue to do, but it doesn't feel the same as this. And that feeling is just really special to me."
Kern agreed. "I'm a professional musician," she said, "and my whole life is just auditions and being competitive, even if it's your friend playing saxophone. And I come to HitRecord because it's not a competition, and it just feels good, like Joe was saying. I go on there to just truly create and to feed my soul."
Like an episode of American Idol or one if its many network competitors, the 49-minute special tells the stories of some of the musicians involved. But there's a sense of celebration that comes through when you see someone like Bastami first hear his voice pop up on the final track and jump up off the couch. "There's this very looming ambiguity," he recalled of that moment. "We're all talking to each other. It's like seven in the morning. Everyone's tired, but everyone's just alert off adrenaline. I'm like, 'I don't know what they're going to use of my verse. They could literally use an ad-lib of me—Yeah!—And then when I hear my verse, I'm like, 'There's no way this is actually happening.' It was so surreal."
Gordon-Levitt recognizes that online communities can be toxic, but has been struck by the way collaboration has led to users encouraging one another. "I'm still a firm believer that there's genuine and productive connectivity that can happen online," he said. "It depends on what your incentives are. If your incentive is, like on some places on the internet, get as much attention as you can even if it means knocking other people down. On HitRecord, we like to try to make different incentives. What can we make together? Not by knocking each other down but by working in collaboration. That's what this show is all about. That's what the place is all about. And it makes a feeling that I've come to really cherish in my life."
He hopes this is just the first of many episodes. "Logic did it so amazingly," he said. "And I'm sure that other artists would use the platform in other ways that I'd be fascinated to see."
Listen to The Paste Podcast episode 1, featuring Joseph Gordon-Levitt:
Watch the Paste Studio interview with Joseph Gordon-Levitt: