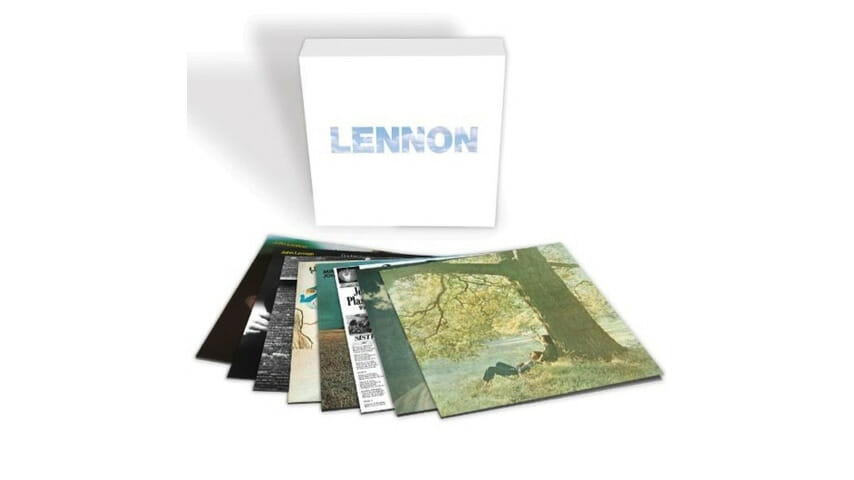 John Lennon never wrote an autobiography. But given that he said of his songwriting "I like to write about me, 'cause I know me," the new Lennon vinyl box neatly serves as a memoir of his last decade. And while it doesn't feature all of his solo recordings, Lennon does contain what might be called the "core collection." What's most striking, if you listen to the albums in chronological order, is how determined Lennon was to find a brand new direction for each record; he certainly wasn't the kind of artist who found a winning formula and then stuck with it forever. If that makes his work erratic at times, it's also intriguing, keeping you guessing as to what he'll come up with next.
Nowhere is this contrast more evident than in the set's first three albums. John Lennon/Plastic Ono Band (1970) was Lennon's declaration of independence, a stark, somber work that's still disquieting to listen to. It's an album drenched in pain, from the opening primal screams of the first track, "Mother," to the chilling closer, "My Mummy's Dead," and has Lennon slamming the door on his previous incarnation, famously declaiming "I don't believe in Beatles" in "God."
But where John Lennon/Plastic Ono Band is almost avant garde in its minimalism, Imagine (1971) is lushly melodic. It's Lennon's best-known album, largely because of the utopian themed title track, which his wife Yoko Ono called "John's dream for the world." It's still too controversial for some; Cee Lo Green couldn't bear to sing the line "And no religion too" when he performed the song during a New Year's Eve show in 2011, instead changing it to "And all religion's true," showing how completely he missed the point. The flip side to that utopia is the anger that runs throughout the album, as Lennon attacks his former partner, Paul McCartney ("How Do You Sleep"), hypocrites and phonies ("Crippled Inside," "Gimme Some Truth"), and even himself (admitting to his abusiveness in "Jealous Guy"). But the mood is tempered by the delicate "Oh My Love" and the delightful joyousness of "Oh Yoko!"
It was a winning mix that gave Lennon his biggest solo success during his lifetime. So it seemed an act of perversity when Lennon and Ono decided to swing into full-on sloganeering mode for Some Time in New York City (1972). Though it's an inconsistent work, it's not without merit; "New York City" is a nice slice-of-life portrait of Lennon's new home, "Woman is the Nigger of the World" is still one of the all-time great feminist anthems, and the closing track, Ono's "We're All Water" is a rollicking delight. Ono's "Don't Worry Kyoko" is a highlight of the album's live disc, a searing piece of proto-punk.
But the album failed to even reach the Top 40. A chastened Lennon returned with Mind Games (1973), which, being more grounded in melody, was like Imagine Part 2, but with weaker songs. Like "Tight A$"—a pleasant enough rocker, but overall rather slight. Then came the wilderness years, when Lennon split from Ono and decamped to Los Angeles with a new girlfriend. Wall and Bridges (1974) has a sorrowful nod to his old love ("Bless You"), a happier song addressed to the new love ("Surprise Surprise [Sweet Bird of Paradox]"), and a sprightly bit of fun with Elton John ("Whatever Gets You Through the Night"). But there's still plenty of emotional turmoil, as can be seen in the song titles: "Going Down on Love," "Scared," and "Nobody Loves You (When You're Down and Out)." Nonetheless, it still has more bite than Mind Games.
Reunited with Ono, Lennon finally finished the record he'd gone to LA to make, the covers album Rock 'n' Roll. It feels a bit over-produced—you'd like to hear more stripped-down arrangements—but Lennon's love of the music that inspired him is evident. Then came a five-year sabbatical until Double Fantasy (1980). Prior to Lennon's death, reviews of the album were mixed, with Lennon criticized for sounding too complacent (conversely, Ono's songs were finally seen as being hip). But as a depiction of a relationship (the two alternate songs throughout the album), it's hardly starry-eyed. There's discord in songs like Lennon's "I'm Losing You" and Ono's "I'm Moving On," the romantic vibe of "Woman" is mitigated in that it's yet another of Lennon's apologies for his abusive behavior ("I never meant to cause you sorrow or pain"), and the optimism of Ono's "Hard Times Are Over" is qualified by the song's tag line: "over, for a while." The posthumously released Milk and Honey (1984) provides a poignant coda, Lennon's demos revealing he was certainly getting his sea legs back. "Nobody Told Me" takes an energetic look at his eternal restlessness, while "I Don't Want to Face It" neatly punctures his own hypocrisy; a line like "You want to save humanity/but it's people that you just can't stand" cuts to the bone. To the last, Lennon never hesitated to face his own weaknesses.
The raison d'être for this set is that aside from Imagine and Rock 'n' Roll, the other albums are out of print on vinyl. Now they're back (using the remastered mixes from the 2010 CD reissues) in luscious form, on 180-gram vinyl, and the packaging replicating all original artwork and extras, such as the postcard included in Imagine with a picture of Lennon holding the ears of a pig, meant to parody the cover art of McCartney's Ram, which showed the Cute One holding the ears of a ram. The cover of Rock 'n' Roll, a vintage black and white shot of a 20-year-old Lennon in Hamburg, Germany in 1961 is a gorgeous work of art in itself, not something you can fully appreciate on CD or your computer screen.
As a solo artist, Lennon started out strong, lost his way mid-decade, and seemed poised to reach new heights at the end. But through it all, his songs always managed to make his personal dreams, and struggles, have a universal resonance.