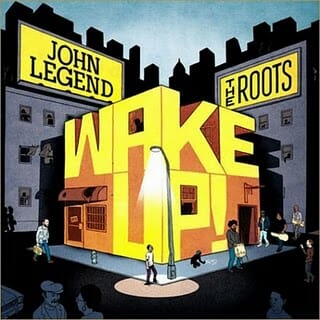 America's most malleable band shines up some old soul
More than two decades into their career, The Roots seem like they can do anything. They've got nine albums, all of them worthy; they can cover the Beatles and back up Ice Cube, Sting, Eminem and Jimmy Buffett; they can remix cable-news clips of Sarah Palin, angry goats and Whoopi Goldberg. Thanks to their effortless shape-shifting work on Late Night With Jimmy Fallon (remember when people thought that might be a bad idea?) they've spot-evolved into one of the country's most versatile bands.
With that pedigree, recording an album of funk/soul covers with John Legend—which they have done on Wake Up!—is a two-handed slam-dunk. The Roots have transformed themselves into a seemingly fully-formed and inordinately smooth R&B outfit here, and you wonder if they even had to practice. The album is organic and opulent, with a heart of diamonds and a lush sound to match, and it delivers exactly what is promises: consciousness-raising tracks from spiritual-soul all-stars (Marvin Gaye to Donny Hathaway to Nina Simone) drawn mostly from the '60s and '70s, with Legend contributing "Shine," the lone original.
The idea was born in the summer of 2008 when the nation's election-year politics had plunged into polemic discourse, but was then left to marinate so it would still resonate after the Obama honeymoon wore off. But Wake Up! is mostly apolitical: Legend and the Roots have stuck with more broad-appeal tracks here, like Harold Melvin and the Blue Notes' "Wake Up Everybody," Marvin Gaye's "Wholy Holy," Donny Hathaway's "Little Ghetto Boy." Opener "Hard Times" (originally by Baby Huey and the Babysitters) skews more towards The Roots' smooth but banging hip-hop, an organic but driving meld of Legend's copper vocals and Black Thought's tommy-gun flow. The charging "Compared to What" and the title track both follow that stick-and-move templates, both are highlights. But the detours hit too—check out Legend's haunted vocal work on a 12-minute psychedelic-rock version of Bill Withers' "I Can't Write Left Handed," a sneaky monster unlike much in the Roots catalog, and anything in Legend's. As Roots frontman ?uestlove writes in the liner notes, these are tracks that one generation would know as originals and another would recognize via sampling—and indeed, in a circle-of-life moment, the new take on Ernie Hines' "Our Generation" features a guest verse by CL Smooth, whose own 1992 track with Pete Rock, "Straighten It Out," sampled the Hines original.
What's considered "prolific" for many outfits is kind of like clock-punching for The Roots, and Wake Up! arrives just months after the band's darkly banging How I Got Over. It's tempting to look at the two records as cousins, the angel on one shoulder and the devil on the other. How I Got Over even opens with a dreamy track called "Walk Alone" and then wonders if God exists, while Wake Up! wraps up with a happy-ending rave-up of Nina Simone's "I Wish I Knew How It Would Feel To Be Free." But whether the duality was intentional is mostly immaterial. At this point, it's no trouble for the Roots—with Legend or anyone—to train their never-sharper skills on the dark side of the street at night, and on the sun-kissed side in the morning.