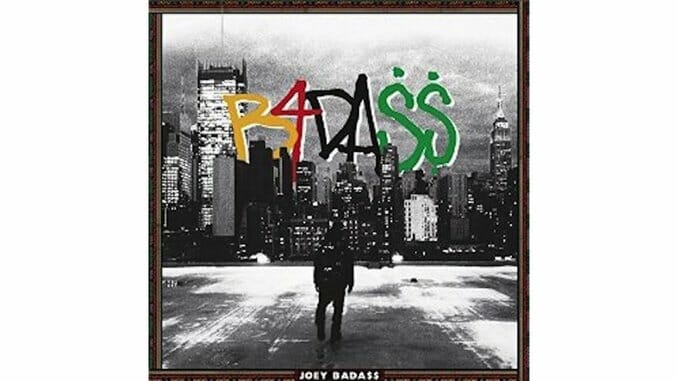 There is a scene in the movie Detention where one of the characters, Elliot Fink, is shown to have spent 20 years untouched by any fads, trends or crazes. "Keeping it real" incarnate, he spends 20 years wearing the same clothes, encased in his hoodie like a frozen Neanderthal in mammoth's wool. Though that same scene also mocks the people around him who were continually influenced by fads, Fink's life is that one that ends up looking the most ridiculous, the most alien.
Since the release of his debut mixtape, 1999, Brooklyn rapper Joey Bada$$ has been an alien among his peers. Donning a hoodie embroidered with the trademarks of '90s hip hop—boom-baps and impressive raps—he has cultivated a style that embodies '90s hip hop through and through, a stark contrast to the present-oriented music of most young (and old) rappers. But unlike Elliot Fink or the many previous rappers who have proudly worn this hoodie of authenticity, Joey Bad$$ seems to be self-conscious about his fashion sense. B4.DA.$$, (pronounced "before da money"), his debut album, embodies that ambivalence, featuring the young rapper alternately embracing and discarding his hoodie.
Admittedly, it does fit well. "Big Dusty," the album's first single, is a vicious and grimy exercise in lyricism and performance. Joey, who has seemingly limitless flows, approaches the somber instrumental with pure menace, snarling out dizzying rhymes with cold-blooded conviction. Though he falters during the bridge, which dryly rehashes Jay-Z's famous line, "Men lie, Women lie. Numbers don't," by that time the strength of the verses have already made their mark. On "Christ Conscious" he brings that same ruthlessness, barking out grating rhymes despite the instrumental's jazzy undertones.
But rapping well, even exceptionally well, also proves to be a liability. On "Paper Trail$," a DJ Premier-produced song that's presented as a reflection on money and the troubles it brings, Joey stumbles around, rapping aimlessly until the abrupt and disjointed hook, "They say money is the root of all evil/ I say money is the route of all people/ Cause we all follow paper trails, paper trails/ And everybody gotta pay they bills, pay they bills." Here, his focus on clever boasts betrays him, quickly turning his money troubles into a lyrical clinic that is neither catchy nor coherent. His reference to "C.R.E.A.M." toward the end of the song is completely empty, with the cash and the world it allegedly "ruins" (Joey makes a slight modification to the original definition of "C.R.E.A.M") not even described, let alone evoked.
That same emptiness is found on "No. 99," a militant song with a catchy call-and-response chorus. Joey directs his energy toward the police, which is completely justified for any black male living or raised in Brooklyn (and America at large), but again, cleverness obscures his agenda, resulting in generic insults to a group that he probably has very specific reasons for hating. These underdeveloped songs expose the holes in the hoodie of authenticity, the flaws in the underground axiom that good rapping necessarily produces good music.
Joey is at his best when he turns inward, exploring feelings rather than fashions. On "Escape 120," the album's highlight, he retreats into the music, spacing out his words, stretching out his voice. Admitting that he is outside of his comfort zone, he embraces the aery soundscape of the drum 'n' bass instrumental, finding fresher ways to express himself. In the chorus he describes the song as an "ode to the worst of my days," and he's right because it is powerfully melancholy, but he's also wrong because it's clearly a product of what was musically a good day.
The dreamy track "Piece of Mind" is also a product of a good day, though its content is similarly dreary. Speaking to an incarcerated friend, he reflects on how uncertain life can be, noting that like the "Goodfellas," he is capable of both terrible and wonderful things. What sells the song is not this idea, but Joey's genuine uncertainty about where he stands. Despite a promising rap career, he truly believes that his life is unpredictable, and not in a hopeful way. The tragedy of that belief is muted, but poignant.
Ultimately, B4.DA.$$ is a lackluster album with little appeal beyond its dry technical flourish and fleeting moments of vulnerability. Joey Bada$$ has reached the snowy peaks of polished, word-warping rapping, but he still dwells in the lowlands of songwriting. This is not necessarily a bad thing. In fact, for '90s hip-hop fetishists who view the Elliot Fink predicament as the highest form of honor, Joey's circumstances are ideal. But tucked within its crevices and its bonus tracks ("Teach Me" in particular), B4.DA.$$ shows that Joey himself yearns for new heights, altitudes that require more than just a hoodie.