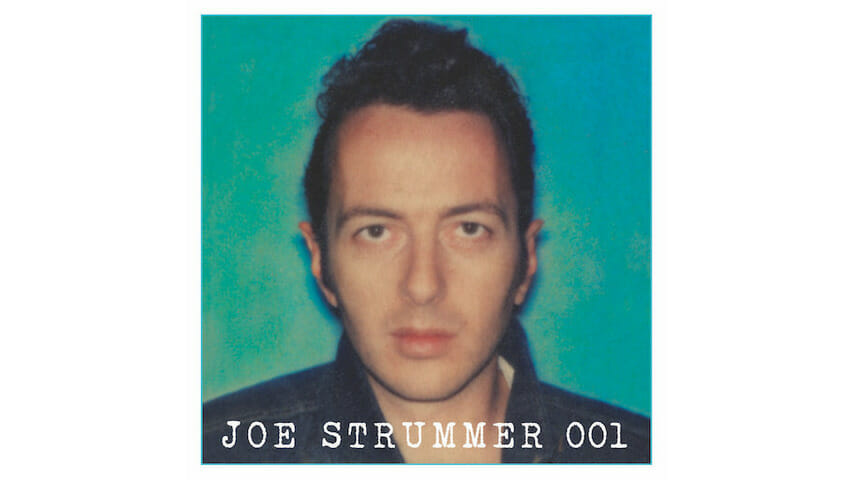 As a member of The Clash Joe Strummer was a punk-rock pioneer with a fondness for reggae. But co-founding one of the most important bands of the past 50 years has, understandably, overshadowed the full breadth of Strummer's musical interests. His career outside the Clash included forays into rockabilly, folk-rock, African music and Spanish Civil War songs. Joe Strummer 001 offers a sampling of it all.
Part best-of compilation, part rarities collection, 001 gathers 35 songs (in the vinyl boxed set format) spanning nearly three decades, from Strummer's pre-Clash pub-rock band the 101ers through soundtrack work he did in the '80s to songs released after his unexpected death in December 2002. Among them are demos and previously unreleased material, part of a massive cache that Strummer had squirreled away in sheds in his backyard. With more than 20,000 items in what has become the Joe Strummer Archive, the title of this set suggests there's plenty more to come.
What's here is an excellent start. This collection gives a sense of the scope of Strummer's career, and the passion with which he pursued it. Over the years, and through various musical incarnations, he never sounded less than joyful about what he was doing. He's ready to rumble on opener "Letsgetabitrockin," from the 101ers, which barrels along on a tumult of guitars and a lean rhythm. Later, Strummer pushes the beat a little on a more subdued acoustic demo from 1975 of the same song, as if he's imagining the churning full-band arrangement to come. He sings with exhilaration over a booming mix of drums and guitar on "Love Kills," the title track from the 1986 biopic Sid and Nancy; takes on a tone of wonderment as he threads his voice through hand drums and African chanting on "Sandpaper Blues"; and lets loose with scruffy, melodic abandon on the taut "Coma Girl," from Streetcore, his posthumous 2003 release with the Mescaleros. Even on an aching "Redemption Song" with Johnny Cash, from Cash's 2003 Unearthed boxed set, Strummer strikes a balance between worldweary and triumphant.
Strummer and Jimmy Cliff, the ska and reggae legend, are a natural pairing on "Over the Border," from Cliff's 2003 album Fantastic Plastic People. And Strummer builds on the Clash's "Spanish Bombs" with jittery banjo and a vaguely Iberian tint on "15th Brigade"—his take on "Viva la Quince Brigada," sung by Spanish Republicans in their fight against the fascists during the Spanish Civil War.
The second half of 001 is given over to demos and previously unreleased tracks, many of which are illuminating. "Czechoslovak Song/Where Is England" from 1983 rides a slow, heavy dub rhythm that bears only a vague resemblance to the song it morphed into: the Clash's synth-laced single "This Is England." The boxed set version of 001 also includes a more fully formed demo of "This Is England" from 1984, with gruff vocals and without the synths. The grungy blues "Crying on 23rd" and the countrified "2 Bullets," soaked in pedal steel guitar, are outtakes from Sid and Nancy, and both feature Strummer's former Clash bandmate Mick Jones on bass.
As fun as the older stuff is, one of the latter-day unreleased tracks is a standout. Strummer recorded "London Is Burning" in 2002 with the Mescaleros, then reworked it into "Burnin' Streets" for Streetcore. The version here is faster, punchier and more evocative: "London is burning / Don't tell the queen," he sings to set the scene. It would have been one of the best songs on Streetcore; instead, it's an unexpected gem tucked away toward the bottom of the tracklist here. It's a reminder of just how good Strummer could be, and makes you wonder what more he would have done had a congenital heart defect not felled him at 50. The consolation is knowing how much more material remains to be heard, and hoping there are more songs in the archives that are as good as the ones here.
Listen to a 1984 interview with Joe Strummer via the Paste vault below.