Joe Henry: Finding Spirituality in the Sound
The singer-songwriter on tapping his well of inspiration and learning from his son as much as raising him.
Photo by Glen Hansard
Music
Features
Joe Henry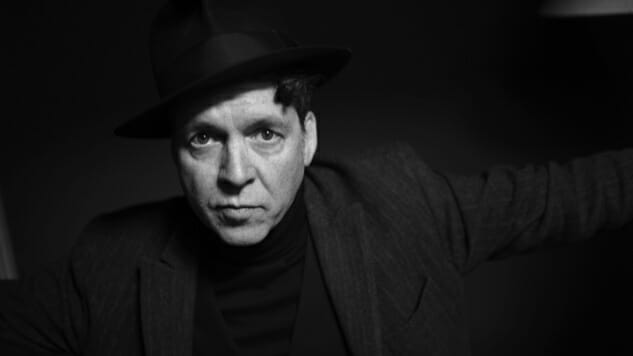 As with Leonard Cohen or Tom Waits, the lyrics of Joe Henry stand on their own, like these lines from "Dark Is Light Enough" off his latest album Thrum:
I know fact from fiction, know they are the same / two sides of believing in the singing of God's name / that knows itself in hunger, the never-ending fight / the kiss that lives between us where the dark keeps all the light."
But Henry's music—a distinctive blend of jazz and folk, smoky and pastoral—fits the words perfectly. The band he's assembled for Thrum includes his son Levon Henry on saxophone, clarinet—and whistling. We talked to the 56-year-old North Carolina native about making Thrum, his upcoming tour and turning his 30-year recording career into a family affair.
Paste: This is by my count your 14th record.
Joe Henry: That's my count too.
So when the songs of Thrum started coming to you, how did you want to approach this particular batch of songs differently than you have in the past?
"I grew up understanding that a certain attitude of Southern Christianity was my parents' emotional vocabulary before they understood the world and their place within it. I was invited to adopt that as my own point-of-view as well, but I decided even at a very young age that that's not how it works for me—that what they got from Christianity was what I got from music."
You have to understand that for me it's not so much about having an idea and imposing it. I don't have a concept as I'm writing and then writing songs that might meet me there. At a certain point I'm writing songs and throwing them onto a pile. At some moment I understand that there's a number of them that are sharing vocabulary, emotional weather and intention. And when I recognize that there are three, four, five songs that are inter-related in a way—sometimes I can articulate how I think they are and sometimes it's a more instinctive understanding. And then I kind of listen to what I think they need to thrive. At some point as I'm working and I'm writing the remaining songs I think I need for this complete movie, I just hear in an instant when I hear what I think the record feels and sounds like. It's like a struck bell, and I understand that I've heard it. Then I have to go back and say, "If that's what this record feels and sounds like, this thing that I've heard go off in my head, who needs to be in the room to help me find it and articulate that?" I'm just really listening to the intention of the music, and in the case of Thrum, I just heard that songs needed to be treated, that these weren't supposed to be high-fidelity documentation of live performances, but these live performances needed things to happen. And I just tried to keep listening until I understood how it worked.
Listening to the album, the lyrics and the sound have a very Wendell Barry feel—you've got a lot of imagery of both nature and religion. I know you grew up in a religious home in the South. Did you find those religious concepts creeping into a natural world, or were these really more about the ideas of faith and mercy with lines like "'salvation' meaning nothing but consumed'" or "my disappeared redeemer's lost believer"? Are those elements of religion parts of what the songs are about are you just using those terms to color what the songs are actually about?
That's a good question. I'm sure the answer is yes to both options you offered me. I was raised by deeply religious people, but they were not the kind of people to browbeat anybody with their faith. I grew up understanding that a certain attitude of Southern Christianity was my parents' emotional vocabulary before they understood the world and their place within it. I was invited to adopt that as my own point-of-view as well, but I decided even at a very young age that that's not how it works for me—that what they got from Christianity was what I got from music, which was understanding my relationship to something bigger than I was and something sacred. And sacred, not meaning something precious or limiting, but sacred as things that we honor and devote ourselves to. So, yes, that imagery is part of the vocabulary is what I was taught when I learned to speak in the most fundamental ways as a young person. And I use that imagery to paint whoever I might the same way as using imagery of the natural world. Just by its nature it doesn't insist that you have this point-of-view versus that one. You use that imagery to speak however you want to. And I use that imagery to say whatever I need to not out of fidelity to any kind of institutional religion of any sort. That's the lens that I was given to look through. I can still decide where to point my lens. Religious imagery is just like American imagery, just like nature imagery. I come by it honestly; it's what I grew out of. But it doesn't contain my thinking, if that makes sense.
It does, absolutely.
I'm not writing about religion. I am writing about a character's relationship with what they perceive to be the divine and to what is sacred and what isn't.
The other thing I noticed is that ghosts appear quite a few times throughout these songs. Is that something that has consciously hit you?
No, it's just something I recognize as showing up in my songs all the time. It's nothing that I consciously decide in advance. When a ghost appears as an image in a song, I recognize after the fact that it's not that I have a fear of encountering the spirits of the dead. The ways in which we're all forever haunted by many of the aspects of the lives that we lead, whether it's people lost to us through circumstance or opportunity. There are ghosts around us all the time whether we name them or not.
When you decided whom to have in the studio, one of the decisions was to invite your son Levon to play the woodwinds on the album. How have you enjoyed having him be a part of this thing you do?
Henry: I don't have the words to discuss how enriching it is for me to have him be part of what I do. But he's not just there because of the accident of his birth. I mean he is in that that's how our paths have crossed. But he does something musically that I don't know anybody else who does. And it's not just me who thinks so. Bill Frisell is a fan of his. He works with Meshell Ndegeocello. He's played with Jason Moran and Allen Toussaint. Others besides me recognize that there's a unique way he approaches music. I don't know any other reed player who's as steeped in jazz vocabulary as he is and yet is also really, really devoted to old-time folk music and country/blues music. So when I'm putting songs in front of him that are very folky in their architecture, he understands very well as a reed player, that while you might not think of a bass clarinet playing on something that stylistically sounds like it could come out of Rev. Jerry Davis, except that Levon approaches every song in his path as: how do you score this moment? What can I do from this chair that illuminates this character or this story? That's a really rare thing for someone to play the instruments that he plays knowing how to abstract things when it's appropriate, knowing how to provide something that's inherently lyrical and beautiful if that's appropriate and understanding the difference. Someone who both understands the alchemy of Ornette Coleman and understands the alchemy of Robert Johnson, I'd be hunting that person down however I could. Fortunately for me, it's like what Tom Waits says about his own son who plays drums in his band: "Sometimes you're better off just growing your own."
And you've gotten to play with Ornette Coleman. Listening to Levon, it seems like that's a definite point of influence for him. I'm sure growing up around that was definitely a factor. His playing on the album—and I was just listening to your recent Paste session as well—it's remarkable that his playing is one of the first things you notice on this album.
Watch to Joe Henry's recent performance at the Paste Studio, with his son Levon on reeds:
Levon comes from that place very honestly. I played all kinds of stuff for him growing up, but I never sat him down and said, "This is the stuff that should matter to you over this other music." He just naturally gravitated around sixth or seventh grade to be a big jazz listener. Really it began in earnest with Lester Young and Hank Mobly. He was a tenor player primarily and so roads are going to lead to Sonny and to Coltrane and on and on. But it was a very natural language for them. You play Ornette for some people, for example, and you have to walk them through why it's not as difficult as they've been told it's supposed to be for them. And they miss the joy in what Ornette invariably offered because they'd already been told it's supposed to be difficult music. When Levon heard that playing at a very young age, he understood completely where it came from. It made perfect sense to him, how it worked and why it worked on him. These are things you can't insist that people take on. But lucky for me, he heard that in a very natural way and he purchased that vocabulary very authentically.
The full band is about to embark on a tour, starting in your home state of North Carolina, which you left long ago. What's it like to return there?
I moved from there in late 1965. It's a big factor of my growing up because both my parents were natives of Charlotte, as am I. And my dad, working for the auto industry, accepted a transfer early on, while all his siblings stayed where they grew up. My dad pulled us out of that orbit and we grew up not where all my cousins and aunts and uncles had come of age. But as a result, because both sets of grandparents were still in the area, every summer and every Christmas of my upbringing we went back there until I was probably 15 and I realized I was allowed to say no. So that part of the country was still a big part of my formation, even though I was resist it to it at a point. I was not proud of my Southern heritage, what I knew about it. But it is a part of my DNA; I understand that very well. And I feel it when I go back to North Carolina. I understand that place and it's gratifying to go back there in my present incarnation.
What does 2018 look like for you? You've done a variety of projects in the past from producing others to writing and working on your own music.
I'll be touring the UK beginning in late January. Thankfully I always have a few production projects asking for my time, and I'm juggling some of those projects for the later spring when I'm back from tour. I always feel like I shouldn't be telegraphing potential work that's not confirmed. But I'm fortunate that there's some chatter on the wire and a few ideas on the table.
Joe Henry Tour Dates
Dec 2 – Durham, NC @ Baldwin Theater (performing Thrum start to finish)
Dec 3 – Charleston, WV @ Mountain Stage
Dec 4 – Sellersville, PA @ Sellersville Theater (with Special Guest Rose Cousins)
Dec 5 – Vienna, VA @ Jammin' Java (with Special Guest Rose Cousins)
Dec 7 – Boston, MA @ City Winery (with Special Guest Rose Cousins)
Dec 8 – New York, NY @ Le Poisson Rouge (with Special Guest Rose Cousins)
Dec 9 – Woodstock, NY @ Levon Helm Studios (with Special Guest Rose Cousins)
Jan 13 – Los Angeles, LA @ The Sanctuary at Pico Union