Happy Birthday, Joe Cocker! Hear His 1970 Live Cover of The Beatles' "With a Little Help From My Friends"
Photo by Central Press/Getty
Music
Features
Joe Cocker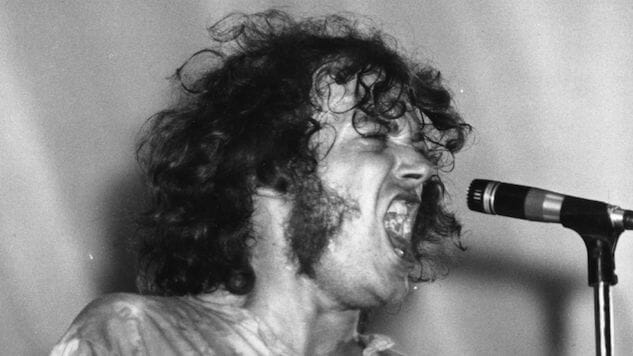 Soulful English rock 'n' roll vocalist Joe Cocker would have turned 75 today. Cocker was unparalleled when it came to his rough-throated, immediately recognizable vocals and his erratic live shows, and his raspy pipes have frequently placed him on lists of the best vocalists of all time.
Cocker rose to prominence after his performance at Woodstock in 1969, which included his now-famous rendition of The Beatles' "With a Little Help From My Friends." His cover was also included in the 1970 Academy Award-winning documentary Woodstock, which gave him a considerable boost in notoriety. Paste named Cocker's "out-of-his-mind" Woodstock performance of the song as the 12th best Beatles cover of all time. Cocker released his debut album in 1969, which was titled With a Little Help From My Friends and also featured a studio version of the cover.
After a relentless gigging in 1969 in conjunction with his first two albums, Cocker's tour slate expanded well into 1970. Cocker was supposed to have time off from touring, only for his management to book him for an additional 52 shows across 48 days. For the grueling tour, Cocker recruited Leon Russell as the musical director, who brought in an impressive group of backing musicians: Chris Stainton (The Grease Band), Chuck Blackwell (Taj Mahal), Carl Radle and Jim Gordon (Derek and the Dominoes) and future Rolling Stones horn section, Bobby Keys and Jim Price.
On April 26, 1970, Cocker performed at San Francisco's Fillmore West alongside this extensive band, and his setlist included four Beatles covers, most notably his hit "With a Little Help From My Friends." With a host of backing singers and a band this large, Cocker's performance of the tune sounds biblical and possibly just as moving as his Woodstock rendition.
Listen to Joe Cocker perform "With a Little Help From My Friends" live in 1970 below.