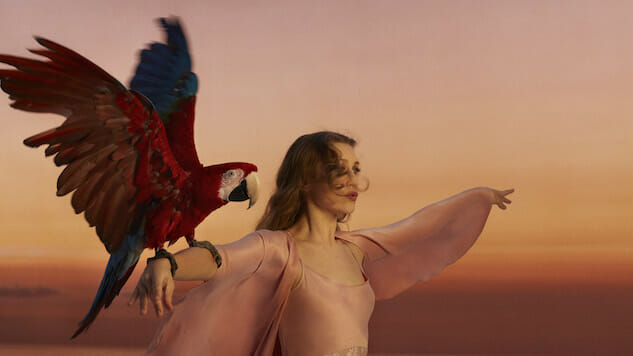 Everyone's favorite shrewd, harp-strumming and -slinging lyricist Joanna Newsom has added new California dates to her "Strings/Keys Incident" Tour.
The upcoming tour marks Newsom's first time on the road since touring in support of 2016's Divers, and will feature intimate, unaccompanied performances by Newsom on both harp and piano.
Tickets will go on sale Friday, May 31, at 1 p.m. ET, barring the Carmel, Calif., date, which goes on sale on June 28.
For those of you dying for an evening with Ms. Newsom, the tour dates (with the newer dates in bold) are as follows:
Joanna Newsom Tour Dates:
September
06 – Philadelphia, Pa. @ Kimmel Center
07 – Philadelphia, Pa. @ Kimmel Center
09 – New York, N.Y. @ El Teatro at El Museo del Barrio
10 – New York, N.Y. @ El Teatro at El Museo del Barrio
11 – New York, N.Y. @ El Teatro at El Museo del Barrio
12 – New York, N.Y. @ El Teatro at El Museo del Barrio
13 – New York, N.Y. @ El Teatro at El Museo del Barrio
14 – New York, N.Y. @ El Teatro at El Museo del Barrio
15 – New York, N.Y. @ El Teatro at El Museo del Barrio
October
07 – Chicago, Ill. @ Thalia Hall
08 – Chicago, Ill. @ Thalia Hall
09 – Chicago, Ill. @ Thalia Hall
10 – Chicago, Ill. @ Thalia Hall
12 – Milwaukee, Wis. @ Irish Cultural and Heritage Center
13 – Milwaukee, Wis. @ Irish Cultural and Heritage Center
November
22 – Carmel, Calif. @ Sunset Cultural Center *
25 – San Francisco, Calif. @ Herbst Theatre
26 – San Francisco, Calif. @ Herbst Theatre
December
10 – Los Angeles, Calif. @ Hollywood Legion Theater
11 – Los Angeles, Calif. @ Hollywood Legion Theater
12 – Los Angeles, Calif. @ Hollywood Legion Theater
(* – on sale June 28)