Joan Shelley Announces New Album Like the River Loves the Sea, Releases Single "Cycle"
Photo by Amber Estes Thienemen
Music
News
Joan Shelley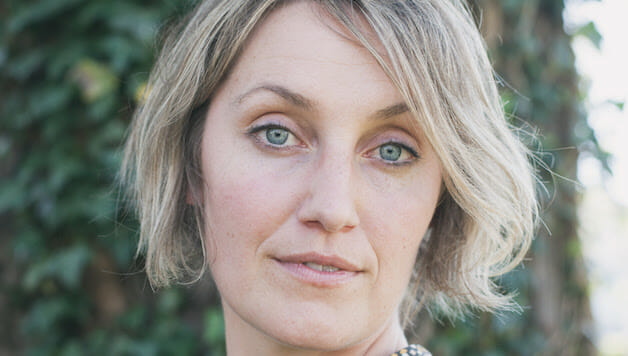 Louisville-based singer-songwriter Joan Shelley has released a new single, "Cycle," and announced her forthcoming album Like the River Loves the Sea.
Acoustically mellow, "Cycle" stays in the lane of Shelley's normal folk music. Touching on the vocal and lyrical nuances of Joni Mitchell, as well as the folk undertones of Gillian Welch, Shelley's sweetly soft vocals mixed with the wistful melody and building strings of the song are a match made in heaven.
The song is the second taste of music from Like the River Loves the Sea. The first, "Coming Down For You," still finds Shelley diving into her singer-songwriter ways, but the track is sonically a bit bigger and less stripped-back than "Cycle."
Out Aug. 30 via No Quarter Records, Like the River Loves the Sea was recorded in only five days in Reykjavik, Iceland, and all 12 songs were written by Shelley. Following her 2017 self-titled album, Like the River Loves the Sea illustrates the ethos of love and comfort throughout nature.
"The best music would be a conversation with the divine that has seen all of it, or with the oldest trees that have witnessed the whole human story. These songs are partly that conversation, at times through the lens of lovers," Shelley says in a statement. "They are also a longing cry born of all the dividing; a call across the slowly spreading ocean. Primarily, Like The River Loves The Sea is built as a haven for overstimulated heads in uncertain times."
Accompanying the album's release, Shelley is embarking on a major U.S. tour, which begins in Kentucky in September and ends in Chicago in December.
Watch the video for Shelley's "Cycle" below and revisit her 2017 Paste Studio session beneath that. You can also find the album art and tracklist for Like the River Loves the Sea further down.
Like the River Loves the Sea Tracklist:
01. Haven
02. Coming Down For You
03. Teal
04. Cycle
05. When What It Is
06. The Fading
07. The Sway
08. Awake
09. Stay All Night
10. Tell Me Something
11. High On The Mountain
12. Any Day Now
Like the River Loves the Sea Album Art: