Happy Birthday "Little Wing": Comparing Live Recordings by Hendrix, Clapton and Vaughan
Listen to exclusive tapes of the three guitar gods playing Hendrix's classic ballad.
Music
Features
Jimi Hendrix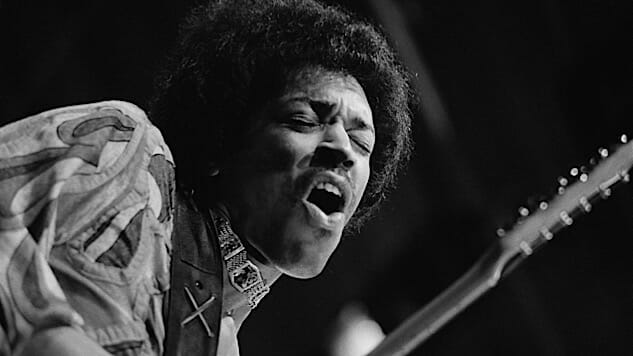 Very few songs in the pop-music canon sound like no other. Jimi Hendrix's "Little Wing," recorded 50 years ago, is one of them. Loose and relaxed, like it was made up on the spot, "Little Wing" has a lilting beauty that's both simple and sublime.
The song, one of only two cuts off Hendrix's 1967 Axis: Bold as Love album that made it into his concert repertoire (the other being "Spanish Castle Magic"), has attracted guitarists since its release, and the Paste vault offers us a chance to compare and contrast its creator at the peak of his powers on Oct. 12, 1968, with covers by two of his most prominent acolytes: Eric Clapton and Stevie Ray Vaughan.
The Clapton version we find is with Derek and the Dominos at the Filmore East in New York, recorded about two years later, on Oct. 23, 1970—less than a month after Hendrix's sudden death. Vaughan's performance, an instrumental, was recorded almost exactly 13 years later in Philadelphia, on Oct. 20, 1983, at Ripley's Music Hall.
Hendrix's version, recorded at San Francisco's Winterland, is slightly slowed down and captures the unrehearsed vibe on the recording. But of course that guitar intro is instantly recognizable. Interestingly, the vocal is the strength of this performance, with Hendrix's voice always running neck and neck with his lyric-writing as overlooked strengths. He captures the sadness at the center of the song, which he described best:
"'Little Wing' is like one of these beautiful girls that come around sometimes. You ride into town for the drinks and parties and so forth. You play your gig. And these beautiful girls come around and really entertain you. You do actually fall in love with them because that's the only love you can have. It's not always the physical thing of, 'Oh, there's one over there…' It's not one of those scenes. They actually tell you something. 'Little Wing' was a very sweet girl that came around that gave me her whole life and more if I wanted it. And me with my crazy ass couldn't get it together."
When I'm sad, she comes to me
With a thousand smiles, she gives to me free
It's alright, she says, it's alright
Take anything you want from me
Anything
Fly on, little wing
Clapton's version is faster, louder and, to quote a movie, incendiary. Bobby Whitlock's lush organ populates the background, as do his soulful backing vocals. You can hear that Clapton is more about the soloing than was Hendrix, and he creates something unforgettable here.
According to Harry Shapiro in Eric Clapton: Lost in the Blues, Hendrix never could convince Clapton to become more rhythmic in his playing. Clapton revered virtuosity with his instrument. But Hendrix's view of playing was rooted more in his early career working with soul bands. Ironically, it's Clapton's version of "Little Wing" that is not only searing but soulful. Much of this is due to the inclusion of the organ but most courtesy of Whitlock's harmonizing, which overshadows Clapton's vocal but to great effect. It captures far more fully the sadness that Hendrix described about himself, the singer of the song, rather than its "band aid" subject. Of course, Clapton quite possibly was inspired by Hendrix's recent death. But either way, the result is one of his greatest artistic achievements.
Stevie Ray Vaughan's instrumental is more loyal to the improvisational phase that dominated the last couple of years of Hendrix's career. After opening in thrilling fashion, it becomes a looser jam. It even features guitar effects that Hendrix embraced but Clapton generally rejected in favor of an unvarnished, clean sound. At about the 4:20 mark, Vaughan briefly ventures into blues, showing just how versatile this timeless melody is. After a long journey attempting to make the song his own, but never quite succeeding, he brings it back home to its original form with exciting suddenness.
While each version of "Little Wing" evokes the signature sounds of its respective guitar god, Clapton's emerges as the most powerful and moving. In fact, Clapton does here with 'Little Wing' what Hendrix accomplished with Bob Dylan's "All Along The Watchtower": somehow elevating an artist he revered—but, in this case, as a posthumous tribute.