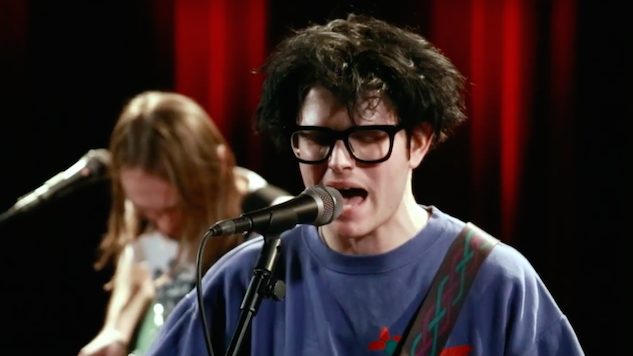 After signing with Wichita Recordings last year—home to Cloud Nothings, American Football and more—British rockers Indoor Pets (previously known as Get Inuit) are currently gearing up to release their debut album, Be Content, out on March 8.
Their first American headline show took place at New York City's Mercury Lounge this past Monday and they have an upcoming show in Los Angeles at the Moroccan Lounge on Wednesday, Jan. 30. Before jetting off for their California show, Indoor Pets stopped by the Paste Studio to perform four songs from their debut album Be Content. The band performed stripped-down versions of "Hi," "The Mapping of Dandruff," "Being Strange" and "Teriyaki."
Indoor Pets caught our ear last year with the release of singles like "Hi" and "Being Strange," the latter of which Paste featured on our Daily Dose column. If you missed pop-punk's golden era or are feeling nostalgic for high-octane, bubblegum pop hooks and angsty lyrics sung in an unbelievable high pitch and dulcet tone, then Indoor Pets are your perfect match. Frontman Jamie Glass packs much more affable personality into his vocal delivery than your average indie rock dude, and his celebration of the weirdo underdog is downright inspiring.
Watch Indoor Pets' full Paste Studio session below.