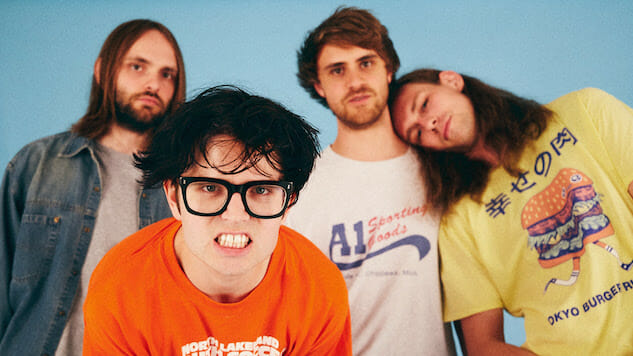 Daily Dose is your daily source for the song you absolutely, positively need to hear every day. Curated by the Paste Music Team.
After signing with indie label Wichita Recordings, home to Cloud Nothings, FIDLAR and others, British rockers Indoor Pets have announced their debut album, Be Content, out next year on Mar. 9. They've also shared a new single today (Oct. 24), "Being Strange," which follows the release of their previous single "Hi."
Previously known as Get Inuit, Indoor Pets sound like classic Weezer trying their hand at bubblegum pop, or Pixies dropping a pop-punk record. You'll be surprised to know that frontman Jamie Glass' voice isn't manipulated with autotune and he didn't suck helium from a balloon—those high-pitched harmonies are the real deal. If Indoor Pets were around in the '00s, "Being Strange" would've spread like wildfire in the U.S.—blasting out of car radios, shopping mall speakers and skate park boomboxes, and with a video all over MTV. That's not to say that Indoor Pets don't bring anything different to the table. You'd be hard pressed to find many bands naturally singing like Glass, unironically basking in candy-coated pop hooks while still shredding power chords.
Their debut album was co-produced by the band's guitarist James Simpson and Kristofer Harris, and mixed by Claudius Mittendorfer (Weezer, Parquet Courts). Indoor Pets are on tour in Europe and will play their first U.S. shows early next year in New York and Los Angeles, with more dates to be announced soon.
Watch the video for "Being Strange" below and preorder Be Content here. Check out the album artwork, tracklist and their upcoming North American tour dates further down.
Be Content Album Artwork: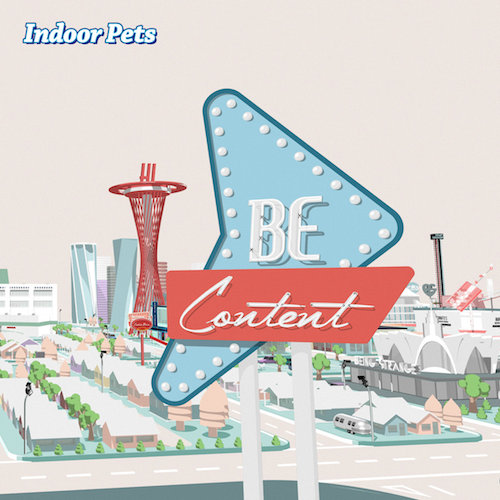 Be Content Tracklist:
01. Hi
02. Teriyaki
03. Thick
04. Spill (My Guts)
05. Pro Procrastinator
06. Couch
07. Heavy Thoughts
08. The Mapping Of Dandruff
09. Being Strange
10. Mean Heart
11. Good Enough
12. Barbiturates
13. Cutie Pie, I'm Bloated
14. My Amnesiac
Indoor Pets Tour Dates:
January
28 – New York, N.Y. @ Mercury Lounge
30 – Los Angeles, Calif. @ The Moroccan Lounge