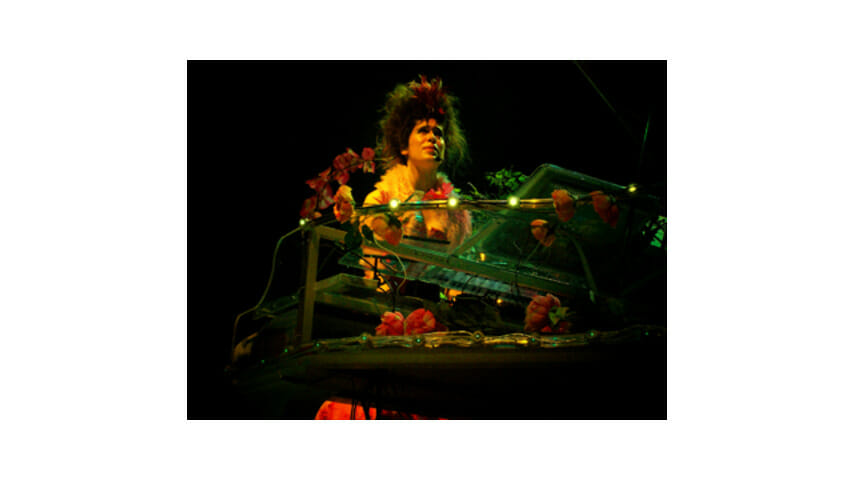 Inside Atlanta's Tabernacle, every surface—from columns to molding—boasts dizzying color arrangements and shapes ranging from the appropriate (clouds on the walls) to the unusual (circle-forming thick black stripes on the ceiling). The former church has stood on its own as a landmark for decades, but tonight's presence of Imogen Heap brings its ambiance into perfect order. Like the venue, Heap can best be described as a contradiction—densely-produced electronica with intimate lyrics packaged in an outlandish visual persona. Very few artists have been able to perform such a juggling act successfully, but judging by the enthusiasm of the nearly sold-out crowd, Heap has leaped over such boundaries effortlessly.
As a delicate synth murmur rumbled through the theater, Heap emerged resembling a character from A Midsummer Night's Dream—a sinewy, life-sized pixie with pink feathers and pink fur amid mounds of pink crinoline. The stage was equally flamboyant with pink flowers, light displays and '70s mod image projections. Playing her hand-held keyboard, she launched into the catchy, hip-hop influenced "I Am In Love With You." Foloowing with "Just For Now," her two opening acts, beat-boxer Kid Beyond and singer-songwriter Levi Weaver, joined her as part of a full band that also includes a bassist and percussionist. As they set up, Heap explained the intricacies of her technological nook just to the left of the stage. Consisting of a keyboard, computer and clear-glassed piano, the tutorial felt like a warning.
Although greatly enjoying the grander production style ("I have lots of things to remember up here," Heap commented.), the audience waited for her to connect with them. She opened up slightly as she sat down at the piano for a technically simple, but powerful rendition of "Let Go," which she originally recorded while with Frou Frou. Seeming to heed the song's advice, she proved far less distracted with equally exquisite versions of "Clear the Area" (backed solely by a horn) and the "The Walk."
Easily the best performance of the night, though, wass the wonderfully unconventional and ethereal "Hide and Seek" that came toward the end of the 15-song set. As Heap stood alone center-stage, with only her hand-held keyboard, the audience passionately sang every word forming one voice along with her digitized-but-beautiful delivery. The connection the audience craved emerged and, finally, they discovered the fairytale figure standing before them—a perfectionist very much concerned with presentation and diversity of sound who forgets, on occasion, to honor the organic nature of a concert experience. However, she is capable of transcending this handicap as evidenced by "Hide and Seek" as well as the evening's closer, "The Moment I Said It." When Imogen Heap frees herself from distraction and surrenders her need for control, the result is nothing short of mesmerizing.