Dancing To the Beat of the Living Dead: The Stooges' Raw Power at 50
Photo by Linda D. Robbins/Getty
Music
Features
Iggy Pop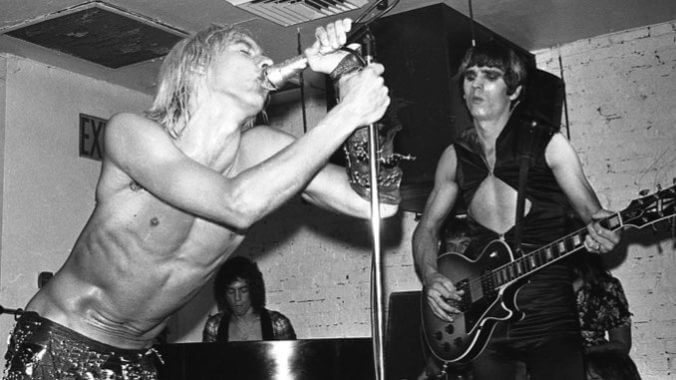 After The Velvet Underground & Nico and Marquee Moon, the Stooges' Raw Power is the most influential rock album ever recorded. It came out on a Wednesday, which feels odd now, though release days were much more lawless back then. The recording of Raw Power was a mess; touring for the album was even messier. By the time 1973 came around, the Stooges—or Iggy and the Stooges, or the Psychedelic Stooges—were pioneers, the definition of proto-punk. Peers like MC5 and the Sonics were excellent at making garage rock raucous, but they didn't abolish the foundations of musical presentation like the Stooges had. In retrospect, they were the blueprint of punk rock. And, under the leadership of Iggy Pop, the Stooges brought theatricality to rock 'n' roll that wasn't avant-garde or esoteric. Like a cauldron of blood, sex and anger, Raw Power is the antithesis of delicate. A monolith of brash.
There's a reason that the entire band graced the cover of The Stooges in 1969 but only Pop is featured on the cover of Raw Power four years later: By that point in their career, Pop was the muscle of the band, hence why they changed their name to Iggy and the Stooges. Original bassist Dave Alexander had bounced after Fun House in 1970, and James Williamson and Ron and Scott Asheton became set pieces behind Pop's kaleidoscope of chaos. Pop was the shirtless, psychotic wonder on stage, baring his toned-yet-scrawny torso to all of his disciples before transforming into some mythical kind of crucifixion. He won the favor of Miles Davis by puking on stage and dragging Geri Miller across the excrement. Later he'd arouse concert-goers in Cincinnati by tossing peanut butter on them. While touring for Raw Power, there was an incident where Pop got all carved up after falling on a table of glass while wading through the crowd. When he returned to the stage, every contortion he made with his body sprayed blood on fans. The story goes that medical staff tried to patch up the cuts with gaffer tape, but he almost bled out by the night's end.
Along with pulling his dick out on stage from time to time, Pop was a big fan of carving X's into his chest with shards from glass bottles. Dinah Shore would later ask him about it on her daytime talk show, to which Pop replied, "I've had treatment for that sort of thing." He often sought to provoke the people in attendance, begging them to throw beer bottles at his half-naked body or hurl vulgar heckles at him while singing. At the band's final show in 1974, he was pummeled with eggs and punches from the Scorpions, a Detroit biker gang. Self-flagellation was a part of the spectacle for Pop. In 1973, there was talk that he was going to kill himself live on stage at Madison Square Garden. When those rumors got to Andy Warhol, he rebuffed them, only to pose that Pop was going to commit suicide at the New York Academy of Music's New Years Eve gig instead. When Pop snorted a cocktail of coke and PCP, he tumbled around the stage, fell into the audience and arose from the pit with a peanut butter and jelly sandwich smeared against his chest, which bandmate Scott Thurston initially mistook for cut up flesh.
After the Stooges' first two records made no money, the band broke up and Pop quickly descended knee-deep into a debilitating heroin addiction. Around that time, Pop had signed with Columbia Records and was soon tasked with making a solo album with Williamson, a guitarist he met at a frat party show almost 10 years earlier and remained close with. But when Pop became dissatisfied with how the search for other players was going, he called upon the Asheton brothers. His debut record was postponed when the four guys decided to move forward as a Stooges' offshoot, dubbed as Iggy and the Stooges, who would soon make Raw Power. It'd be the only record the four musicians would make together, due significantly to the animosity between Williamson and Ron Asheton, who held a grudge against the former after reluctantly switching from lead guitar to bass. Raw Power would become, and remain, Pop's opus.
During the album's sessions in late 1972, Pop was doing everything himself, especially the mixing. The songs rocked, but his mixes were rough, as he struggled with how to make stereo recordings work. The instruments went through one channel while the vocals floated through another. This wasn't like the Velvet Underground's experimental success "The Gift," where the instrumental could be heard through one speaker and John Cale's words through the other. No, everything sounded like dogshit. That's how David Bowie ended up saving Raw Power. According to Pop, Bowie was one of the only people who saw the Stooges as something more than a rowdy band. He took Pop seriously as a songwriter, and thus was able to step in and try to recreate the frontman's vision, even if his version did come out less punchier than Pop's.
However, Pop was adamant that his own mix of "Search and Destroy" remain on the record, and Columbia Records gave him the greenlight. Bowie remixed the rest of the record, adding a beautiful echo effect to the guitar on "Gimme Danger" and gleaning more emphasis on the drums in "Your Pretty Face Is Going To Hell." "It's not a bad job that he did," Pop later said of Bowie's efforts. "I'm very proud of the eccentric, odd little record that came out." After saving Raw Power, Bowie would lose touch with Pop for more than a year, until after the dissolution of the Stooges. Pop checked himself into a neuropsychiatric ward at UCLA to kick his addiction and, while in a state of withdrawal, Bowie and Dennis Hopper showed up with bushels of cocaine for their incapacitated friend. The drugs never made it past Pop's medical team, but the visit did bring him and Bowie together again.
After the Thin White Duke recorded his best album, Station to Station, in a coke-riddled haze in 1975, he and Pop retreated to France and Munich together the next year to try and wean themselves off drugs. How long they were able to stay clean is unclear, but they did come away with Pop's first solo LP, The Idiot. Raw Power is a baseball bat swung at a choir of porcelain vases; primitive and ferocious. Pop calling the record eccentric is ironic in retrospect, as its textures don't even come close to comparing to the idiosyncrasy of The Idiot—an industrial, speculative project that conjured imagery of gothic city streets and the writing of Dostoevsky. Raw Power was much more shocking than the The Idiot. The former ditched the bluesy grooves of Fun House for unabashed noise at a time when rock was growing softer, while the latter found Pop writing lyrics in response to Bowie's instrumentations and would heavily influence bands like Joy Division.
The fact that the most mystical rockstar in the world employed his own otherworldly touch onto a roaring garage rock record that nobody cared about feels like folklore, but it's true. The Stooges, infamously, for their five years together, were grossly unloved by the masses. Critics loved Raw Power. Creem journalist Lester Bangs, who infamously first referred to the Stooges as "punk rock," praised the album for "the ferocious assertiveness of the lyrics" that were "at once slightly absurd and indicative of a confused, violently defensive stance that's been a rock tradition from the beginning." Bangs was right, but he was also horribly wrong. What Pop and the Stooges did on Raw Power was singular and remains just as such in 2023.
We know Pop can make an accessible rock song, because he did it on "The Passenger" in 1977 and again in 1986 on "Real Wild Child (Wild One)." When it came time to make Raw Power, he and his bandmates had no money and a bevy of drug problems. They could've played it safe and made a record that would chart for longer than three weeks at a peak of #183 on the Billboard Top 200. Instead, the Stooges chose to go bolder, fully feeding into a frenzy of lucid, debaucherous benders, finally making a record that matched the intensity, and ethos, of the live shows they'd been doing for years. But the record flopped and the band was eventually dropped by Columbia Records and MainMan Management after they blew a large sum of cash—loaned to them by their manager, Tony Defries—on copious amounts of drugs.
So how, after 50 years, has Raw Power been able to remain in the ears and hearts of so many? Well, without it, we wouldn't have bands like Sonic Youth, Blondie, Nirvana or the New York Dolls. The album grandfathered the purest iteration of punk rock that America has ever seen. Everything surrounding its inception and promotion, especially the absolute hell that Pop put himself through just to maintain the image of an absurd, unhinged frontman, feels unfathomable. Even today, in the year of our Lord, 2023 A.D., Pop is still rolling around shirtless on stage.
For a long time, Pop sported scars on his chest from the years of repeated mutilation. They have since faded and become a bygone. Thankfully, he's still playing the tunes, and, thankfully, we still have Raw Power to look back on. No other record made in my lifetime, or yours, or that of those who came before us, is more evocative of a nuclear finale. At the conclusion of "Death Trip," it wouldn't be far-fetched to assume that no instrument survived production, and that the band themselves went up in drug-addled flames. Because there are no comedowns on Raw Power; only hearts swollen with napalm, a magic touch and the hunger to turn destruction into a means for survival.
---
Matt Mitchell is Paste's assistant music editor, and a poet, essayist, and culture critic from Northeast Ohio. Find him on Twitter @matt_mitchell48.
Listen to an exclusive solo performance by Iggy Pop at the Agora Ballroom on March 21, 1977.