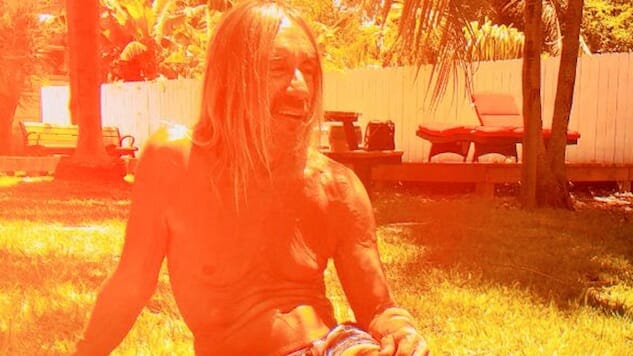 Iggy Pop shared a new single titled "James Bond" on Tuesday. The track opens with an infectious, deep bass line, highlights Pop's signature otherworldly baritone vocals, and features jangly electric guitar riffs and jazzy trumpet solos.
"James Bond" will appear on the punk-rock legend's forthcoming album, Free, which will be released on Sept. 6 via Loma Vista Recordings. Pop announced the release of his album earlier this month, and shared its somber, elusive title track.
"She wants to be your James Bond," Pop sings on the brighter new single. "She walks like him, talks like him too / She can suss out the spy, even if it's you."
Pop talked about the meaning of "James Bond" in a statement:
I don't know what she's up to exactly, but the tables seem to be turning, and she's taking over. Well, why not? I'll try anything once.
I've never had more fun singing a lyric. Faith's reading is so loaded, and Leron's production and trumpet along with the band swings like crazy.
"James Bond" puts Pop's vocal strengths on full display, and also features Robin Sherman (bass), Thomas Glass (drums), Ari Teitel (guitar), Faith Vern (vocals) and Leron Thomas (trumpet), as Pop mentioned.
"James Bond" and "Free" give listeners a glimpse of what Pop has in store on Free, which will be his first album release in three years, following 2016's Post Pop Depression.
Listen to "James Bond" below and check out a 1986 performance of Pop's classic track "Lust for Life" from the Paste archives further down.