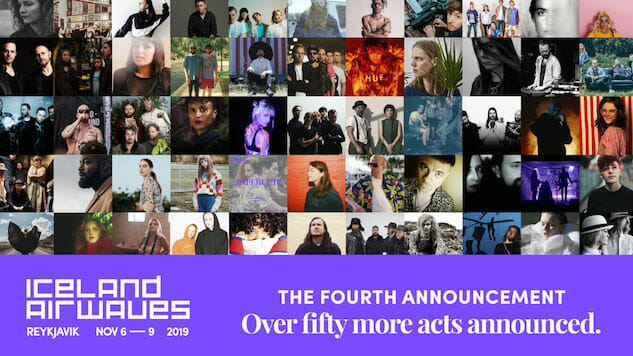 Iceland Airwaves is one of the world's premier music discovery festivals, and the annual event just unveiled the final wave of lineup additions for its 2019 edition. The festival returns to Reykjavík Nov. 6-9, and the lineup will feature over 130 bands from 20 countries, all while achieving a 50/50 artist gender balance for the second year in a row.
This last addition of performers features Los Angeles-based musician and activist Madame Gandhi, Australian DJ and producer Nina Las Vegas, Rebecca Taylor's (Slow Club) new project Self Esteem, and many more. The list of previously announced artists includes Of Monsters and Men, Whitney, Shame, Mac DeMarco, Orville Peck, Girl in Red, John Grant and others.
Iceland Airwaves began in 1999 as a one-off festival in an airplane hangar, but it now welcomes more than 6,000 visitors from around 60 countries each year. Past performers have included Florence + The Machine, James Blake, Sufjan Stevens, Björk, The Flaming Lips, The Knife and Kraftwerk.
Paste has covered the festival sporadically since its inception, and will be in attendance this year to cover all the sights and sounds of Iceland Airwaves 2019. Stay tuned for social media coverage, plus our lineup picks and a full recap, and revisit our 2016 guide to the festival here.
View the full lineup below (new additions are in bold). You can purchase festival tickets here, and travel packages from the U.S., Canada, U.K. and Europe via Icelandair here.
International Acts
Mac DeMarco (CA)
Whitney (US)
John Grant (US)
Booka Shade (DE)
Orville Peck (CA)
Shame (UK)
Anna of the North (NO)
Ivan Dorn (UA)
Georgia (UK)
Cautious Clay (US)
Boy Azooga (UK)
Snapped Ankles (UK)
girl in red (NO)
Nina Las Vegas (AU)
Penelope Isles (UK)
Pip Blom (NL)
Blanco White (UK)
Free Love (UK)
Warmduscher (UK)
sir Was (SE)
Pottery (CA)
Niklas Paschburg (DE)
Just Mustard (IE)
Madame Gandhi (US)
The Garrys (CA)
Bessie Turner (UK)
Self Esteem (UK)
Alexandra Stréliski (CA)
Alyona Alyona (UA)
Amanda Tenfjord (NO)
Glass Museum (BE)
W.H. Lung (UK)
Lydmor (DK)
The Howl & The Hum (UK)
Broen (NO)
Bashar Murad (PS)
The Holy (FI)
Tiny Ruins (NZ)
Siobhan Wilson (UK)
Murkage Dave (UK)
Detalji (FI)
Velvet Negroni (US)
Siv Jakobsen (NO)
Otha (NO)
Æ Mak (IE)
MÖRK (HU)
Pillow Queens (IE)
Stars & Rabbit (ID)
Pattesutter (SE)
Hachiku (AU)
Akkan (ES)
ROE (IE)
Loah (IE)
Sons (BE)
Jesse Markin (FI)
Helge (NL)
Pink Milk (SE)
Pavvla (ES)
Brett Newski (US)
Sturle Dagsland (DK)
:PAPERCUTZ (PT)
Ayelle (UK)
Baseball Gregg (IT)
Joe & The Shitboys (FO)
Icelandic Acts
Of Monsters and Men
Vök
Hatari
Hjaltalín
Agent Fresco
Pétur Ben
Mammút
Sólstafir
Biggi Veira (Gus Gus DJ Set)
JFDR
Seabear
Une Misère
Hugar
Kælan Mikla
Jóipé X Króli
Ólöf Arnalds
GDRN
GKR
Auður
Bríet
Between Mountains
Sycamore Tree
Rokky
Aron Can
Auðn
Axel Flóvent
Berndsen
Sykur
aYia
Ceasetone
Daði Freyr
Elín Sif
Frid
Gabriel Ólafs
Grísalappalísa
Ragnar Zolberg
Sunna Fridjons
Hildur
Hrím
Hausar
Una Stef & The SP 74
IamHelgi
Matthildur
Moses Hightower
Bagdad Brothers
Teitur Magnússon
Cell7
Ateria
EinarIndra
Svavar Knútur
Tómas Welding
Una Schram
Warmland
Blóðmör
Sunna Margrét
Krabba Mane
Mighty Bear
Ásta
Konfekt
SIGGY
Krassasig
Morpholith
Valborg Ólafs
KUL
Kontinuum
Flammeus
Flekar