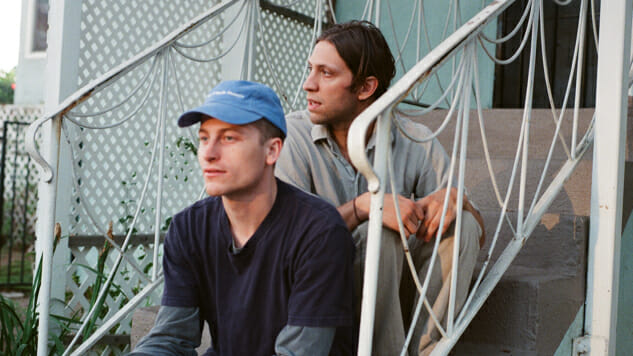 Daily Dose is your daily source for the song you absolutely, positively need to hear every day. Curated by the Paste Music Team.
Austin indie-pop duo Hovvdy are back with another new single from their forthcoming album Heavy Lifter, out next Friday, Oct. 18, on Double Double Whammy. The bittersweet "Mr. Lee" is the fourth song Charlie Martin and Will Taylor have offered as a preview of their third LP, following "Cathedral," "Ruin (My Ride)" and "So Brite."
"Mr. Lee" is unique among Hovvdy tracks in that it entirely eschews the duo's characteristic acoustic guitars, leading instead with reverb-ridden piano, unobtrusive horns and an upbeat, shuffling drum loop. Meanwhile, the lyrics provide a quietly moving character study: "Been a while since / he had a kiss / Been a while since / he's seen his friends / He misses all their different voices / all their opinions." The song's namesake is a lonely man who finds human connection wherever he can, savoring the little moments and experiences others often overlook. "Mr. Lee," like Mr. Rogers, is a small oasis of kindness in a cruel world, reminding us of the innate beauty of being alive.
"I imagined Mr. Lee on the Mississippi gulf coast where my dad and grandparents live. It's a beautiful and sad place," Martin explains in a statement. "The song is about how significant very small things can be. Sometimes it takes courage to be kind to yourself. It's really amazing when little events coalesce and all the sudden you feel better, awake, a vibrant piece of the bigger picture."
Hovvdy begin their fall U.S. tour in their Texas hometown, playing a Heavy Lifter record release show there Oct. 18.
Listen to "Mr. Lee" and revisit Hovvdy's 2018 Paste Studio session below, and find their tour dates further down.
Hovvdy Tour Dates:
October
18 – Austin, Texas @ Barracuda ^
19 – Dallas, Texas @ Ruins +
23 – New Orleans, La. @ Gasa Gasa ^ #
25 – Carrboro, N.C. @ Cat's Cradle (Back Room) ^ #
26 – Philadelphia, Pa. @ First Unitarian Church ^ #
27 – Allston, Mass. @ Great Scott ^ #
29 – Brooklyn, N.Y. @ Rough Trade ^ #
30 – Washington, D.C. @ Songbyrd ^ #
31 – Richmond, Va. @ The Camel ^ #
November
01 – Charlotte, N.C. @ Snug Harbor ^ #
02 – Atlanta, Ga. @ The Earl ^ #
03 – Memphis, Tenn. @ The Hi Tone Cafe ^ #
14 – San Diego, Calif. @ SPACE ^ ~
15 – Los Angeles, Calif. @ Moroccan Lounge ^ ~
16 – San Francisco, Calif. @ Cafe Du Nord ^ ~
18 – Seattle, Wash. @ Barboza ^ ~
19 – Vancouver, B.C. @ Biltmore Cabaret ^ ~
21 – Portland, Ore. @ Mississippi Studios ^ ~
23 – Salt Lake City, Utah @ Kilby Court ^ ~
24 – Denver, Colo. @ Larimer Lounge ^ ~
(^ w/ Caroline Says)
(+ w/ Christelle Bofale)
(# w/ Kevin Krauter)
(~ w/ Nick Dorian)