Hovvdy Try Expanding Their Sound on Heavy Lifter
Texas band's third LP dilutes the power of duo Charlie Martin and Will Taylor
Music
Reviews
Hovvdy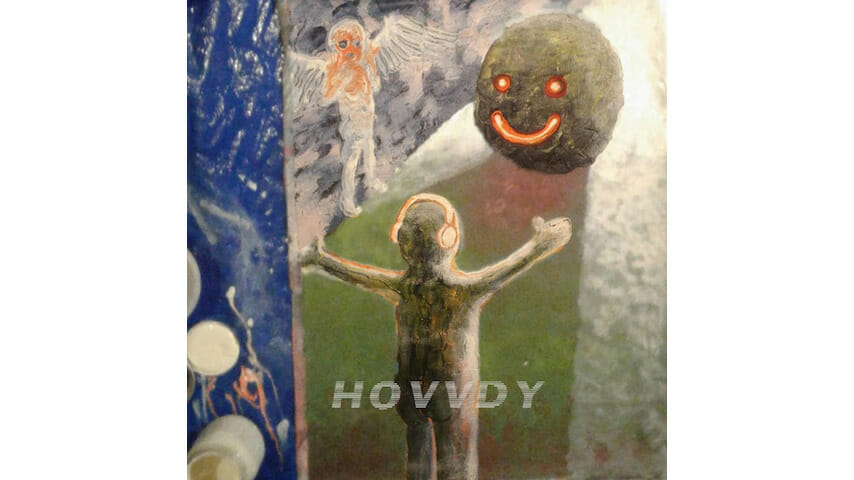 After two albums of subdued, somber guitar-based songs, Texas duo Hovvdy were keen to open up their sound on third LP, Heavy Lifter. Turns out that's a mixed blessing.
The main issue is that Charlie Martin and Will Taylor write their subtly yearning songs in such a way that augmenting them is trickier than simply adding snappy drums or bright piano. For one thing, tinkering with the instrumentation tends to dilute the interplay between the two musicians, which can be hypnotic enough that you find yourself holding your breath so as not to break the spell. It's true that Hovvdy's previous albums often featured other musicians and instruments, but always in a way that enhanced the distinctive sound that Martin and Taylor had dialed in together. Their excellent 2018 release, Cranberry, was often downbeat, but the songs were enveloping—the arrangements had a minimalist feel that always seemed just right, with judicious use of percussion and other accents that left room for the music to breathe.
That's not always the case on Heavy Lifter, where they undertake the delicate task of unstitching their carefully constructed tunes to make room for new elements. Sometimes it works, and sometimes the results just feel lumpy or grafted on. Things start out well enough on opener "1999," a mournful take on stalled-out life in a small town that revolves around a steady, measured acoustic guitar line and dusty vocals, adorned with contrasting guitar licks that add texture. "Lifted" is mostly just a spare, close-miked acoustic guitar and ghostly vocal harmonies, with faint accents from steel guitar and distant piano, and the effect is devastating in its simplicity.
But not enough of Heavy Lifter has the same impact. By expanding their musical palette, Martin and Taylor leave less room for themselves, resulting in songs that are competent but nondescript. The strummy "Cathedral" gets a lift midway through when drums kick in, and Martin and Taylor sing intertwining vocals, but the drums follow the same pattern as the guitar, resulting in a plodding uniformity in the musical dynamics of the track. The same holds true on "Watergun," where twinkling piano and brushed drums never vary, and the only sense of movement comes in what sounds like a woodwind part layered behind the rest of the arrangement during an instrumental break.
Sometimes Hovvdy go for straight-up experimentation. "Tool" opens with a distorted voice sputtering like some nefarious machine, à la Tom Waits on "Big in Japan," followed by vocals saturated in so much AutoTune that it distracts from the comped piano chords and taut rhythm in the background. Elsewhere, the poppy "Mr. Lee" sounds like it could have come from some other band altogether: A canned drumbeat with echoes of a boom-bap hip-hop feel frames luminous piano chords and a buoyant guitar lick, though the sunny arrangement is deceptive—the lyrics depict a solitary man moving through what sounds like a lonely day.
The song is a startling change of aesthetics, an outlier on an album that overall tries to be more expansive. That said, sensibilities can change, and musicians aren't bound by what they've done before. But at the same time, evolution can't be forced, and experimentation sometimes goes awry, which is perhaps what happened with Heavy Lifter. It's the work of musicians who are not content to merely repeat themselves—a noble impulse—but one that didn't pan out in a compelling way this time around.