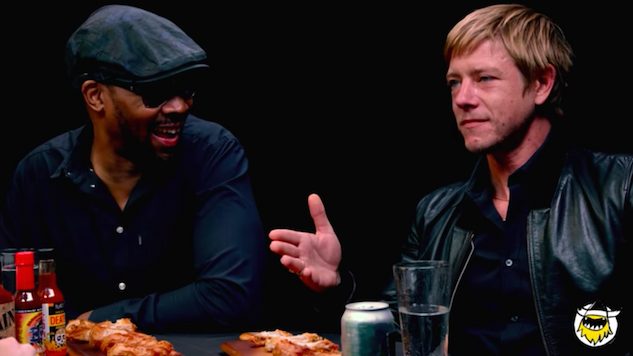 First We Feast's YouTube series Hot Ones draws millions of eyeballs, and its subversion of the typical celebrity interview as well as its integration of competition and foodie culture are what make the show so gripping. The show's host and producer, Sean Evans, interviews celebrities over a meal of spicy chicken wings. It sounds like a pretty simple concept, but the kicker is that each of the 10 chicken wings placed in front of Evans and his guest get increasingly spicier as the show goes on, making for some intense, natural and, oftentimes, hilarious reactions. While each guest's mouth is flaming with a level of heat that's incredibly hard to tame, they try to prod through and answer Evans' surprisingly well-researched and thought-provoking questions as well as they can. Some of the show's most interesting and hilarious episodes have included musicians like Interpol's Paul Banks and Wu-Tang Clan's RZA, more recent guests like Lil Yachty and Anderson .Paak as well as DJ Khaled, who recorded a now-infamous episode. As big fans of Hot Ones, we at Paste decided to rank our 10 favorite musician episodes of this borderline-dangerous, hot sauce-laced chat show. Some of these musicians fared better than others—in fact, DJ Khaled and Lil Yachty don't quite make it through all 10 wings—but each episode is explosively entertaining and a much-welcomed departure from typical bloated, gossipy celebrity video interviews.
10. RZA and Paul Banks
RZA of Wu-Tang Clan and Paul Banks of Interpol came on the show to promote their 2016 collaboration album, Anything But Words, released under the name Bankz and Steelz. Some Hot Ones purists might call foul due to the fact that the pair only had to tackle five wings instead of ten, but they still had to face some unfathomably hot wings. The duo talked long games of chess, what it takes to become a Wu-Tang member and how to avoid getting taken advantage of in the music industry. Though Banks talked RZA into appearing on the show, it was Banks who was tearing up and sweating while RZA sat back and took the punches like a champ.
9. John Mayer
John Mayer is a true citizen of the Internet. His tweets are pointless and wonderful (though, unfortunately, much less common this year), his Instagram stories always abuzz and his most recent music video just downright bizarre. So it was not-at-all surprising when his episode of Hot Ones, the most bizarrely wonderful series on YouTube, dropped in May of this year. Sean Evans and John Mayer are basically Internet kindred spirits. Their banter, about everything from Justin Bieber to Montana, is hilarious and snappy. Mayer is confident going into this very spicy episode ("I think I have the palate"), but by the end, he's questioning Evans' extremely tolerant tastebuds ("Your email address could be sean-don't-be-a-pussy@hotones.com"). They cap the episode with a ukulele duet about hot sauce and interviews that's cringeworthy thanks to Evans and, somehow, actually kind of good thanks to Mayer. —Ellen Johnson
8. DJ Khaled
If you're a fan of Hot Ones, then you're pretty well aware of the notorious DJ Khaled episode. The DJ and producer is already caught off guard by the heat after just one wing, and Evans expresses his worry that Khaled might not be able to finish. Two wings in, Khaled decides to switch wings with Evans as he's suspicious that his plate is hotter than the host's. After three wings, Khaled insists that he's not eating any more and ensures the audience he didn't give up, but Evans comically settles the score: "You kinda did." During the rest of the conversation, Khaled makes a confusing metaphor about door hinges and haters while patting himself on the back for even eating three wings despite his distaste for hot sauce. The interview gets a bit contentious, but there's never a dull moment.
7. Lil Yachty
Until the taping of this Hot Ones episode, Atlanta rapper Lil Yachty had never tried spicy chicken wings, or even hot sauce, ever before. When he does, it goes…well? "I feel like I'm burning all my tastebuds with a flame torch," he says, or, rather, gripes, at the episode's start. The following 24 minutes see Lil Yachty experiencing both surprise and pain at the increasing heat ("This is the devil's snack," he says upon tasting the level 68,000 sauce). At one point, he even looks close to tears and, at many points, he lets his tongue hang out. Thankfully, Lil Yachty makes it through the episode in one piece, and not only does he expand his palate, but he also clears the air on the phrase "Hotlanta" (no one says it anymore) and his on-air disagreements with Joe Budden. This episode is loads of fun, but only if you can bear the sight of another human in pain. —Ellen Johnson
6. Mac Demarco
Indie-rock rascal Mac DeMarco set his stomach issues aside to hop into the hot seat on Hot Ones last year while promoting his latest album, This Old Dog. His appearance is peppered with red flags in the early going: Mac reaches for the wrong (read: hottest) wing to start, shows signs of already feeling the heat on the second, and has his first sip of milk at only the halfway mark. But the "dirtbag life coach" keeps his cool and is just as charmingly idiosyncratic as you'd expect, defending Jar Jar Binks, and decrying IPAs and avocado toast on his way to a truly impressive performance. Despite literally crying by the ninth wing, Mac dumps a massive dab on the tenth, leaves next to nothing on the bone and then delivers a shockingly cogent argument for how best to find happiness, making both his mom (who's present in the Hot Ones studio) and his listeners proud. —Scott Russell
5. Post Malone
Say what you will about his creative output, but Post Malone is a magnetic personality, the Guy Fieri of music—his late-2016 Hot Ones appearance is proof. The rapper and autotune extraordinaire is friendly and funny (and more than halfway through one of several Bud Light tallboys) from the show's opening moments, demonstrating an earnestness and self-awareness you wouldn't expect from a rising pop star who was then opening for Justin Bieber on an arena tour—at one point he recalls not being allowed backstage at one of those shows, joking as security said, "Who's this homeless person?" "Postie" also recalls running into Usain Bolt in a London club and celebrating Toby Keith's birthday with Seal Team 6, name-checks Prince, Skyrim and Steve-O, belches endlessly and at one point offers to fix the wobbly Hot Ones table—in Malone's own words, it's a "good ass time" all around, boneless wings notwithstanding. —Scott Russell
4. Tenacious D
The comedy-rock duo of Jack Black and Kyle Gass (a.k.a. Tenacious D) might be pushing 50 and 60 respectively, but they appear spry in their ability to slay the hot chicken wing dragon (especially with their addition of Thai iced tea to relieve their flaming tongues). Fairly early on, Black's glasses start to fog up, and, later, they appear shaken and start to beg for mercy with Black asking, "Is this the most anyone has complained?" The duo discusses their influence on Kanye West, their most disastrous concert ever and Black's love of Josh Homme, and though they might have been overconfident in their spicy food tolerance, they close with a celebratory original tune with kazoos, a recorder, a ukulele and a tambourine.
3. Anderson .Paak
One of hip-hop's rising stars, Anderson .Paak came onto the show to promote his latest album Oxnard, and he opted for vegan nuggets over chicken wings. Evans and Anderson engage in a colorful discussion about his mishap-filled support slot with Beyoncé, his Baptist church upbringing, his covers of Coldplay, The Postal Service and Yeah Yeah Yeahs and singing Dr. Dre and Snoop Dogg songs in show-and-tell. At one point, Anderson shoves an entire nugget in his mouth in the spirit of playful, good ol' competition, impressing Evans and commenting, "I'm sick of these games bro." While he did need an almond milk refill, he fared extremely well—even singing a brief ode to each of the hot sauces at the conclusion of the episode.
2. Henry Rollins
If Henry Rollins, frontman of the legendary California hardcore punk Black Flag, seems to you like the kind of guy who can breeze right through a plate of spicy chicken wings, you'd be correct. He speaks candidly about his introspective tendencies, but he's unsurprisingly animated, making clever puns ("I'll be your wingman") and revealing his celebrity opinions with deafening silence when asked about Kanye West. The enigmatic Rollins answers questions on his travels, his support for Bernie Sanders, his love of cheese popcorn and Apocalypse Now, and why Iggy and the Stooges' Raw Power is the essential album of the American hard-rock canon. Apart from a few coughs and some lip pain, Rollins doesn't even flinch.
1. Jeff Goldblum
Though not best-known for his music, actor Jeff Goldblum stopped by the set of Hot Ones after releasing his debut album, The Capitol Studio Sessions, an ambitious jazz opus with the Mildred Snitzer Orchestra and appearances from Imelda May, Sarah Silverman, Haley Reinhart and more. Goldblum goes for the vegan chicken wings, but, somewhat shamefully for big fans of the show, elects to nibble over taking full bites. The highlights of the episode include Goldblum attempting to scat—improvised vocalizing of jazz mumbo jumbo—and discussing his reaction to young fans calling him "daddy." Even though he's definitely not a hot sauce heavyweight, this is a must-see for fans of Goldblum or Hot Ones. Goldblum's wisdom and chemistry with Evans is so natural and easily enjoyable as they shoot the breeze about fashion, last-minute changes to the Jurassic Park script and hip-hop artists who have namedropped Goldblum.