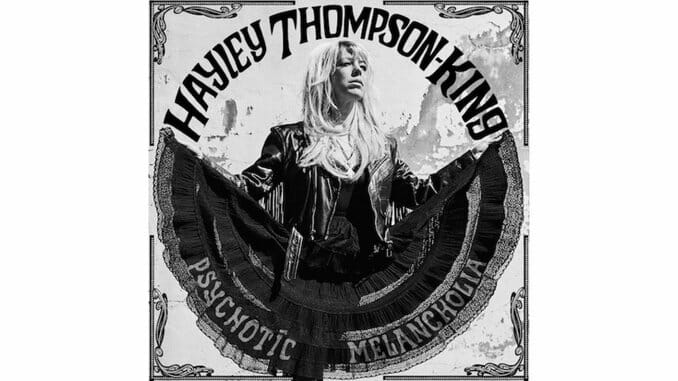 Hayley Thompson-King ought to be an artist for whom the doors of musical success will open magically. The one-time classical singer dipped her toes into the realms of roots-rock with her former band the Banditas, and lapped in the trippy thud of psych during her tenure in longtime Boston psych-rockers Major Stars. On her debut album Psychotic Melancholia—being released on her own label, Hard to Kill Records—Thompson-King generates a lot of noise from a traditional instrumental setup. Found within the fissures of her honky-tonk swagger are elements of rock's more dangerous cousins, as her vacillating vocal prowess easily shifts from songbird elegance to pissed-off shriek. Her songs often follow suit, and on Psychotic Melancholia, Thompson-King gathers all her riotous rock 'n' roll flavors and biblical criticism into one big, noisy bowl.
There is an overwhelming essence of roadhouse rock 'n' roll abandon on the swinging opener "Large Hall, Slow Decay," which explodes full-throttle with a searing guitar lead and a potent juke-joint shuffle. Thompson-King darts her crooked tongue in the song's raucous verses, singing, "So go on, light your candle/Kneel down and say a prayer for me/Cause your little fire ain't nothin I can't handle/And I never asked you to set me free." The song's break-up vibe doubles as an agnostic front that sets a template for other similarly secular, or otherwise anti-religious ravings on Psychotic Melancholia.
On probably the least bashful indication of Thompson-King's overarching war against false idolatry, "No Room For Jesus" finds Thompson-King and her band allowing their guitar attack to bloom widely, exploring way outside the Americana, country-rock vein into a psych-rock blitzkrieg. Thompson-King's vocal mix is very nearly peaked-out on songs with such savagery, with pops and fuzz pocked throughout these more intense tunes like badges of apathetic honor.
On Thompson-King's purported favorite track, "Dopesick," she comes through slightly more clear-eyed, despite the song's inherent, soporific imagery. Through the haze of post-binge clarity, Thompson-King regales the song with the psyche of someone shackled by the doldrums of a poisonous relationship, as she coos, "She don't let them see she's livin in hell most of the time/When does it begin to feel like you don't want to die?"
There's a palpable feminist roar to the record, and Psychotic Melancholia's critique of the Old Testament's focus on "wicked" women is given wide sonic strut on the garage-punk maelstrom "Lot's Wife." Here, Thompson-King howls, "You call me wicked woman cause you don't know my name/Well, he took me from your rib, so you and me we is the same," coaxing a vaguely bluesy shuffle from the din, and providing a fertile screaming ground for her elastic vocal calisthenics. Somehow, she has the ability to sound just as great in sentimental trill as she does in full blood-curdling scream. The former is best showcased on the dreamy "Soul Kisser," a mostly unadorned acoustic number, where Thompson-King takes on an operatic vibrato in the song's soaring chorus, as she sings "Are we Saturn?/Are we Jupiter?/Kill or be killed."
Thompson-King possesses a seemingly innate aptitude for dressing her lyrics with the grime and gristle of the hustle of life, and in doing so is able to address beauty and ugliness in sharp strokes of songcraft. The intellectual contingent of her writing aside, Psychotic Melancholia is a positively jaw-dropping exposition that celebrates the entire canon of rock 'n' roll's energy, and should be considered an upping of the ante on the gritty sonic real estate of garage, punk, country, and Americana, into some amalgam altogether more apt of Thompson-King's wondrous artistic aptitudes.