Hamilton National Tour Lives up to the Original
Photos by Joan Marcus, Courtesy of Broadway in Atlanta
Music
Reviews
Hamilton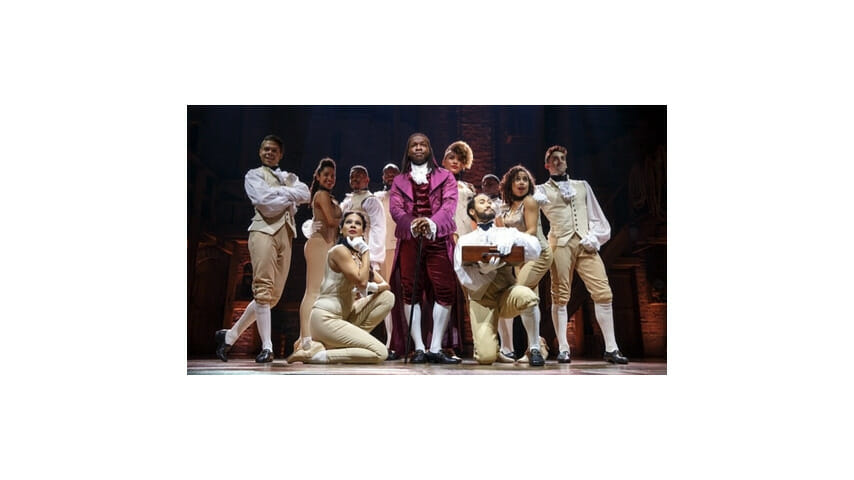 Two years ago, I stumbled into a Hamilton ticket for face value on Broadway after strolling by the Richard Rogers Theatre after work, just to soak up the atmosphere. My luck continued as the entire original cast performed that night, save for Jonathan Groff, who'd already left the show.
The Hamilton phenomenon, as I saw it, rested on three pillars:
1. The music—an original blend of hip-hop and more traditional Broadway show tunes—is, by itself, superb.
2. The story, already gripping in Ron Chernow's biography, translates wonderfully onto the stage following Alexander Hamilton's exciting rise to power during the very birth of our nation in Act 1 and turning into a gut-wrenching tragedy in the final 30 minutes.
3. That cast.
So while I knew that the national tour would be able to replicate those first two pillars, I was a little concerned about pillar #3 as I caught one of the first nights of its stop at Atlanta's Fox Theatre. How do you replace the charisma of Daveed Diggs as Lafayette/Jefferson, the voice of Leslie Odom Jr. as Burr, the rapid-fire grace of Renée Elise Goldsberry as Angelica Schuyler, the calming presence of Christopher Jackson as George Washington or the exuberant charm of creator and star Lin-Manuel Miranda?
The short answer is that you can't exactly. But you can make sure that their replacements bring something else to those roles that serve the story in different ways.
Beginning with Hamilton himself, Austin Scott's version demands to the be the center of attention with his earnest desperation and natural good looks with a voice to match. Chris De'Sean Lee, with perhaps the hardest shoes to fill, brings more humor—and better dance moves—to Jefferson. Nicholas Christopher's Aaron Burr may be more visibly annoyed and less sympathetic than Odom's, but that changes his dynamic with Hamilton in subtle and interesting ways. Sabrina Sloan's Angelica and Carvens Lissaint's Washington are impressively close approximations of their predecessors, and newcomer Julia K. Harriman is perhaps even better than Phillipa Soo at ripping out our hearts during "Burn" (blasphemy, I know).
The touring cast is by no means an improvement upon those the audience probably got to know intimately through the Broadway soundtrack. But the fact that more than a dozen different actors have played each of these roles now—whether in New York, London, Chicago or on tour—gives a depth of artistic choices to each new face. And while it's been two years since watching it the first time, I was struck last night by how beautiful the choreography has become with every member of the main cast and ensemble moving nearly non-stop (save, gloriously, for King George), aided by the two concentric turntables and an abundance of dancing talent.
What remains the same is just how powerful of a musical Hamilton is, and how those who only know it from the music are in for a treat when they see how much richer everything is on stage. The rollercoaster of emotions from "Helpless" to "Satisfied." The hilarity of every moment King George is present. The simple optimism of "Dear Theodosia." The spectacle of "What'd I Miss." The energy of both Cabinet Battles. The heat of "Say No to This." The devastating heartbreak and grace of "It's Quiet Uptown." And the tragic beauty of Hamilton's death scene, a gripping tone poem that begins the ending. It's gorgeous, gripping, tragic and hopeful. And it's still the best thing I've ever seen on a stage.