Gunman Kills Dozens at Las Vegas Music Festival
A crowd of approximately 22,000 people was gathered near the Mandalay Bay Hotel to watch singer Jason Aldean perform.
Photos: Getty Images
Music
News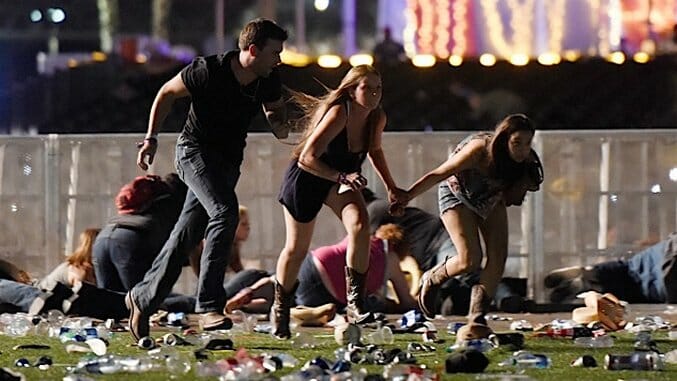 A lone gunman opened fire on a country music festival in Las Vegas Sunday night, killing at least 50 people and injuring more than 200 in the deadliest mass shooting in American history, according to the Las Vegas Metropolitan Police Department.
The shooter was later identified by police as 64-year-old Stephen Craig Paddock, a white
male from Mesquite, Nevada.
A crowd of approximately 22,000 people was gathered outdoors near the Mandalay Bay Resort and Casino to watch singer Jason Aldean perform the final slot at at the Route 91 Harvest Festival when gunfire began raining down from an elevated perch inside the hotel. Aldean stopped his performance as the sound of rapid-fire shots could be heard in the night. The crowd began to run as victims lay scattered around the festival grounds.
In harrowing video taken at the scene, shots can clearly be heard as Aldean performs. After a burst of bullet fire, Aldean stops and runs for the back of the stage. One festivalgoer can be heard asking, "What is that?"
Harrowing video of mass shooting during @Jason_Aldean set of #Route91Harvest Festival in #LasVegas. #MandalayBaypic.twitter.com/gaXgDBbZKV

— Evan Schreiber (@SchreiberEvan) October 2, 2017
Police traced the shooter to a room inside the Mandalay Bay Resort and Casino. Later, LVMPD Sheriff Joseph Lombardo told CNN, "We believe the individual killed himself."
According to the LVMPD, Paddock opened fire from his room on the 32nd floor of the Mandalay Bay Hotel at approximately 10:08 p.m, taking shots in quick bursts, going quiet, then firing again. The victims were across the street. SWAT officers responded to the call, forced their way through the hotel-room door, and found the suspect dead.
The Clark County Fire Department estimated that approximately 406 people were transported to area hospitals.
Those in the area who wish to help injured victims can donate blood. United Blood Services will start taking donations at 7 a.m. at two locations: 6930 W. Charleston in Las Vegas, and 601 Whitney Ranch Drive in Henderson, Nev.
After the shooting, Aldean addressed the tragedy.