SNL Slotting Greta Van Fleet Proves The Show's Music Direction is as Tone-Deaf as Ever
Really, SNL?
Photo by Emma McIntyre/Getty
Music
Features
Greta Van Fleet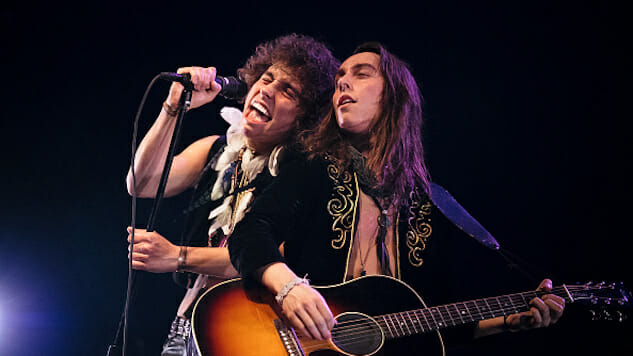 By now, you've probably formed an opinion about Greta Van Fleet, the controversial Michigan rock band made up of three brothers, Josh, Jake and Sam Kiszka, and their friend Danny Wagner. They've caught some (read: a whole lot of) flak for their Led Zeppelin-esque sound, which many would argue is nearly identical to the bluesy hard rock rendered by Robert Plant and co. Music critic Jeremy D. Larson wrote in a now-infamous Pitchfork review of their debut album, Anthem of the Peaceful Army, that "Greta Van Fleet sound like they did weed exactly once, called the cops, and tried to record a Led Zeppelin album before they arrested themselves." In a recent episode of the podcast Switched on Pop, hilariously titled "Stairway to Hell," Larson joins the hosts as they match the sounds and/or lyrics of each track on Anthem to a specific moment in the Zeppelin discography. The similarities are that apparent. All this, and Greta Van Fleet are the hottest thing in rock right now. They have a massive fanbase (apparent in more than 2 million Spotify listeners), a handful of Grammy nominations and a world tour that's selling out faster than you can say Kiszka.
I'm not here to try and change your mind about Greta Van Fleet. What you listen to is your own business, and I, like most tasked with writing about this issue, am still trying to work through what this band means for music in 2019. But I will say this much: Greta Van Fleet are not rock 'n' roll's saviors. They're riding in on a wave of Baby Boomer nostalgia, not reinventing guitar music, which is why yesterday's news of their booking as the first Saturday Night Live music guest of the year—for Rachel Brosnahan's Jan. 19 episode—was so disappointing.
Saturday Night Live is not necessarily the best barometer for musical forecasting—no one is looking to SNL for the next best thing in music, or even in comedy, these days—but their decision to slot Greta Van Fleet still feels like a new low. It would seem the stalwart sketch show is capitalizing on the controversy, and in doing so they're missing out on a great chance to highlight an actual original act, in rock or otherwise.
But Greta Van Fleet are original, you say! Their songs exist in an entirely different dimension from Zeppelin's, and we need them in order to restore real, honorable rock music to the charts! I'm not so sure. It's probably true that all art is derivative in some form or another, but GVF's—with its Plant-ish fantastical imagery, sweltering electric guitar and eerily familiar screams—is just a little too derivative to sit comfortably with this music fan, even as we remember Zeppelin themselves weren't entirely original, as they borrowed time and time again from black blues musicians. Working from that frame of mind, I'm merely attempting to acknowledge Saturday Night Live's myopia, not disavow Greta Van Fleet altogether.
SNL's status as a cultural touchstone fluctuates from season to season, cast to cast, election year to election year. And with that variation, their music direction wobbles, too. It seems the show's team mainly looks to the pop charts for which characters to cast, but, in sporadically occurring pleasant surprises, they bring up-and-coming artists to the stage. Season 42, which aired in 2016 and 2017, was especially good for hot new acts and genre diversity: Solange, A Tribe Called Quest, The xx, Sturgill Simpson and LCD Soundsystem were all welcomed to Studio 8H. With so much political chaos to work with, SNL were on a huge kick, and the show's music felt exciting and fresh. And season 43 was pretty good, too—rising stars like SZA and Dua Lipa showed up, as did industry titans like U2 and Nicki Minaj.
Read: Greta Van Fleet's Danny Wagner on His Band's Quick Rise to Stardom—and the Backlash
That brings us to the currently airing season 44, which has, so far, supplied the show's most tone-deaf music guest lineup in recent memory. The season kicked off in September with a weird-as-hell and totally unsurprising performance by Kanye West, plus a bonus MAGA rant, then continued to underwhelm with veteran guests like Paul Simon and Lil Wayne. The show did a good job in recruiting up-and-comers Maggie Rogers and Ella Mai to perform on the show, but all in all, it's been a fairly boring and expected schedule. The season's second half, which kicks off Jan. 19 with The Marvelous Mrs. Maisel's charming Brosnahan slated to host, presents a great opportunity to highlight more new bands, as the show has done so well in seasons past.
So why did it have to be Greta Van Fleet? If rock was what they were after, booking someone like Mitski or Sharon Van Etten wouldn't have been that radical—SNL has gone for indie artists before like Margo Price. That they chose Greta Van Fleet proves they're uninterested in the quality of the music they're showcasing and scarily out-of-touch. This is SNL showing their support for the most glorified rip-off in rock music and demanding that viewers tune into the controversy.
So, are we ready to embrace Greta Van Fleet? Should we all hang feathers from our ears and start collecting their vinyl? It would seem that, for popular culture, the answer is yes. But it still remains to be seen whether a larger ripple effect will ensue. I for one am not going to give up any of my money or streams for Greta Van Fleet, but you can be damn sure I'll be watching their next move.
And as for SNL, they must decide whether or not they want to be part of the broader American music conversation. With solid ratings, an established platform and a still relatively influential voice, the show has the opportunity to break artists and act as a yardstick in music—or do some damage. In season 44, after Greta Van Fleet, there's no where to go but up.
Watch Greta Van Fleet go record shopping with Paste back in 2017: