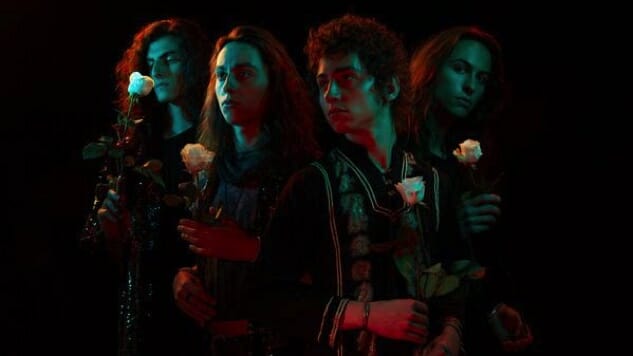 Greta Van Fleet was formed in Frankenmuth, Mich.—a quaint Bavarian-inspired town best known for it's year-round "CHRISTmas Wonderland"—in 2012, at a time when each of its four members (Josh Kiszka, Jake Kiszka, Sam Kiszka and Danny Wagner) were teenagers in high school. Despite releasing a handful of tracks, many of which are no longer available, the band's professional career as musicians didn't truly take off until five years later when they signed with Lava Records in 2017. When it took off, however, it did so like a rocket.
Home of Lorde, Jessie J and Black Veil Brides, a quick navigation to the Lava Records website reveals the label's current rising stars. Out of alphabetical order and placed at the top left of Lava's artists page are the four Michiganders. After signing with Lava, the year saw a slew of sold-out North American tour dates and one iconic night opening for fellow mitten-native Bob Seger. The release of two EPs within the span of months, Black Smoke Rising and From The Fires, saw the band with two No. 1 Billboard Mainstream Rock charting hits ("Highway Tune" and "Safari Song," both of which were released as singles as well.)
Venturing into 2018, the band's resumé continued to expand with a personally requested performance at Elton John's Academy Awards party and a debut on The Tonight Show Starring Jimmy Fallon. Further, in August they were chosen as Apple Music's first "Up Next" featured artist, just a little over a year after first being featured on the platform as the "New Artist of the Week."
While the band's success may seem to have come out of nowhere, its four members are working hard to attain it. Still, when you ask a group of classic-rock super fans—the demographic one might expect to be wholeheartedly in support of Greta—you're likely to get a mixed bag of responses in return, ranging from "a complete revival" to "entirely too derivative" all the way to a scathing 1.6 review on Pitchfork.
Usually, these responses hinge on the comparisons to Led Zeppelin that have followed the band, something that was stems in part from lead singer Josh's Plant-ian howl that's certainly channeling something.
"When we started this whole thing, it was definitely not on our radars because we grew up in this small town with radio as our source of music," said Wagner, drummer for the group. "There was a lot of classic rock on the radio and a lot of old music and a lot of different types of music. I think it just comes down to the songwriting. We all kind of share that in common. I think we all have a lot of similar influences going back even further than the '70s and the '60s."
While the obvious similarities brings criticism, the band has handled it all in stride. In part, this could be because it also brings in a wide age demographic and, from that, a special kind of fan relationship—one between parent, having aged with the genre, and child, first exploring rock 'n' roll.
"We attracted a lot of the older crowd at first because of the style, the execution, the fact that all of our instruments are plugged in… It catered to a lot of them. A lot of these parents brought their children to the shows, and that was their first experience—having been brought by the parent," said Wagner. "I think that's such a unique relationship between a child and a parent because when you look at rock 'n' roll back then, it was definitely a youthful cause. The parents weren't so much into it… It really just goes to show that music does bring every single person together."
Unlike the bands of the '70s and the debauchery-filled decade against which they are compared, however, Greta is certainly more radio-friendly for younger viewers overall, both on stage and off. They've got the sound, sure, but the scandal? For four young guys ranging in age from 19 to 22, they instead have a shocking lack of scandal.
"None of us are into that whole drugs-and-sex scene," he says. "It's just literally a different industry now. It's a different world. Things aren't the same. Back then, it all happened because there was just a lot of confusion and a lot of people tugging at different ends of the rope, but it was like, just crazy," said Wagner. "There is a lot going on but… we're that grounded. I swear. We don't know what the heck is going on half the time, but I think it's for the best. I think it's for the best."
As the band's popularity has grown, they've naturally ventured farther and farther into the music machine. Their debut album, Anthem of the Peaceful Army, released on Oct. 19, was recorded in Nashville's Blackbird Studio rather than Michigan. Though the band brought its crew down south for recording—again produced by Marlon Young, Al Sutton and Herschel Boone a.k.a. The Rust Brothers—the relocation was done with intention.
"This debut album is kind of a statement, so I think with that idea in mind we were trying to achieve a different type of sound than when we had recorded those EPs," said Wagner. "We wanted to let it take on it's own life. We all work much better and more efficiently when we're away from home and all the distractions. I think it was just in all of our best interests to relocate. We've all been camping out in Nashville, because it's larger and there's anything and everything you could ever imagine, musically, in that studio. The capabilities seemed endless."
Keeping the same classic rock/blues/soul roots from the earlier EPs, the album reaches for broader, earnest sentiment beyond the day-to-day lives of the four creating it. With its release, the band invited fans to respond to their "call to arms" to "sing along to the Anthem of The Peaceful Army," envisioning the music as a uniting force. In addition to songs of love and love lost, many of the tracks are calls to saving the planet and uniting people of all backgrounds under one peaceful cause and the umbrella of rock 'n' roll. Again, the earnest platitudes can divide fans and critics, believers and cynics.
Following the album release comes the band's biggest venture yet, 2019's March of the Peaceful Army world tour that will send the young musicians all over the world for the first six months of the year, including their first visits to Australia and New Zealand. As the band grows busier and reaches larger audiences, worry over staying grounded would be natural. However, the band has no such fear—they're confident the path they're following is right.
"Gretna Van Fleet—the woman that the band's named after, she's a hometown elder—I think she turns 88 the day of the album release," says Wagner. "My mom texted all of us and informed us last week. That was some crazy serendipity that happened. It's hard to go into [it] in interviews about rock 'n' roll and what we're doing, but another reason that we don't have to worry is because there are all of these signs when you're traveling this much and when so much stuff is happening. There are signs that we all see that just keep the momentum, keep the ball rolling like that. It's just great."
With that in mind, the members of Greta keep focused on bringing rock 'n' roll to fans and not worrying about charges of imitation.
"There's one way to look at it and say that what we're doing is reviving a genre of music, but honestly that genre of music lived so long ago that the other way to look at it is that when people are seeing us, they've never seen anything like it before," he says. "Especially the younger audience—they don't have the expectation of what they're about to see… That's the mindset that we all kind of subconsciously develop as we're playing, that we're giving something that they've never seen before and just give them as much as you can, because it's what we love to do."
Check out our trip to the record store with all of Greta Van Fleet from last year: