Greta Van Fleet Share Wailing New Single "When The Curtain Falls"
Images courtesy of Republic Records
Music
News
Greta Van Fleet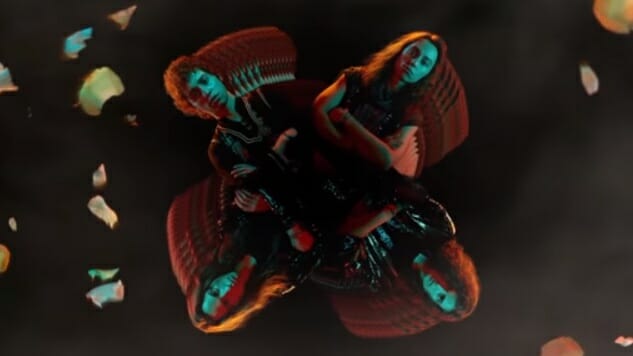 The '90s babies of '70s-inspired rock act Greta Van Fleet released their latest single "When The Curtain Falls" on Tuesday morning. Following the eight-track EP From the Fires, the band leads with their energetic side on the new song.
Joshua Kiszka's vocals are one of the most identifiable characteristics of the band, and his sharp wail only takes a few moments to break into the song. With a delivery reminiscent of Led Zeppelin vocalist Robert Plant's, Kiszka sings of fame on "When The Curtain Falls," but it's an address, rather than a monologue. The lines "I'm your biggest fan," and "Well, love you in that music show, can I ask your autograph," initially present the woman in the song as the star. The lyrics work both ways, however, and could be about another person or they could be flipping the band's own perspective into the third person, singing as the fan addressing them.
Even though a music video didn't accompany the song's release, some psychedelic visuals came with the audio. Waist-up images of the four band members are joined at a central point, duplicated to the vanishing point and spun like a pinwheel as flower petals float down around them.
The floral imagery also appeared when the band used a rosy countdown leading up to the release of the single:
— Greta Van Fleet (@GretaVanFleet) July 13, 2018
Even before the countdown, they gave a hint at the single with now-recognizable lyrics in the caption: "In and out of fashion."
Rose-colored glasses aren't shielding the band's eyes as they reflect on the musical influences that shaped them, though—they're trying to keep evolving the sound that's now considered "classic" rock. On From the Fires, Greta Van Fleet include two covers of other musical influences, Sam Cooke's "A Change Is Gonna Come" and Fairpoint Convention's "Meet On The Ledge," and give them a new twist. Find out more about Greta Van Fleet's musical influences through their picks when they went record shopping with Paste.
Listen to "When The Curtain Falls" below and find Greta Van Fleet's tour dates further down.
Greta Van Fleet Tour Dates:
July
18 – Pittsburgh, Pa. @ Stage AE
20 – Washington, D.C. @ 9:30 Club
21 – Washington, D.C. @ The Anthem
23 – Boston, Mass. @ House Of Blues Boston
24 – Boston, Mass. @ House Of Blues Boston
27 – Floyd, Va. @ FloydFest
29 – New York, N.Y. @ Panorama Music and Arts Festival
31 – Cleveland, Ohio @ The Agora Theatre
August
01 – St. Louis, Mo. @ The Pageant
03 – Chicago, Ill. @ Lollapalooza
04 – Chicago, Ill. @ Official Lollapalooza Aftershow @ The Vic Theatre
18 – Osaka, Japan @ Summer Sonic Festival
19 – Tokyo, Japan @ Summer Sonic Festival
23 – Kahului, Hawaii @ Maui Arts & Cultural Center
24 – Honolulu, Hawaii @ The Republik
September
07 – Seattle, Wash. @ The Paramount Theatre
08 – Seattle, Wash. @ The Paramount Theatre
09 – Vancouver, Canada @ SKOOKUM Festival
11 – Edmonton, Canada @ Shaw Conference Centre
12 – Calgary, Canada @ BMO Centre
14 – Portland, Ore. @ Arlene Schnitzer Concert Hall
17 – Oakland, Calif. @ Fox Theater
18 – San Jose, Calif. @ City National Civic
19 – San Francisco, Calif. @ The Masonic
22 – Las Vegas, Nev. @ iHeart Radio Festival
23 – San Diego, Calif. @ The Observatory North Park
25 – Tempe, Ariz. @ The Marquee
26 – Tempe, Ariz. @ The Marquee
28 – Salt Lake City, Utah @ The Union Event Center
29 – Denver, Colo. @ Fillmore Auditorium
October
01 – Denver, Colo. @ Fillmore Auditorium
03 – Dallas, Texas @ South Side Ballroom
05 – Austin, Texas @ Austin City Limits Festival
06 – Austin, Texas @ Austin City Limits Festival
06 – San Bernardino, Calif. @ Cal Jam
07 – Austin, Texas @ Austin City Limits Festival
11 – Madison, Wis. @ The Sylvee
26 – Paris, France @ Elysee Montmarte
27 – Brussels, Belgium @ Ancienne Belgique
29 – Tilburg, Netherlands @ 013
30 – Hamburg, Germany @ Mehr! Theatre
November
01 – Cologne, Germany @ Palladium
04 – Stockholm, Sweden @ Berns Salonger
05 – Copenhagen, Denmark @ Vega
07 – Berlin, Germany @ Columbiahalle
09 – London, U.K. @ O2 Kentish Town Forum
11 – London, U.K. @ O2 Kentish Town Forum
14 – Birmingham, U.K. @ O2 Academy Birmingham
15 – Manchester, U.K. @ Academy Manchester