The Best and Worst Performances of the 2019 Grammys
Photo by Kevin Winter/Getty
Music
Features
Grammys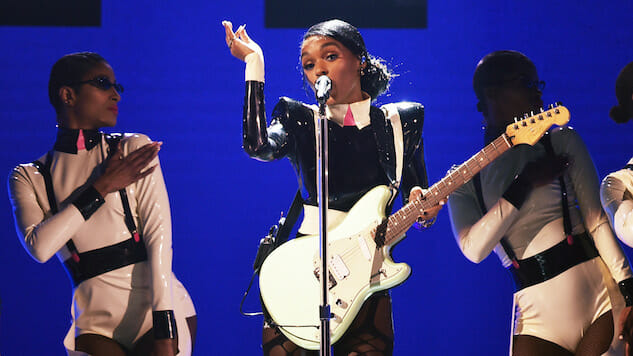 You don't need me to tell you that women reigned supreme at the 2019 Grammys. A whole host of newbies, veterans and legends performed tributes, medleys and original songs that made the crowd swoon and dance and made folks watching at home drop their jaws to the floor. Paste broke down the performances at the 2019 Grammys that stuck out to us, for better or worse, below. Check out the full list of 2019 Grammy winners here.
BEST: Janelle Monae
Janelle Monae is one of the best performers on the planet today, and she proved it again on the Grammy stage. Monae opened the funky-pop number "Make Me Feel" with a lookalike troupe—all suited up in St. Vincent-like vinyl outfits. Monae's suave footwork while delivering cool and collected vocals were impressive, and her bubbly facial expressions add an entire new dimension to her performance ability. You can't really sing lines like "Let the vagina have a monologue" without her level of charisma.
WORST: Post Malone and Red Hot Chili Peppers
It was hard to believe that this would be anything other than a hot mess—and that proved to be the case. Post Malone's acoustic guitar rendition of "Stay" was intimate and reinforced his talent, but as soon as he descended into the tunnel to perform "Rockstar" and emerged on to the stage with the Red Hot Chili Peppers, things got dicey. The sound mix for their performance of RHCP's "Dark Necessities" was downright awful and Post Malone's vocals didn't really gel well with Anthony Kiedis'.
BEST: St. Vincent and Dua Lipa
St. Vincent opened with the MASSEDUCTION title track that won her a Grammy for Best Rock Song earlier that night. Her guitar-and-vocal performance was tantalizing and as soon as Dua Lipa (who took home the Grammy for Best New Artist) joined her with a matching angular bob haircut, it was impossible to look away. Their vibrant version of "One Kiss," which included a lyrical shoutout to Aretha Franklin was stunning as they traded alluring, intense glances. Annie Clark's fuzzy guitar outro was the cherry on top of an electrifying and powerful performance.
BEST: Fantasia, Andra Day, Yolanda Adams
A trio of Fantasia, Andra Day and Yolanda Adams were tapped for an Aretha Franklin tribute—opting for her 1967 hit, "(You Make Me Feel Like A) Natural Woman." While attempting to cover the Queen of Soul is no easy task, they did the song justice by allowing their powerhouse vocals to lead the way. Each of the women took a verse, proving they had the vocal might, and adding their own slight twists on a downright classic. It was a breathtaking performance and once the women starting ad-libbing over each other, it was clear they were pushing each other to give the best performance humanly possible to honor the woman who sang like no other.
Thank you so much for the wonderful comments about the #ArethaFranklin tribute I performed with #Fantasia and #AndraDay at the #GRAMMYs!! @TasiasWord@AndraDayMusicpic.twitter.com/O4H03qyfgh

— Yolanda Adams (@YolandaAdams) February 11, 2019
WORST: Jennifer Lopez
When you think of Motown, who's the first musician you think of? I'm going to take a shot in the dark here and guess it's not Jennifer Lopez. In fact, you would probably guess hundreds or thousands of names before arriving at J Lo. For whatever godforsaken reason, J Lo was tasked with performing a Motown tribute with appearances from Ne-Yo and Smokey Robinson. J Lo performed a medley of songs like "Dancing in the Street" and "Please Mr. Postman," but instead of sticking to the sweet elegance of those pop classics, she decided to turn it into a Vegas-like spectacle—running around in a sparkly silver bodysuit, falling to her knees and grinding with her backup dancers. Considering there was a room full of talented, soulful people of color who could've knocked it out of the park, this tone-deaf move was even more disastrous than whatever you want to call Post Malone and Red Hot Chili Peppers' collab.
When JLO performs a MOTOWN tribute #GRAMMYspic.twitter.com/FQtNni9oFE

— Siobhain (@summer0001) February 11, 2019
BEST PERFORMANCE OF THE NIGHT: Brandi Carlile
As noted here by Paste's Ellen Johnson, Brandi Carlile's performance of "The Joke" was simply unforgettable. That very song won her Grammy Awards for Best American Roots Performance and Best American Roots Song, while her LP, By the Way, I Forgive You, won Best Americana Album. Despite not winning any of the bigger categories in which she was nominated (Album of the Year, Song of the Year and Record of the Year), her flawless, uplifting vocal performance nearly moved me to tears. When she hits the high notes, you can't help but feel it in your gut and in the deepest depths of your heart, mind and soul. It was obvious she was in her element here and she literally jumps up and down with excitement at the song's conclusion.
Let it be known @JanelleMonae stood the ENTIRE @brandicarlile performance because talent recognizes talent! #GRAMMYspic.twitter.com/oBL4usm3VK

— Brian A. Hernandez (@BAHjournalist) February 11, 2019