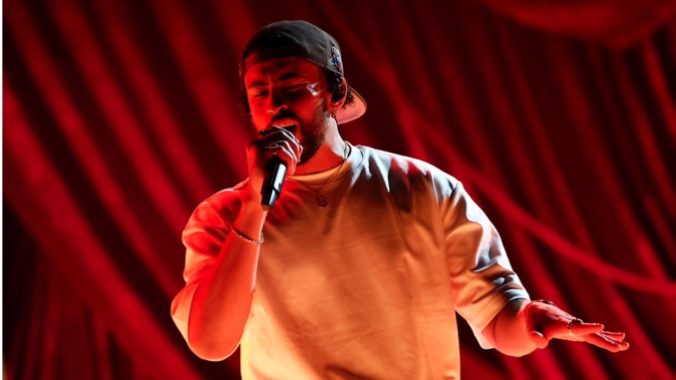 The 65th annual Grammys was one for the books. Beyoncé made history by becoming the artist with the most Grammys ever when she won Best Dance/Electronic Music Album for her 2022 Renaissance, and now has a total of 32 Grammys. Plus, Viola Davis completed her EGOT. While there is much to celebrate with the awards and winnings of many talented artists, the live performances delivered by Bad Bunny, Maddison Cunningham, and Samara Joy are to be recognized and celebrated as well.
Here are the five best live performances of The 2023 Grammy Awards Ceremony.
Bad Bunny
The Puerto Rican rapper and singer got nominated for three Grammy Awards this year: Album of the Year, Best Pop Solo Performance, and Best Musica Urbana Album. Not many artists can get a room full of formally dressed people up and out of their chairs to dance in a room full of people they don't know. Bad Bunny's whole discography attests to what music can do: bring people together to enjoy the moment. Bad Bunny performed a medley of "Un Verano Sin Ti" with "El Apagón" and "Despues la Playa." The artist continually breaks musical barriers by creating anything he wants in his own style, with perfect execution. One of the most entertaining, enthralling, and enjoyable performances of the entire night.
Maddison Cunningham
There's a reason why Maddison Cunningham was nominated for Best American Roots Performance for "Life According to Rachael," and took home a gold gramophone for Best Folk Album for her latest album, Revealer. Her act is breathtaking with a strings ensemble backed by an orchestra and her muted acoustic guitar. Her voice is stunning—incredibly crisp and clear, cutting through every ounce of tension in the air. Her performance is raw with emotion, down to the instrumentals, and bare in sincerity with vulnerable lyrics that pay tribute to a passing of a father.
Samara Joy
Making a graceful entrance to her first Grammys, Samara Joy delivers a mesmerizing performance with her song "Can't Get Out of This Mood." She introduced her bandmates before even starting her performance. Joy hits runs and complex notes so precisely and looks effortless when doing it. She has a timeless voice and has given the entire jazz genre a nice jolt. Her win for Best New Artist is well-deserved, and this performance is a testament to it.
Steve Lacy
The Gemini star reinvented the insanely popular "Bad Habits," with fellow bassist Thundercat in this live performance. The two talented artists held it down with their chemistry when playing together. Lacy maintains charismatic composure and playful energy throughout his performance. His falsetto notes and vocals are the highlights of the act, alongside Thundercat's bass solo. Before "Bad Habits," Lacy was lead guitarist for alternative R&B band The Internet. His singer/songwriter skills transfer to his solo act with adaptability and creativity. His performance stood out in a night full of special moments.
Lizzo
The Record of the Year award winner Lizzo delivered a tear-jerking, powerful performance with her song "Special." She opened the act by singing her iconic line from "About Damn Time," to let the audience know it's her world and we're all living in it. Lizzo took everyone to church with her performance the same way your favorite aunt takes you—by your hands with excitement, knowing you're going to get the best lunch of your life afterward. She was backed by a stunning gospel choir, and the energy of joy and positivity radiated from the stage. Lizzo truly does make you feel special as one of the best live performers of our time, and we can't wait to see what's in store for her.