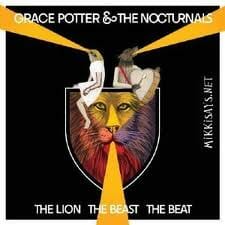 It must be frustrating to be Grace Potter. So much talent, such a fierce band, the kind of charisma that can't be taught, exuding sex and wallop with every turn—and yet, the superstardom she seems test-tubed for has eluded the Vermont-born songwriter who can rock as hard as anyone, yet exhale a ballad with knee-buckling vulnerability.
Whatever the missing factor is—songs? connection between the high-gloss image and blues-steeped music? a coherent format to break out of?—it remains elusive.
The Lion The Beast The Beat is flecked with the sweat of ambition, that make-it-or-break-it, too-tight grip on what needs to happen that strangles the spark in songs the rest of us might find ourselves inside. Instead, the Nocturnals serve up a lumbering cavalcade of forced metaphors ("I'll be the record, you be my record player") and lumbering arena rock that approaches Spinal Tap exploring the feminine mystique.
Adding to the frustration are Grammy-nominated producer/engineer Jim Scott's sonic punch—this record sounds goooood—and Potter's voice, which has never been more muscular or absorbed in the feelings she's slinging. Lush, rich, with a sheen that practically gleams, the veneer's impossibly bright and engaging.
Still, there's the "next up on 'Solid Gold'…" feeling on both the almost-Blondie disco of "Keepsake" and the swirling AC of the badly metaphoric "Parachute Heart;" plus the tick-tock clock sample and eerie vocals of "Timekeeper," the almost neo-art rock with thundering drums and druid vocals of the title track and lumbering "The Divide" that feels meant to be epic but collapses under the weight of a concept that's less than Black Sabbath.
Add the Dan Auerbach co-written and co-produced "Loneliest Soul," which feels vampish and minstrel show-ish, and the sauciness isn't quite insouciant, making it more acidic than erotic—and that's a further disjointed shame.
Ironically, the best moment is a bonus track. After returning the crossover favor to "You & Tequila" partner Kenny Chesney with a second, not necessary rendition of "Stars," Potter allows the country superstar to strip her naked—and deliver the most connected track on the record: a redux of 2005's "Ragged Company."
Mickey Raphael blows ghostly harmonica over the barest acoustic guitar, the pedal steel rises, and with a bit of churchy B3, Willie Nelson offers life wisdom as Potter unfurls a confession of the price paid for her gypsy life. It's intoxicating—and cautionary.
With all "the right names," careful calculations and genre straddling, an honest note is eluded. Yet the name who curdles the hipsters' blood somehow makes yearning rise and the center hold.