Seek the "Ultimate Truth" with New Video from Gogol Bordello and Regina Spektor
Images via Cooking Vinyl Records
Music
News
Gogol Bordello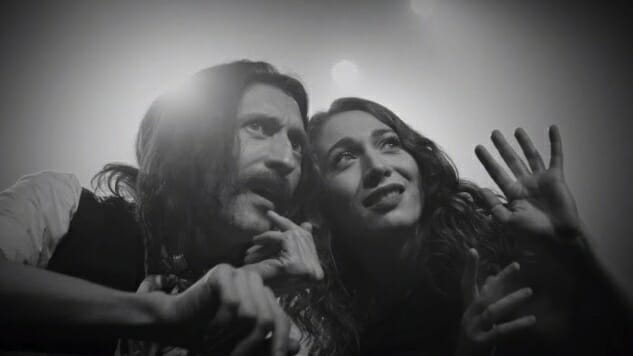 Eastern-European gypsy-punk outfit Gogol Bordello teamed up with fellow artist-of-similar-origin and anti-folk singer Regina Spektor for "Seekers and Finders," the title track from the band's seventh album. Lead vocalist Eugene Hutz described the collaboration as "the duet of the wandering Jew and the roaming gypsy by the campfire" in a statement.
Tuesday, the band shared a music video for "Seekers and Finders" and announced a limited-run reissue of three of their first releases: Voi-La Intruder, Multi Kontra Culti vs. Irony and East Infection, available for preorder here. The video was directed by Nate Pommer, who has been collaborating with and capturing video of Gogol Bordello for the past 15 years.
The footage for the music video was shot during a performance of the song at the Fonda Theatre in March of this year. It was combined with a series of "curated images related to Alchemy, Hermeticism, and esoteric knowledge," per a press release, and maybe, just maybe, if you're smart enough, you can unlock what Pommer calls the "Ultimate Truth."
The track is a meld of Russian and Ukrainian accents and the collaboration is just weird enough to work really well. The video sees Hutz on stage in an almost pirate-like get-up and you can watch it in full below. Further down, watch Gogol Bordello perform the track in the Paste Studio circa 2017.