Watch Girlpool's Hazy "Minute In Your Mind" Video
Images via ANTI- Records/YouTube, Kelia Anne
Music
News
Girlpool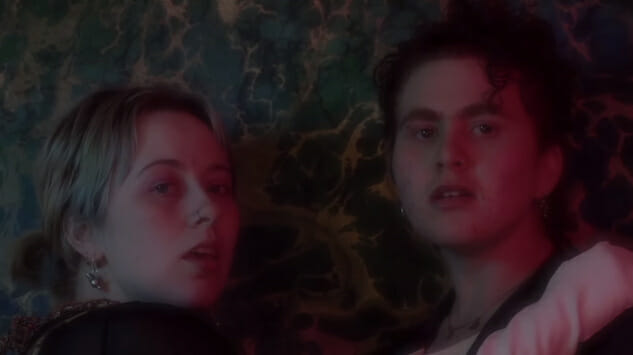 There's a particularly Lynchian undercurrent present in Girlpool's new music video for "Minute In Your Mind," released Wednesday morning.
Through heavily saturated hues and fog machines, Cleo Tucker croons into the camera before the shot drifts away to another image—perhaps a shirtless person jump-roping in front of a trailer or a figure snipping some kale. "Minute In Your Mind," in other words, is an appropriately drowsy video for a murky song; there's a dreamlike logic that permeates the video, filled in by the droning organs and sporadic guitars.
That the video for "Minute In Your Mind," directed by Amalia Irons, opts for a more stream-of-consciousness approach rather than a strict narrative makes sense; the track is pulled from this year's What Chaos Is Imaginary, a sprawling album about mental disarray amid significant personal change. We called the album "a necessary waystation" along Girlpool's path in our review, noting the prominence of the dreamy production on the album.
Pour yourself a damn fine cup of coffee and dive back into the unconscious with the video below. Keep scrolling to find Girlpool's stop by the Paste Studio back in 2017, and catch their European tour dates further down.
What Chaos Is Imaginary is out now via ANTI- Records.
Girlpool Tour Dates:
July
04 – Gent, Belgium @ Dok
05 – Paris, France @ La Gaite Lyrique (Loud and Proud Festival)
06 – Roskilde, Denmark @ Roskilde Festival
08 – London, U.K. @ Moth Club
09 – Leeds, U.K. @ Headrow House
10 – Cambridge, U.K. @ Portland Arms
12 – Rotterdam, Netherlands @ Rotown
14 – Nijmegen, Netherlands @ Valkhof Festival
15 – Amsterdam, Netherlands @ Paradiso