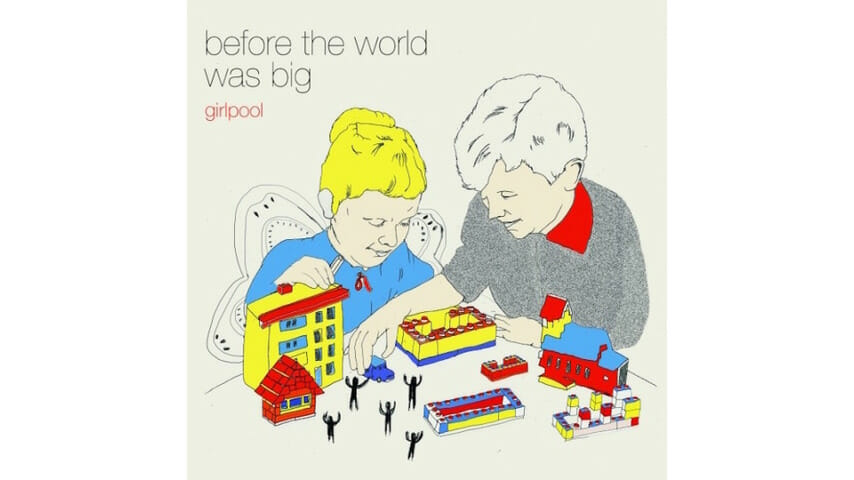 Girlpool became rising stars after their lo-fi single "Blah Blah Blah" was released as part of their self-titled EP. The track hit hard with its fuzz and frenetic energy—it got listeners to pay attention. But their debut full-length, Before the World Was Big, is noticeably softer and clearer; it makes us all lean in a little closer so as not to miss anything.
Still, the band maintains its rawness: The album features its two members, Harmony Tividad and Cleo Tucker, playing bass and guitar, respectively, and sharing vocal duties. Before the World Was Big is able to speak volumes in its simplicity. The LP is made up of straightforward (but self-propelling) guitar riffs. Sometimes, singing is in stereo, without any harmonizing, eliciting memories of songs you'd sing on the bus to camp, songs that sound joyous and nostalgic but become somber in their retelling.
At 18 and 19, Tividad and Tucker are at a unique vantage point: They are at the junction between adolescence and adulthood and are able to see down each of the crossroads. "Before the World Was Big" is the perfect title track for the album. It features rich imagery, reflecting on how much they've changed since walking around the neighborhood "one hundred one million billion trillion times." They have the sense that their neighborhood has changed—but also understand that it's really the mind that's changed. The refrain, "I just miss how it felt standing next to you, wearing matching dresses before the world was big," has the implications of change in conjunction with tangible, simple details. It's in these moments where Girlpool thrives: revealing just enough to communicate a knotted, complex feeling.
Girlpool just wrapped up some tour dates supporting appropriate headliner Waxahatchee: They come from the same brand of vulnerability in terms of songwriting. But Girlpool is special in that Tividad and Tucker's unapologetic honesty is directed at and through the other. "Dear Nora" features them mentioning each other by name and switching drivers in the middle of the highway. At any given point in the album, it's unclear who exactly is in the driver's seat: Lyrics and voices swirl into one arresting sound.
Before the World Was Big has an emphasis on these relationships; it's a look back at the pure, unabated moments between two childhood friends. Time is plotted out by whom they were with (Nora) and where they were (swimming in Seattle)—and whom they are no longer with ("Emily" provides a pleading, "I'm still here, remember me"). The album asks without even asking, "Where are we now?" and "How did we get here?"
Tividad and Tucker go through the motions of contextualizing their childhoods, their current anxieties and wondering about the future, their identities. "I'm still looking for sureness in the way I say my name," they whisper in "Chinatown." They may still be searching for themselves and finding that sureness—but they will be making music throughout that [journey], and if it's anything like Before the World Was Big, it will certainly be candid and sincere.