Exclusive: Hear The Gibson Brothers Reimagine R.E.M.'s "Everybody Hurts"
The track is off the band's forthcoming album Mockingbird
Photo by Alyssa Gafkjen
Music
News
Gibson Brothers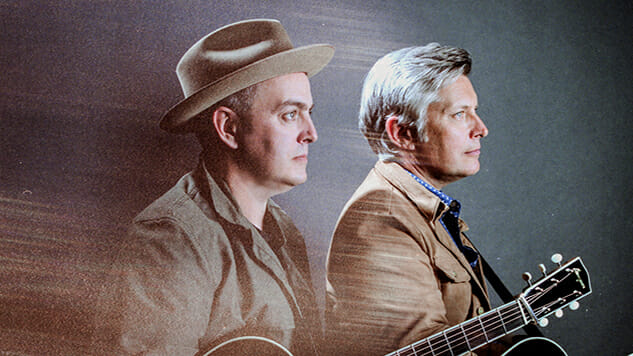 Bluegrass duo The Gibson Brothers have shared the video for their cover of R.E.M.'s "Everybody Hurts," debuting exclusively at Paste today. The cover is off their forthcoming album Mockingbird, out Nov. 9 through Easy Eye Sound, and was co-produced by Dave Ferguson and Dan Auerbach of The Black Keys.
The Gibson Brothers, aka Eric and Leigh Gibson, dig into the R.E.M. classic's roots to enshrine the country-western framework hiding under the original's prom-song sway, fashioning it into a good old-fashioned crying-in-the-haystack anthem.
The Gibson Brothers, veterans of the bluegrass and country music scenes, spoke on covering such a classic: "It is a little intimidating to cover a song by an iconic band like R.E.M.," Eric Gibson tells Paste. But the band has showed them plenty of support: Michael Stipe called the cover "incredible," and Mike Mills said the Gibsons' version "really re-focuses the song and lyric in a great way."
The lyrics are what drew the Gibson Brothers to cover "Everybody Hurts." "The message, I think, is very timely. So many are hurting," adds Eric Gibson. "But there is always hope, and the lyrics and feel of this song drive that point home."
The Gibson Brothers will be touring for the remainder of the year—those dates are included below, beneath the duo's cover of "Everybody Hurts" and Paste archival footage of R.E.M. performing the song circa 1998. You can preorder Mockingbird here.
Gibson Brothers Tour Dates:
October
11 – Maryville, Tenn. @ Clayton Center
12 – Augusta, Ga. @ Imperial Theatre
20 – Farmers Branch, Texas @ Bloomin' Bluegrass Festival
24 – Nashville, Tenn. @ Country Music Hall of Fame's CMA Theater
26 – Anderson, S.C. @ Anderson Bluegrass Festival
27 – Sandy Springs, Ga. @ City Springs (with Sierra Hull, Rob Ickes & Trey Hensley)
November
10 – Palatka, Fla. @ November Palatka Bluegrass Festival
12 – Nashville, Tenn. @ Analog at the Hutton (Mockingbird Band)
13 – Nashville, Tenn. @ Grand Ole Opry (Mockingbird Band)
15 – Washington, D.C. @ City Winery (Mockingbird Band)
16 – Baltimore, Md. @ Creative Alliance (Mockingbird Band)
29 – Portland, Maine @ One Longfellow Square (Mockingbird Band)
December
07 – Schenectady, N.Y. @ Proctor's Theatre
08 – Barre, Vt. @ Barre Opera House
09 – Shirley, Mass. @ Bull Run (Mockingbird Band)
13 – Sellersville, Pa. @ Sellersville Theater
14 – Greenfield, Mass. @ Hawks & Reed PAC (North Country Christmas Show)
15 – Ellenburg Depot, N.Y. @ NACS High School Auditorium (North Country Christmas Show)
16 – Earlville, N.Y. @ Earlville Opera House
31 – Saranac Lake, N.Y. @ First Night Saranac Lake
January
03 – Gainesville, Fla. @ Thomas Center
04 – Jekyll Island, Ga. @ New Year's Bluegrass Festival
06 – Aberdeen, N.C. @ The Rooster's Wife
February
01 – Rockland, Maine @ Strand Theatre (Mockingbird Band)
02 – Brownfield, Maine @ Stone Mountain Arts Center
14 – Palatka, Fla. @ February Palatka Festival
March
09 – Stoughton, Wis. @ Stoughton Opera House
16 – Airy, N.C. @ Historic Earle Theatre Mount
22 – Marysville, Ohio @ First Umc Burnside Family Life Center
June
14 – Lowville, N.Y. @ TUG HILL BLUEGRASS FESTIVAL
29 – Tunbridge, Vt. @ Jenny Brook Bluegrass Festival
August
01 – Parsons, W.Va. @ Pickin' in Parsons Bluegrass Festival