Gerard Way Releases New Halloween-Themed Single
Image via Gerard Way/Youtube
Music
News
Gerard Way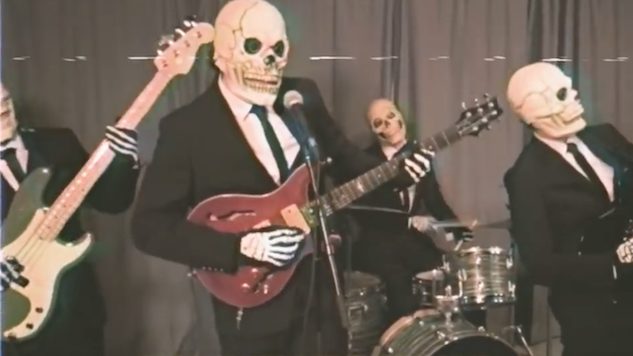 Just in time for Halloween, former My Chemical Romance frontman Gerard Way has released his first new music in two years, the seasonally appropriate "Baby You're A Haunted House."
The track is a bouncy, fuzz-filled take on persevering in a love haunted by personal demons, in which these demons are equated with literally being a haunted house. Way is backed by brother and former bandmate Mikey Way on bass, Tom Rasulo (audio engineer and drummer on Hesitant Alien) on drums and Ian Fowles (The Aquabats) on guitar.
The accompanying Claire Marie Vogel-directed lyric video opens with a Russian-speaking, skeleton-costumed speaker announcing the band before the similarly outfitted musicians begin the performance. The video is equally grainy and charming, fitting the track well.
Super-fans everywhere mourned the loss of My Chemical Romance back in 2013, when they disbanded with no reunion in sight. Appeasing some, Way made his solo debut with 2014's Hesitant Alien, an album that saw him take a turn in a more Britpop direction. Though two unreleased tracks from the album were part of 2016's Record Store Day releases, other than that, musically, Way has been largely silent since.
However, though Way hasn't released a ton of music over the past five years, he has been active in the comic community with his series The Umbrella Academy, first started in 2007. Next year, Netflix is adapting the comics into a series for the platform, featuring Mary J. Blige in one of the lead roles.
Check out the video for "Baby You're A Haunted House" below.