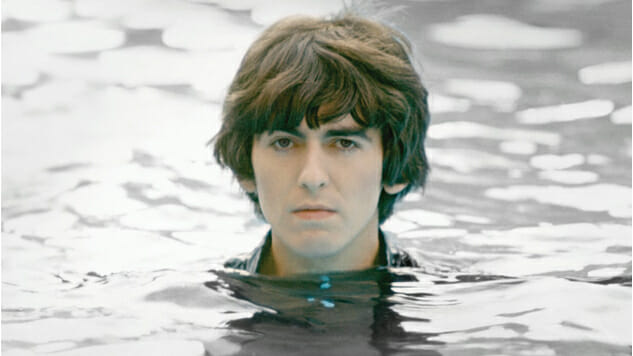 For casual fans (and the terribly uninformed), George Harrison was a second-tier member of the Beatles—a member whose contributions only became essential when he wrote "Here Comes The Sun." For a mid-level fan, and rock writers everywhere, he was an indispensable member of the band who regularly contributed stunning, lesser-known songs like "Long, Long, Long" and "For You Blue." They discuss how he almost single-handedly introduced Eastern music into the Western pop sphere and organized the first rock benefit concert, the Concert for Bangladesh. They note how his surly charm and acidic wit often matched John Lennon's, how his gift for melody—when encouraged—could be on par with Paul McCartney's. But too often these laudatory claims would all come all in reference to All Things Must Pass, Harrison's historic triple album and first proper solo release, from 1970. It's a masterwork—and unquestionably his best complete effort post-Fab Four—that's filled with beautiful, wise and spiritual songs like "My Sweet Lord," "What Is Life," "I'd Have You Anytime," and five more album sides' worth of goodness. There are other albums, too, though; George's genius doesn't stop there. To honor the depth and breadth of his catalogue—from the bonafide classics to the lesser-known gems, here are the 20 best solo songs by George Harrison. Just like the man who created them, these works are lovely, mischievous, otherworldly, complex and too often fly under the radar.
20. "Dream Scene"
Harrison was asked to create the soundtrack for the 1968 film, Wonderwall, a trippy, psychedelic movie starring Jack MacGowran and Jane Birkin. This allowed him to flex his compositional muscles while providing a creative outlet outside of the Beatles, who were at their bickering nadir. "Dream Scene" is the standout; an astral, Indian-influenced instrumental that goes from whimsical to nightmarish. It's the perfect accompaniment to the magic-mushrooms visuals of the scene, and evidence of a different side of Harrison's talents.
19. "I Don't Care Anymore"
Released as the B-side to "Dark Horse" in 1974, "I Don't Care Anymore," details a time in Harrison's life he referred to in his autobiography, I Me Mine, as "a bit of a bender." The lyrics reference a woman who is presumably married—during this time Harrison was linked to Krissy Wood (Rolling Stones guitarist Ronnie Wood's wife), as well as Maureen Starkey, Ringo's wife—and provides a rare instance within Harrison's solo catalog of a love song not directed toward a higher power. Recorded in one take, "I Don't Care Anymore" sounds it—but there's something special in its intimacy and shambolic, country feel, capped off with Harrison's laryngitis-laced vocals.
18. "Miss O'Dell"
"The war" mentioned in "Miss O'Dell" refers to the crisis in East Pakistan that eventually led Harrison to organize The Concert For Bangladesh. Harrison was contemplating this when he wrote the song in 1971 while waiting for his assistant and close friend, Chris O'Dell, to come visit him at his rented home in Los Angeles. O'Dell was the ultimate insider in the late-'60's and early-'70's, starting at The Beatles' Apple Records before working her way into the various circles of Bob Dylan, the Rolling Stones, Derek & The Dominos and more. Much more light-hearted and loose than its somber companion "Bangla Desh," his uncontrollable giggling halfway through is guaranteed to bring a smile.
17. "Rocking Chair In Hawaii"
Throughout his life, Harrison would escape to Hawaii and even owned a house and 63 acres of land on the island of Maui. This luau-infused blues off of 2002's posthumous Brainwashed sonically encapsulates the laid-back feel of his favorite island and provides a languid, lecherous vocal performance. Harrison sings, "If you want me woman, please don't act so shy / If you want me woman, please don't pass me by / I love those sideways glances / Your shoulder and your thigh." You can practically taste the Mai-Tais.
16. "Sue Me, Sue You Blues"
In 1970, Paul McCartney sued Harrison, John Lennon and Ringo Starr in order to legally dissolve the band, effectively removing new manager Allen Klein. Disputes over management (Lennon, Harrison, and Starr had wanted Allen Klein while McCartney wanted his father-in-law Lee Eastman) were the final nail in the coffin for the group. McCartney distrusted Klein who had screwed The Rolling Stones by giving himself the rights to most of their pre-1970 catalog. It was a nasty and painful affair, one that Harrison laments wryly in this bluesy, bottleneck guitar number off of 1973's Living In The Material World. Over a thumping beat, he turns the affair into an acute version of the dosey-doe singing, "You serve me and I'll serve you / Swing your partners / All get screwed / Bring your lawyer and I'll bring mine / Get together and we could have a bad time."
15. "This Song"
"Sue Me, Sue You Blues" wasn't Harrison's only ode to his legal troubles. "This Song," a four-minute send-up to the lawsuit he lost over the three-note infringement of "My Sweet Lord" on The Chiffons' 1963 hit "He's So Fine," is the ultimate manifestation of one of the most beloved aspects of Harrison's persona—his uncompromising practice of not giving a shit. Turning the annoying incident into a joke—that's Monty Python's Eric Idle interjecting, "Could be 'Sugar Pie, Honey Bunch'—No, sounds more like 'Rescue Me!'"—Harrison has the last laugh. Enjoy the ridiculous music video and Harrison's beautiful perm.
14. "Got My Mind Set On You"
After a five-year recording hiatus, 1987's Cloud Nine reasserted Harrison as an artist of note. The Jeff Lynne-produced album hit No. 8 on the Billboard 200, enjoyed a warm critical reception and yielded Harrison's first No. 1 single in 15 years—a little-known song originally recorded by Rudy Clark called "Got My Mind Set On You." Insanely (sometimes maddeningly) catchy, the song exploded, even leading to a "Weird Al Yankovic" parody entitled "(This Song's Just) Six Words Long." It hit No. 1 in the U.S. the week before The Beatles were to be inducted into the Rock and Roll Hall of Fame, making Harrison one of very few inductees to have an active single on the charts—let alone a chart-topper—at the time of induction. The success was due in part to Harrison letting his son, Dhani, pick the album's first single. Fitting, considering this album finds Harrison in peak dad-mode, complete with possibly the dorkiest album cover of his career.
13. "Living In The Material World"
Living In The Material World was Harrison's second solo effort to hit No. 1 on the Billboard charts (All Things Must Pass being the first), and the title track acutely illustrates what Harrison was about at this stage in his life—spiritual enlightenment and fulfillment in spite of his superstar status and all that came with it. As he explains in I Me Mine, "The material world is everything which is gross, physical, or material as opposed to the subtle, astral or casual." Both elements are at work in the rollicking title track as Indian-inflected interludes foil boogie-woogie sax, Harrison's signature slide and a winking nod to his former band. "Met them all here in the material world / John and Paul here in the material world / Though we started out quite poor / We got Ritchie on a tour."
12. "Mama You've Been On My Mind"
Released in conjunction with the Martin Scorsese documentary George Harrison: Living In The Material World, the collection Early Takes: Vol. 1 is a windfall. It's a peek into the mind and process of one of the most beloved musicians of all time. The acoustic, intimate recordings highlight the warmth and wisdom in Harrison's vocals, and the spiritual feel in his fingers. A long time super-fan and friend of Bob Dylan, Harrison loved to cover his work, most notably "If Not For You," on All Things Must Pass. This recording of "Mama You've Been On My Mind" matches—if not surpasses—that track, as a wise and weathered Harrison effortlessly stakes his own claim on a classic, becoming the perfect surrogate for Dylan's words once again. The only reason this isn't higher on the list, is that Harrison didn't write it.
11. "Behind That Locked Door"
An achingly beautiful country waltz clearly inspired by Harrison's time hanging out with The Band in Woodstock, "Behind That Locked Door" appears on the second side of All Things Must Pass, and is one of two songs about his beloved Bob Dylan (the other appears later on this list). "Please forget those teardrops / Let me take them from you" Harrison sings over Pete Drake's heartbreaking pedal steel guitar. It's a poignant send-up to friendship, love and the support that Harrison was generously offering Dylan, who had been recovering from his motorcycle accident and getting ready to play his highly-publicized comeback show at the 1969 Isle Of Wight festival. It's a testament to Harrison's skills as a songwriter, but also his character and legacy as a person.
10. "Give Me Love (Give Me Peace On Earth)"
In I Me Mine Harrison describes "Give Me Love" as, "a prayer and personal statement between me, the Lord, and whoever likes it." The tail-end of Harrison's time in The Beatles coincided with his deeper dive into Hinduism and spirituality (the line "Keep me free from birth" is a reference to reincarnation), a provider of much-needed peace and introspection in his life after the madness of being in the most famous band in the world. That newfound tranquility and warmth come across in this soothing song, which remains one of the most beloved from his catalog. With it's quiet truth, mantra-like cadence and plenty of slide guitar, it's basically "My Sweet Lord" part two.
9. "Nowhere To Go"
An unreleased demo from the All Things Must Pass sessions, Harrison wrote this song while visiting Bob Dylan—who had secluded himself as he recovered from his infamous motorcycle accident—in Woodstock, N.Y. Dylan likely contributed to the song, though the lyrics consist mainly of Harrison's acidic Beatles resentment with lyrics like, "I get tired / Of being Beatle Ted / Talking to the dead." The demo is haunting and has a deeply satisfying melody that contains some of the most palpable aggression of any Harrison track outside of "Wah Wah." Why it was cut from the final track listing in favor of a second version of "Isn't A Pity"—or any of the instrumental jams on the third disc—we'll never know.
8. "The Light That Has Lighted The World"
What started out as an attempt at a B-side for fellow Liverpudlian Cilla Black quickly turned into Harrison's clap-back to those who were none too pleased with his post-Beatles direction. Originally appearing on Living In The Material World, this acoustic demo version from Early Takes Vol. 1—just Harrison and a guitar—is magic. "I'm grateful to anyone that is happy or free / For giving me hope while I'm looking to see / The light that has lighted the world," he sings with all the purity and conviction that permeated his life and music. It stands as one of the best examples of both the sagacious wisdom and heavy weariness with which Harrison looked at the world.
7. "Simply Shady"
Harrison described this song as, "what happens to naughty boys in the music business," a vague explanation for a deeply dysfunctional time in his life. He had developed a nasty coke habit, his first wife—the model Pattie Boyd—was having a torrid affair with one of his best friends, Eric Clapton, and Harrison found himself drifting away from the spiritual center so essential to him. The recording sessions for the Dark Horse album took place while Harrison was battling laryngitis—one of several reasons the album was panned—but this song remains an anomaly in Harrison's catalog. It's extremely confessional and one of his finest, most emotive vocal performances.
6. "Woman Don't You Cry For Me"
Originally on 1976's Thirty Three and 1/3, the Early Takes version of "Woman Don't You Cry For Me" shines much brighter than the original. Like most of Harrison's mid-period work, it benefits from being laid bare. Stripped of the over-production, "Woman Don't You Cry For Me" becomes a stomping, country blues, reminiscent of "Old Brown Shoe" or "For You Blue" from his Beatle days, which is understandable considering Harrison wrote it in 1968. There's fine guitar work, lyrics full of sage warnings ("Better catch up to yourself before the end comes along") and one of the stickiest melodies Harrison ever wrote.
5. "My Sweet Lord"
No George Harrison list would be complete without this track from All Things Must Pass— Harrison's first proper solo release, a historic triple album, his first post-Beatles No. 1 and a masterwork of spiritual, sacramental songwriting. The album served as the introduction to what the solo George was all about, outside of the looming shadow of the Fab Four—something Harrison considered before recording this classic. "I thought a lot about whether to do 'My Sweet Lord' or not, because I would be committing myself publicly and I anticipated that a lot of people might get weird about it," he wrote in I Me Mine. "I wanted to show that 'Hallelujah' and 'Hare Krishna' are quite the same thing." His worries proved unfounded, as "My Sweet Lord" became one of his signature songs—the shining example of his talent for blending Eastern philosophy with Western pop—and the track most associated with Harrison's lifelong quest for inner-peace. Phil Spector's luxurious production, the soft mantra-like flow and Harrison's celestial slide guitar solo create one of the warmest, most reassuring five minutes in music. It loses points due to the aforementioned lawsuit over copyright infringement of The Chiffons' "He's So Fine," plus the fact that at eight lines, it's not the most adept prose his catalog—or even All Things Must Pass—has to offer.
4. "Any Road"
Brainwashed was released nearly a year after Harrison passed away from cancer, but the entire album was completed to his specifications thanks to detailed instructions he left for his son Dhani and Jeff Lynne. This is the opening track, and the standout song of Harrison's late period. A fitting opener for the album that would cement his legacy, it's a feel-good, c'est la vie jaunt that features some of Harrison's most inspired guitar work, the most substantial string of lyrics of his career and plenty of his beloved ukulele—an instrument he kept multiples of in the trunk of his car, often handing them out to friends he went to visit. Even with its philosophical message of universality, it's pure, distilled Harrison. The cosmic spirituality, particular melodic ear and freewheeling, pirate spirit that made him unique as an artist flows out of every note.
3. "I'd Have You Anytime"
In the late-'60s, Harrison took a trip to Woodstock to visit The Band and his hero-friend Bob Dylan. Harrison remembered the visit in his autobiography, writing, "He seemed very nervous and I felt a little uncomfortable—it seemed strange especially as he was in his own home. We got the guitars out and then things loosened up." It was this session that yielded "I'd Have You Anytime," an under-appreciated find in Harrison's oeuvre that stands as one of his most spellbinding works. "Let me in here / I know I've been here / Let me into your heart," he sings, pleading with Dylan to allow the easy intimacy they once shared. It's the only co-write on the album (outside of the instrumental jams) and one that Harrison was clearly proud of, sequencing it as the first track on All Things Must Pass. The subtle build from the sumptuous, sleepy verses to the Dylan-penned bridge nearly knocks you over—opening up musically the way Harrison nobly tried to get his old friend to. It stands as one of music's most compelling love songs, a feat considering it never mentions the word.
2. "Run Of The Mill"
In his autobiography, Harrison describes "Run Of The Mill" as, "the first song I ever wrote that looked like a poem on paper," an artistic high inspired by The Beatles being at their lowest. "Apple was getting crazy—Ringo wanted it blue, John wanted it white, Paul wanted it green and I wanted it orange," he writes in I Me Mine, referencing the distraught time immediately after the doomed Get Back sessions in 1969 when "Run Of The Mill" was composed. It's this period, the deterioration of the most significant relationships in his life, that Harrison addresses in the lyrics, delivered with a poignancy that shows how much love was actually there. "Another day for you to realize me / Or send me down again" he sings, a biting reference to the dismissal and belittlement Harrison's songs often received from McCartney and Lennon, whom he spends the song airing his grievances to, before making it clear that he's moving on. Harrison is coming to terms with his past as he's defining his future, choosing to live by the spiritual wisdom and philosophy expressed in the lyrics, making "Run Of The Mill" both exceedingly personal but also comfortingly universal. Musically, it provides one of Harrison's most perfect melodies, a casual, yet elegant arrangement heavily influenced by The Band plus some pretty sweet saxophone. It also holds the distinction of being Olivia Harrison's personal favorite.
1. "What Is Life"
Right off the bat "What Is Life" hits you with that descending, fuzz-filled guitar riff, and you're already hooked. Add the infectious, sing-along cadence and the catchiest chorus Harrison ever wrote, and you've got the No. 1 song on this list. Another ambiguous love song that could be directed at a woman or a higher power, "What Is Life" explodes jubilantly, a rare moment of pure celebration for Harrison. He originally penned the tune for friend and Beatles collaborator Billy Preston, "in fifteen minutes or half an hour," he claims, but ultimately decided it was a better fit for his own album. When it came time to record All Things Must Pass, producer Phil Spector gave the track the full Wall Of Sound treatment. There are oceans of reverb, there's celestial echo, horns, strings, a choir of Harrisons harmonizing angelically. It's an onion of pop gold that reveals different parts of itself the more you listen to it, and a perennial soundtrack favorite, used in films like Big Daddy, Patch Adams and an iconic scene in Martin Scorsese's Goodfellas. Thus it became a staple of pop culture and ingrained the world's collective memory of the 1970's, as well as the post-Beatles song most associated with the man who wrote it.