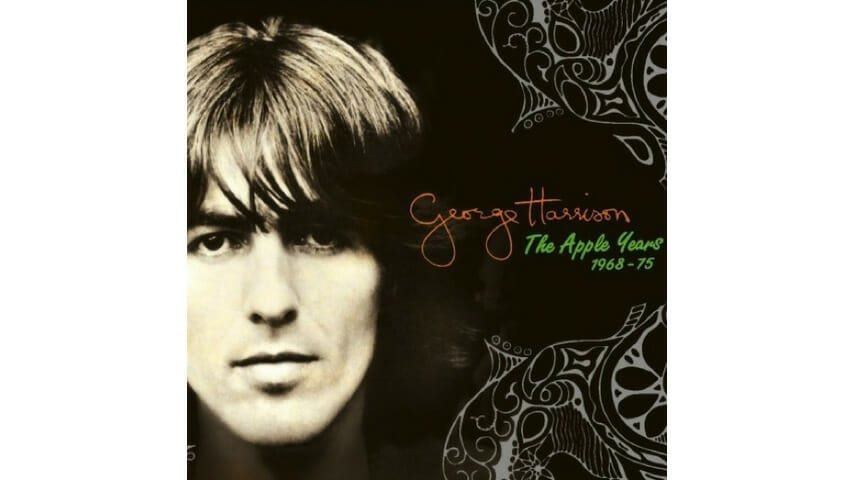 In the hierarchy of Beatles solo albums, George Harrison's rank just above Ringo Starr's increasingly spotty efforts. If it gets mentioned at all, the discussion begins with his 1970 album All Things Must Pass and ends with Cloud Nine, the 1987 release that yielded his last solo hit. The seven albums he recorded between tend to get pushed out of the conversation.
I'm not here to offer up some grand reassessment of the first batch of Harrison's solo albums, which have been sonically spiffed up and repackaged for the box set, The Apple Years: 1968-1975. The six records within, by and large, are uneven affairs that reveal the late musician at his most self-indulgent and his most spiritually striving.
His indulgent qualities are most blatantly evident in the first two albums of this collection: 1968's Wonderwall Music and Electronic Sound released the next year. The former is a soundtrack that Harrison put together to accompany the film Wonderwall, a ridiculous artifact of Swingin' London notable only for the oft-naked form of actress Jane Birkin. Outside of a few moments of psychedelic pop (the great "In The First Place," recorded with The Remo Four), the work only exists as an attempt to bring the sounds of Indian music to a wider audience. The performances by the sitar, shehnai and table players are lovely enough, but far too short to really convey the music's hypnotic power. Even more decadent is its follow-up, an album made up of two long cuts where Harrison messes around with his new toy: a Moog synthesizer. It's a silly thing through and through.
From then on, Harrison went back into a more traditionalist mode, with four albums that delved into themes that have marked almost all the Beatles' solo work—a yearning for love and world peace—as well as revealing his deeply felt religious beliefs and an off-kilter sense of humor.
All of those concerns are wrapped up in the sprawling, ambitious All Things Must Pass. When released in 1970, it was a massive thing: a triple-LP set packaged in a big box. If you were a record shopper at the time, there was no avoiding this thing. And if you took one home, there was no escaping the music either. These are enveloping songs, padded out by producer Phil Spector and a huge roster of players that included Eric Clapton, members of Badfinger, a young Phil Collins, and Harrison's former bandmate Starr.
It's far, far too much music for one release, front-loaded though it is with gems—the singles "What Is Life" and "My Sweet Lord," as well as the ecstatic "Wah-Wah" and the gorgeous rumination on regret "Isn't It A Pity." Who would want to go further into a second LP of songs and then a third of prolix jam sessions? All Things may have sold platinum six times over, but it's also one of the easiest to obtain used records around.
It took three years for Harrison to release another solo album as he spent some time campaigning and raising money to aid refugees left homeless by the eight-month long Bangladesh Liberation War. He came out of that effort swinging, using 1973's Living in the Material World to express his frustration with income inequality ("The Day The World Gets 'Round"), express his deep connection with the Hindu god Krishna ("The Lord Loves The One (That Loves The Lord)"), struggle with his own stardom and wealth (the groovy title track), and to take a dig at his former bandmates and their lawsuits concerning the Beatles' legacy ("Sue Me, Sue You Blues").
Living is the album that benefits most from these remastering efforts, helping bring out the vigor of Harrison's multi-varied guitar and vocal work, the crispness of his production work (the rhythm section sounds particularly present throughout) and his great arrangement skills as how the title track glides from a bluesy swing to a sitar and tabla exploration. Of all the records in the Apple Years box, this is one ripe for rediscovery.
Less so are the other two albums included in this set, Dark Horse and Extra Texture. Not complete artistic failures, these records find Harrison losing his songwriting focus. Some of that could be attributed to issues going on in his personal life at the time that each was recorded. Dark Horse was put together as Harrison was dealing with a crisis of faith and a divorce; Extra came out in the wake of the poor critical reception for both the preceding album and the tour he mounted in North America with Ravi Shankar.
Both albums though have moments when Harrison's focus returns. The giddy "Is It "He" (Jai Sri Krishna)" (on Dark) is a joyous affirmation of his spiritual beliefs that mashes up many of his musical interests with Indian instruments finding consort with rambling English folk and R&B horn stabs. A few of the ballads on Texture cut deep like the desperate "Grey Cloudy Lies" and the piano-and-string heavy "The Answer's At The End." Harrison even manages to come up with a Christmas anthem "Ding Dong, Ding Dong" that is as infectious as McCartney's "Wonderful Christmastime" and as globally minded as Lennon's "Happy Xmas (War Is Over)."
Beatles aficionados who already own previous CD issues of these albums will likely wonder what good can come from cracking open their wallets once more. I wish I could give you good news on that front. I haven't spent any serious time with the previous remasters, so I can't say whether these are an improvement or not. And being a lowly freelancer, I didn't get a copy of the DVD or the booklet to report on, either. What I can say is that the few bonus tracks here don't necessarily help enrich the albums, outside of the welcome inclusion on the Material World disc of "Bangla Desh," the 1971 single that was a precursor to the benefit concerts in New York.
If you fancy yourself a scholar of the Fab Four and all their endeavors before and after, this is essential listening to aid you in getting a little closer to appreciating Harrison's growth as an artist and as a human being. Grab it in one fell swoop with this set or hope that the discs get released individually. Either way, Harrison will be waiting for you with arms wide open and a roguish smile on his face.