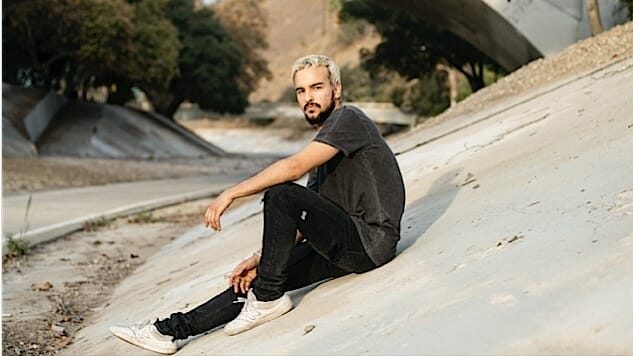 Gabriel Garzón-Montano needs a moment to find a seat in Central Park before we begin our phone interview. His perch seems appropriate, considering the title of his new album on Stones Throw Records is Jardín — or "garden" in Spanish and French, the languages he grew up speaking with his Colombian father and French mother. Jardín is rife with references to the natural world, and Garzón-Montano explains that he's inspired by nature's simultaneous toughness and tranquility. The native New Yorker frequently geeks out on Planet Earth and sees the outdoors as a refuge from both the city's chaos and the insularity of his studio. But he admits that, mostly, he picked the theme as a way to push himself to get away from pop songwriting cliches.
"As a city kid, as someone who's part of a generation that's ever enveloped in technological whatever, I think a lot of people yearn for nature or try to get closer to it," he said. "And, I dunno, you gotta find something to talk about — something inspiring, something colorful. I don't like to plant myself in the modern vernacular or talk about going to a party or some random shit like that — or whatever people sing about."
At Stones Throw — the eclectic label known for vaulting the careers of producers Madlib and J Dilla — Garzón-Montano seems to have found a perfect home for his crisp, concise blend of pop, R&B, soul, and funk. Musicians on Stones Throw are typically known for their technical virtuosity and Garzón-Montano is no different: He played nearly every instrument on Jardín and recorded many of its tracks in a single take on tape.
"I'm definitely very specific and super opinionated," he said, reflecting on whether he considers himself a perfectionist. "There's something that makes an impression on people when [the music] all comes from me, and I see the success of that. It's all very coherent; it all comes from this world."
His obsessively detail-oriented approach — audible in every perfectly timed kick drum and harmony — makes Jardín a standout album. And the project feels right at home amid the excellent wave of nostalgic, soulful pop that has been gaining traction over the past couple of years, beginning with D'Angelo's Black Messiah and culminating with Solange's A Seat at the Table.
Jardín builds an intriguing and unexpected listening experience out of sounds that evoke the comfort of familiarity: Tracks like "Sour Mango" and "Crawl" have a vintage, soulful feel that conjures the crackle of an old record player on a Sunday afternoon. Meanwhile, "The Game" and "My Balloon" layer playful electronics over sparse beats that old-school hip-hop heads can appreciate. For experimental pop and R&B fans expecting a bigger, fuller sound from Frank Ocean's Blond, Jardín scratches an itch for work that pushes boundaries technically and lyrically while maintaining the catchiness we expect from pop.
Garzón-Montano's technical virtuosity and keen sense of pop songwriting are no accident. His mother is a mezzo-soprano, cellist, and pianist who performed with the Philip Glass Orchestra in the '90s. As a child, Garzón-Montano studied the Suzuki method of playing violin. He began writing bedroom pop as a teenager and his music eventually caught the attention of his Manhattan Waldorf school classmate Zoe Kravitz's father, Lenny Kravitz. The two became close, and Henry Hirsch, Kravitz's longtime collaborator, engineered Garzón-Montano's debut EP, Bishouné: Alma Del Huila, which came out on the boutique label Styles Upon Styles in 2014.
After hearing the EP, Kravitz invited Garzón-Montano to open for him on his 2015 European tour, when Garzón-Montano was 25 years old. Touring with Kravitz got Garzón-Montano's name in the press and gave him the opportunity to build a broader fan base. But it also sparked a slew of doubts about how others would perceive him.
"It made me wanna quit music in a lot of ways. I felt like I wasn't as sexy or as appealing on a pop level as him," he said of Kravitz. "It was two months of being in Europe in kind of harsh conditions. When it went well, it was amazing. There were great times. But it left me a little depressed afterwards. I felt like I could never measure up to that and, like, I was just confused. It was really an ego reaction."
Those moments of self-doubt come up often on Jardín, which Garzón-Montano began writing around the same time he returned from tour with Kravitz. "Do you worry bout everything/Afraid you ain't got the tight game/Do you feel just a little too plain/You compare yourself to what's his name," he sings on "The Game."
At around the same time in 2015, Garzón-Montano had another unexpected brush with fame: Drake reached out to him to sample "6 8," the first track from Bishouné. Drake ended up using the song in full — including Garzón-Montano's vocals, which his producer, Noah "40" Shebib, muted to a hum — as the beat for the wistful "Jungle" on Drake's If You're Reading This It's Too Late.
Being plucked by Drake presented another huge opportunity to advance, but Garzón-Montano wanted to be seen as more than a sample. "Everyone was saying Lenny Kravitz and Drake to me from when the sun was setting to when it rose," he recalled. "I think it's like, when someone gains notoriety or any sort of fame, unless you get off on that, you find that the emotional content of it is not what everybody thinks it is. There's this notion in our culture that [fame is] an arrival point, but it's just really alienating."
That's not to say Garzón-Montano is averse to seeking recognition for his music: He just wants to pursue it on his own terms. He's preparing to embark on a national tour to promote Jardín in May. In many ways, the process of writing the album forced him to confront his doubts and become more confident about the kind of artist he wants to be.
"Any complaint I have [about the music industry] is matched with gratitude about being able to do what I love," he said. "At the end of the day, you have to be able to live with yourself. No external stimulus or interactions with people are going to fill your insides. Only you can provide that. I'm just learning to love myself."