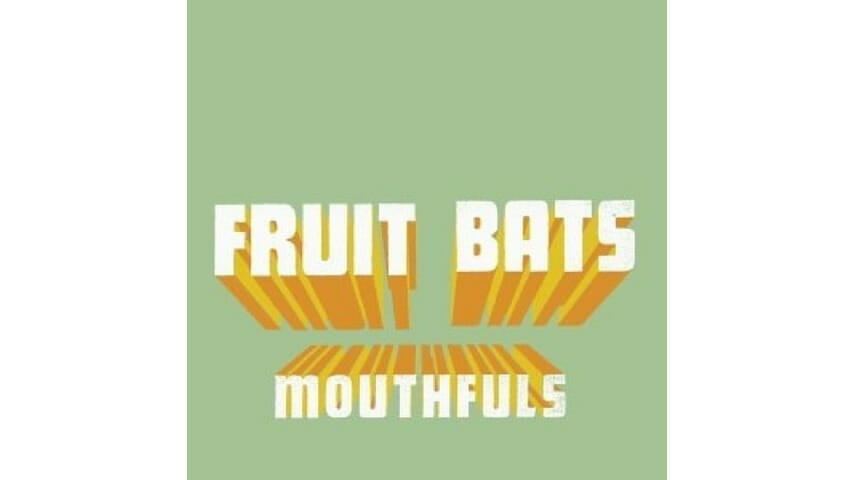 Back before coffee-shop quirk had broken into the mainstream, Eric Johnson's delicate melodies felt more back-porch cool than on trend. And no record captures his intimate, twangy style better than Mouthfuls, the second release from Johnson's solo moniker, Fruit Bats.
Around the time of Mouthfuls' development, Johnson was working as a guitarist for various groups including Califone and The Shins. His on-again, off-again relationship with his then-girlfriend inspired a bulk of the tracks on the record (a handful of which they co-wrote), which are mostly bittersweet love songs that Johnson describes as a "mini cocaine-free version of Rumours." But even though it's been 10 years since Mouthfuls' release on Sub Pop, it still remains a fan favorite, perhaps why it's being re-released via Jealous Butcher Records.
Nowadays, clap 'n' stomp tunes have broken into the Top 40, but back when Johnson was gathering material for Mouthfuls, his folky riffs weren't exactly trendy. In fact, it took encouragement from friends for the songwriter to even pursue publishing his material. After being pushed by acts including Modest Mouse, Johnson eventually gave Sub Pop a call.
"I think it must have been another few months or something before I actually called the label because I was shy as hell," says Johnson. "But finally in a moment of desperation I called them and they signed us pretty quickly. I was shocked and beside myself with joy. It was a watershed moment that sent me off onto a whole new path."
Mouthfuls starts with the acoustic strums and zen lyrics of "Rainbow Sign"—"Bring on the rain tell the lord make it so make it so/ Bring on the wind let it blow, let it blow, let it blow/Waitin' for the rainbow sign"—before building with some well-placed vibraphone and sprinklings of drum machine. A thoughtful mix of traditional guitar and digitized extras, it's a solid opener. Later, the harmonies at the tail end of "The Little Acorn" could easily be plopped into a Beatles track, while the banjo and lyrics of "Seaweed"—"Love is like a spaceship, burnin' up when it hits the atmosphere"—craft a melancholy vibe.
The favorite track, though, is the closer, "When U Love Somebody." A sing-along starter at shows, the simple love song features a repetitive chorus and a steady, catchy beat. Johnson has said that it was a last-minute addition to the album, and, when he couldn't think of anything else to add, he simply repeated the first verse over and over. A good call, because the song is probably Fruit Bats' most popular track to date.
For such a classic record, it's surprising that this is the first time that Mouthfuls is available on vinyl. The reissue features gorgeous hand-crafted packaging with silkscreened jackets and fresh illustrations provided by Annie Beedy. No two LPs are alike, and they are pressed on lovely sea-foam green or yellow vinyl.