Florist Announces New Album Emily Alone, Shares First Single
Photo by Carley Solether
Music
News
Florist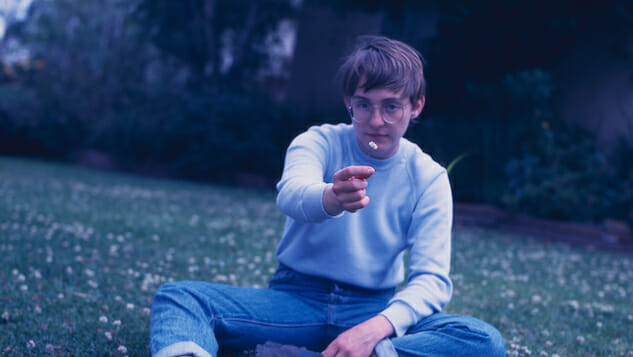 Los Angeles-based songwriter Emily Sprague has released the first cut from Florist's forthcoming album Emily Alone, a warm, pensive track titled "Shadow Bloom," and its accompanying video.
"Shadow Bloom" is a meditative and dreamlike resignation to finding contentment in loneliness. "Do you even want to know the thing you spend your life trying to find? / Secrets from the last time you felt alright / Loneliness is only the last flower to be picked," Sprague hums over patient, softly picked melodies.
"'Shadow Bloom' is a meditation on the mundanity and stillness of life during our greatest moments of growth and transition," Sprague says of the song's meaning. "It's an appreciation for what is and not a lingering on what was or what will be. The calm after great pain, peace in the unknown, welcoming the darkness to come in and warmly fill the empty spaces inside of you."
The video (dir. Carley Solether) finds Sprague in soft, sun-stained scenes of blissful isolation—quietly cutting tangerines, making tea, and power-washing decks as particles of dust and dribbling drops of water twinkle in swaths of sunshine—and matches the wistful funk Sprague settles into in the single.
With the release of"Shadow Bloom" comes the announcement of the songwriter's latest album, Emily Alone, a collection of songs made after uprooting her life in California and moving to New York, out July 26 via Double Double Whammy.
The change in weather and sudden distance from many of the things she once held most close led Sprague to emotionally unspool on Emily Alone, reflecting inwardly and focusing on the strangeness of change and sudden isolation. The songs were born partly "out of urgency to translate an emotional moment," the album's official announcement explains.
Listen to Florist's new single and catch the details of Emily Alone below. You can preorder Emily Alone, out July 26, here.
Emily Alone Tracklist:
01. As Alone
02. Moon Begins
03. Celebration
04. I Also Have Eyes
05. Ocean Arms
06. Time Is A Dark Feeling
07. M
08. Now
09. Rain Song
10. Still
11. Shadow Bloom
12. Today I'll Have You Around
Emily Alone Album Art: