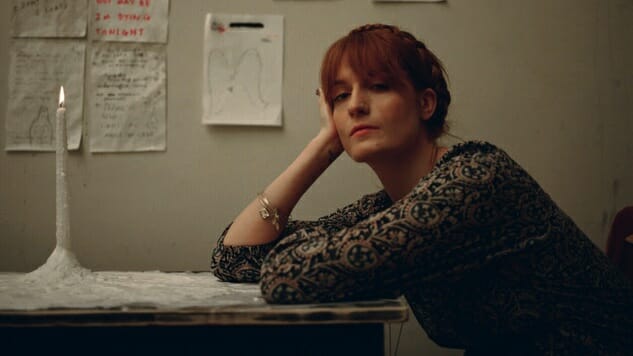 Today's weather forecast calls for a "Sky Full of Song," which is to say that Florence + The Machine are back with new music, their first since 2016. Florence Welch and company will release the song on Record Store Day, April 21, as a limited-edition, double A-side vinyl 7".
"This was a song that just fell out of the sky fully formed. Sometimes when you are performing you get so high, it's hard to know how to come down," says Welch. "There is this feeling of being cracked open, rushing endlessly outwards and upwards, and wanting somebody to hold you still, bring you back to yourself. It's an incredible, celestial, but somehow lonely feeling."
Welch's voice is central to the rather subdued "Sky Full of Song," which surrounds her only with stark bass notes, layered backing vocals and faint horns. "I thought I was flying / but maybe I'm dying tonight," Welch sings as strings crescendo beneath her, the only sign of Florence + The Machine's typical soaring theatrics. The video is similarly unadorned, interspersing abstract visuals with black-and-white shots of a supine, singing Welch.
The Record Store Day release of "Sky Full Of Song" will be backed by a recording of "New York poem (for Polly)," taken from Welch's Useless Magic, a collection of lyrics, artwork and poetry due out on July 5 via Crown Publishing/Penguin.
"Sky Full of Song" is the first release from Florence + The Machine since "Wish That You Were Here," the band's contribution to Tim Burton's 2016 adaptation of Miss Peregrine's Home for Peculiar Children. Around that same time, they contributed three songs to Final Fantasy XV. Their last full-length release was 2015's acclaimed How Big, How Blue, How Beautiful, which we highlighted among that year's best albums.
Florence + The Machine are set to headline a couple of high-profile West Coast festivals in 2018, including San Francisco's Outside Lands and Los Angeles' FYF Fest. Surely we can expect much more from the band this year—fingers crossed for a new album.
Watch the "Sky Full of Song" video (dir. A.G. Rojas) below and revisit the official list of 2018 Record Store Day releases right here.