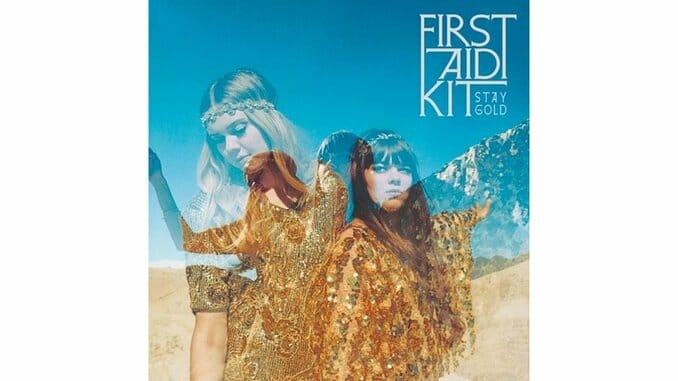 On their major label debut, Swedish sisters Johanna and Klara Söderberg have finally grown into their voices. First Aid Kit's vocal magic has been undeniable since their cover of Fleet Foxes' "Tiger Mountain Peasant Song" became internet-famous in 2008. Six years later, the wispy, whiney country-twang imitations and overeager, grating harmonies that marked First Aid Kit's breakthrough second album The Lion's Roar are gone, having finally given way to a confidence that channels both beauty and pain in songs of bold proclamations and frank confessionals.
That emotional growth on Stay Gold manifests itself in the entire songwriting process. The sisters take the Americana influences so marked on The Lion's Roar and continue to integrate them musically through simple acoustic guitar strumming over swishing brushstrokes on a snare drum ("Cedar Lane" exemplifies this). However, First Aid Kit's storytelling now focuses inward. The simple rhymes of past hits like "Emmylou" have been replaced with darker and more introverted poetry of personalities in conflict and dreams unfulfilled. "What if our hard work ends in despair? What if the road won't take me there?" they wonder in the title track, continuing, "What if to love and be loved is not enough? What if I fall and fail to get up? Oh I wish for once I could stay gold." Elsewhere their pure voices spit such vitriol as "Shit gets fucked up and people just disappear" in "Master Protector" and then screaming almost worthy of a Sleater Kinney record on "Heaven Knows."
The singular beauty of the sisters' singing is bolstered only by the album's strong production. Recorded in Omaha, home of producer (and Bright Eyes founding member) Mike Mogis, Stay Gold features lush arrangements created by Nate Walcott and performed by members of the Omaha Symphony Orchestra. These layered sounds, so intricately woven to complement the sisters' voices, create a completeness that realizes First Aid Kit's musical maturity.