10 Amazing Girl Duets
From Dolly and Sheryl to Holly and Jess, here's a toast to the sisterhood of song.
First Aid Kit photo by Rich Fury/Getty
Music
Lists
Female Duets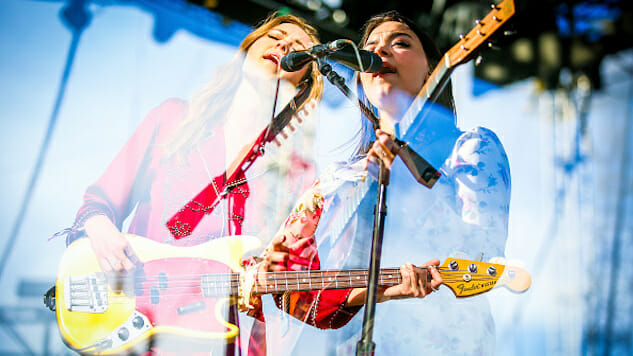 If we've learned anything over the last few years, it's that when women join their voices together, powerful things can happen. We're louder together, and though recent events have magnified female voices, that's been true for a long time, especially in music. From the very first '60s girl groups to riot grrrl confederations to modern supergroups like boygenius, girl bands always have something to say. And there's something just as special about female duos, when two women—sisters, peers and/or friends—marry their voices to form a fortified partnership. Harmonies abound, two voices become one and sisterhood reigns. Some of the duets on this list are classics, while several were released just this year. Swedish folksters and sisters First Aid Kit released both an album and an EP in 2018 (the latter dawned in September), and Aussie pop duo Oh Pep! shared their sophomore album last month. There's no shortage of great female duets happening right now, but we can't highlight those without paying tribute to the heroine pairs who preceded them. Below, you'll find a jumble of past and present, including some of the most iconic female duet performances as well as newly recorded gems.
1. Lucius: "Two of Us On the Run"
Lucius' 2014 debut Wildewoman contains many a shiver-inducing harmony, but few are as potent as those on "Two of Us On the Run." Frontwomen Jess Wolfe and Holly Laessig could be singing about any number of googly-eyed lovers racing past the road blocks and driving off into the sunset together, but, if the song is about their relationship—about two women leaving their fears behind to make something wonderful together—it's even more affecting. The song opens with, "There are two of us on the run / Going so fast, every doubt we had is coming undone," over dusty acoustics and backing howls. You can actually hear the fear melting away in their voices.
2. First Aid Kit: "Emmylou"
Sisters Klara and Johanna Söderberg, a.k.a. First Aid Kit, have an entire catalogue of "amazing girl duets"—melodious love songs, Loretta-inspired ballads and bluegrass-tinged mountain songs—but this is one of their finest. An ode to their country heroes (Emmylou Harris, Johnny and June Cash), "Emmylou" is delicate but fierce. It's both a tribute and a love song, and a glorious display of the sisters' clever songwriting skills: "I'll be your Emmylou and I'll be June / If you'll be my Gram and my Johnny too." In this particular Paste performance of the track, Kara and Johanna are armed only with their mouths and a guitar, but their ground-shaking folk music is such that six strings and two voices sound like an entire choir and orchestra.
3. Oh Pep!: "What's The Deal With David?"
"What's The Deal With David?," a standout from Aussie folk-pop pair Oh Pep!'s new record I Wasn't Only Thinking About You…, sounds like an excited phone call between best friends where one is eager to share all the details about a potential new beau, in this case, "David." It's a ridiculously fun tribute to girl gabbing, destined for play on sleepover stereos and car radios. But it's not cheesy—Oh Pep!'s Olivia Hally and Pepita Emmerichs bring heavyweight instrumental talent to the table, and their arrangements on "David" are anything but gaudy. The result is a contagious pop duet. "Electricity runs down your spine," they sing in unison. "Now you were having a good time."
4. Tegan and Sara: "Back In Your Head"
Tegan and Sara are the reigning queens of female-fronted duos, at least in the indie world, and they've cranked out numerous hits in their 20 years as a band. Any of their songs would fit in on this list, but "Back In Your Head," from their beloved 2007 album The Con, is an especially fun slice of 2000s pop music. It's peppered with the pop-punk sounds of the day, and the identical twin sisters sound flawless in their synchronized vocal arrangements.
5. Sheryl Crow and Stevie Nicks: "Strong Enough"
Originally recorded for her 1993 album Tuesday Night Music Club, Sheryl Crow's "Strong Enough" feels even mightier when Stevie Nicks joins in for a VH1 Storytellers duet in 1998. It's not about finding a strong man to protect her, as the title might suggest; it's about finding a man who'll respect her and her career. "I thought this is a great song for any women who have extreme careers," Nicks says in the introduction. Crow and Nicks share that understanding, and their collaboration on the semi-feminist track is both sweet and strong.
6. Ms. Lauryn Hill and Mary J. Blige: "I Used to Love Him"
This song is what happens when two of the greatest R&B artists of the '90s work together. "I Used to Love Him" is a study in impeccable beats, slick production and caramel harmonies, and it's one of the best tracks from Ms. Lauryn Hill's masterpiece, The Miseducation of Lauryn Hill, an entire album of standouts. Hill and Blige sound like sisters when they sing together—they effortlessly riff off one another, belting out woes about the confusing pain of a relationship gone sour.
7. P.s Eliot: "Tennessee"
Before they were making searing indie rock as Waxahatchee and sweltering punk with Swearin', respectively, music was a family affair for twins Katie and Allison Crutchfield. They formed punk-rock band P.s. Eliot in 2007 in their hometown, Birmingham, Ala., and released three albums and an EP. "Tennessee" isn't a duet, per se: The Crutchfields were bandleaders, not a duo. But they still sing together on the song, as they often do for each other's solo efforts, and the result is a good-natured, familial mood. Each sister's verses are made stronger by the other's responses. At around 2:25, Katie and Allison sing loudly together, "Baby, let's push our limits," as the drums kick up and the song roars to a close.
8. Norah Jones and Dolly Parton: "Creepin' In"
Norah Jones is most beloved for her jazzy songwriter fare, but when she sings with Dolly Parton, you'd guess she was a country troubadour. The bouncing Americana track from Jones' 2004 album Feels Like Home is a lighthearted display of teamwork, one where Parton's sparkly twang rests easily alongside Jones' syrupy murmurs. It's the smiliest tune among Feels Like Home's sentimental stories.
9. Cat Power and Lana Del Ray: "Woman"
Cat Power's Chan Marshall wrote "Woman" during a time when she was at her lowest so that other women might feel strong when they hear it. It's not meant to be sung alone, so Marshall asked former tourmate Lana Del Ray to sing it with her. "She was a good friend when I needed someone to talk to, so that's why I asked her to sing on my song," Marshall said during a Song Exploder episode. Del Ray's husky tenor practically melts into Power's chocolatey alto, eventually hardening to a hearty Americana crisp.
10. The Weather Station and Jennifer Castle: "I Tried to Wear the World"
The Weather Station's Tamara Lindeman and Jennifer Castle, both Canadian songwriters, are longtime friends and decided to release a split single together last month. "I Tried to Wear the World" shares the sentiments of two exhausted friends who continue to lift each other up despite their fatigue with the ways of the world. "It does not matter to the world if I embody it," Lindeman sings. But then, she and Castle admit together, "I tried to wear the world like some kind of jacket / It does not keep me warm, I cannot ever seem to fasten it."