Exclusive: Fashion Brigade Share Tyler Pope and Thor Harris "Kissyface" Remixes
Photo by Ebru Yildiz
Music
News
Fashion Brigade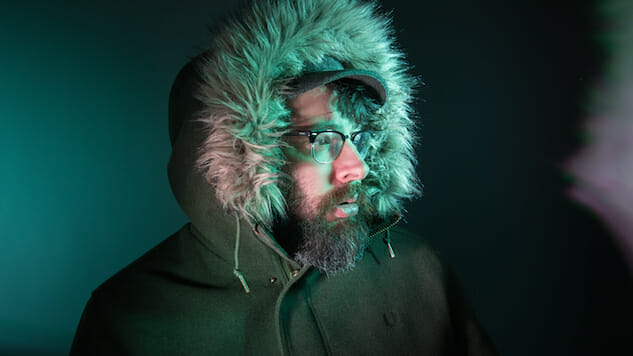 Elia Einhorn of Scotland Yard Gospel Choir has a brand new project called Fashion Brigade and he recently shared two tracks from his four-track debut single, Fvck The Heartache. After dropping the single's title track and an additional song, "Kissyface," today (Nov. 6) he's released two "Kissyface" remixes to round out the single—one by LCD Soundsystem's Tyler Pope and one by Thor Harris (Swans, Shearwater). The remixes are premiering exclusively at Paste ahead of the single's digital and cassette release on Nov. 9.
Tyler Pope's remix of "Kissyface" is a blurry version of the glossy pop original, with washed-out, futuristic synths, a bold bass line, scintillating percussion, and a mix of delicate and syrupy vocals. It sounds like a full-speed drive through a never-ending tunnel during a dream—both lucid and fleeting. The Thor Harris remix, on the other hand, sounds like the slightly eerie aftermath in which you're still dreaming, but now the car is in slow-motion. The vocals are still present, only now they're hushed and in the rear-view mirror, with a series of somber chimes and whipping electronic percussion that ramps up for a thrilling electro-pop finish.
Einhorn says of the track and his collaboration with Pope and Harris:
When Tyler and I met, we immediately became fast friends and cohorts. A couple years back I stayed at his recording studio, Interference Pattern Records HQ, in Berlin for a week. He was between LCD tours and home for half a minute, and we listened to techno records and talked about the Hacienda and Madchester, a sound I still adore. I went to Berghain on Christmas! I was also super into Thor's music, and it turned out that he and I had a bunch of friends in common. When next in Austin, I visited Thor at his incredible home (seriously, it's basically an art gallery), where he gave an impromptu vibraphone concert. I thought it would be amazing to hear these two brilliant and weird musical minds' takes on my song "Kissyface." When they signed on to do remixes, I told them to go as far out as they wanted. Tyler took Madchester acid house as an influence, and Thor went "vibes dub." I was blown the fuck away!
Fashion Brigade will also release a full-length LP of the same name, Fvck The Heartache, next spring featuring at least one collaborator on each song. The collaborators include Frankie Cosmos, Shamir, X's Exene Cervenka and members of Dirty Projectors, Phosphorescent, Icy Demons, Prince Rama and more. After Scotland Yard Gospel Choir were involved in a scary car accident, Einhorn began writing and recording for this new project while still nursing a broken neck, broken back and stitches in his head. The album was recorded in various bedrooms and studios in Olympia, Wash., Brooklyn, Chicago and Wales, and it will be available digitally, on limited-edition vinyl and cassette.
Listen to remixes of Fashion Brigade's "Kissyface" by Tyler Pope and Thor Harris, respectively, below. You can purchase the forthcoming single here.