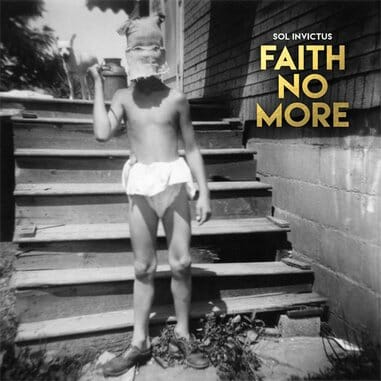 It's been 18 years since seminal metal-freak weirdos Faith No More have released a proper album, but it's inaccurate to say that their fourth full-length, Sol Invictus, has been 18 years in the making. The band was once thought completely done until most of them agreed to a string of reunion dates beginning in 2009, and slowly regained the vision of their often bizarre muses. In the time since the original lineup split, Patton has become a ubiquitous experimental renaissance man, establishing further influential credentials in bands like Tomahawk, Fantomas, Peeping Tom and even releasing a solo album of '50s and '60s Italian pop covers on Mondo Cane.
Of course, the remainder of Faith No More has been busy too, as was evident by the introduction of the track "Matador" by bassist Bill Gould to the band—the spark that fanned the early flame of Sol Invictus. As a starting point for what would become the band's next album, "Matador" is as darkly ambitious as the most eerie material found on 1997's Angel Dust, cloaked as it is with a gothic, piano-lead minor melody. The slow-burn build-up to Patton's triumphant vocals ("We will rise from the killing floor like a matador" being too apt a comeback line to ignore) and to a sinister bass lead second-half anchors one of the stronger songs on the album.
In fact, as improbable as it may have somehow seemed—given the confounding reunion efforts of other previously dormant artists in the last decade—Faith No More appears to have not only written a collection of songs that stand up to the lofty heights they set for themselves from past releases, in some ways they have exceeded them. Herein you find the tatters of The Real Thing, Angel Dust, and Album of the Year, each tong-tossed and flipped to accommodate the band's infamous artistic daring.
The title-track opener is an ominous start, steeped in Patton's watery voice amidst a fluid, spacey wormhole buoyed by Roddy Bottum's poised keyboard work and Mike Bordin's rock-solid drumming. At a lean 2:37 play time, the track serves more or less as a palate cleanser for the explosive "Superhero," which bursts with thundering bass, the growling version of Patton's otherworldly vocal timbres fueled on a raw diet of Jon Hudson's hard-charging chugga-chug riffage. Here everything that makes Faith No More what they are—as difficult as that is to pinpoint—coalesces in a way that makes them as exciting sonically as they are creatively. They sound like they're 22 years old again, or at least they're convincingly channeling the spirit of their 22-year-old selves. Forget age; this is just a killer avant-metal maelstrom.
Obvious anti-single tracks like "Motherfucker" (which, as it turns out was released as a single) and deeper cuts like the spiraling film noir soundtrack styling of "Rise of the Fall" articulate the most important perspective on Sol Invictus: fact or fiction, right or wrong, comedy or tragedy, it's a cavalcade of art-metal yin and yang that's as impressively irreverent as anything they put out 20 years ago.