These Rising Nashville Stars Stick Together The Same Way We Do—With A Group Message
Erin Rae, Kelsey Waldon and other up-and-comers don't just support each other from afar—they're actually friends. And that makes all the difference in the world.
Photos by Marcus Maddox, Laura E. Partain, Angelina Castillo & Matt Wignall
Music
Features
Erin Rae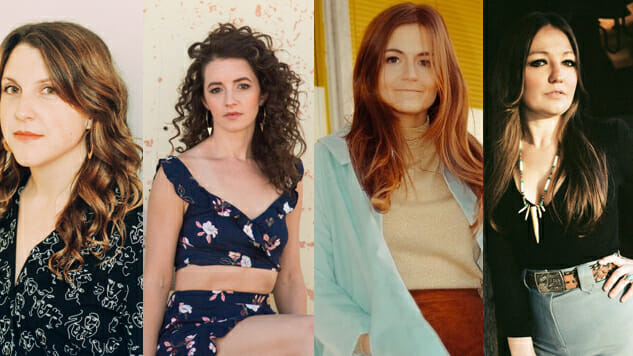 The first thing you'll notice about the women driving Nashville's music scene today: They all like each other. It's not polite admiration, the way people in any industry generally tend to play diplomats and say nothing but blandly cordial things about one another, but honest liking, where professional respect intersects with affection.
Sitting across from me at Dose Coffee's location in Nashville's Riverside Village, Erin Rae's phone is popping off. She's on a group text, she says, with Caroline Spence, Michaela Anne and Kelsey Waldon. Caroline is in the U.K., updating the gang on her travels. "She says she's in a hotel by Heathrow," Rae informs me. "She just landed over there. She's knitting and watching the BBC." This seems like the kind of perfunctory bulletin only shared between bonded people, to whom details like accommodations abroad actually matter.
But notes about itineraries and craft projects comprise just a portion of the text chain's contents: Stories about bummer ticket sales or road trips gone awry make up the communications, too. "We're always checking in on each other," Anne explains a week after my chat with Rae. "We all feel really grateful to know that we have a network where we're able to share the hardships and disappointments." The way Anne talks about her ongoing conversations with Rae, Spence, and Waldon sounds awfully close to therapy: They function as a safe space for being vulnerable about life's letdowns. There's no need for posturing, no harm in venting. Instead there's compassion and empathy for the rough times.
With the bad comes the good, of course—all the successes and validations that make the musician's life worth all the hassle and hustle. Ultimately, it's neither one nor the other that demonstrates the text chain's great worth; it's both. That's networking. That's peer support. That's Nashville, at its best.
"It's an unfortunately unique thing to have that really genuinely supportive group of not just friends, but friends who completely get what you're going through," says Anne, who moved to Nashville from New York City five years ago after attending the School of Jazz at The New School (formerly The New School for Jazz and Contemporary Music). But even rarer than the common experience is the common admiration. "If I didn't know them, I'm genuinely fans of theirs," Anne adds. "I actually put on their records. I actually listen to them! That's really a unique and amazing thing, I think."
As Nashville is home to countless musicians with more chops in their pinkies than most have in their entire bodies, this shouldn't come as much of a surprise. Factor in that Nashville's 2019 slate was brimming over with terrific releases, and the surprise is blunted further: Anne's Desert Dove, Waldon's White Noise/White Lines, Yola's Walk Through Fire, Lillie Mae's Other Girls, the Highwomen's self-titled record, Miranda Lambert's Wildcard, Maren Morris' Girl. It's a long list. Of course Music City's songwriters listen to each other's work. They share zip codes and callings, and they're all really, really good at what they do.
But there's something else at work here, something beyond affection and esteem: The magnetizing effects of likemindedness. Identifying women making music in Nashville as "women" first and "musicians" second is déclassé. That language reinforces the idea that male musicians are straight-up musicians, whereas women (and gender nonconforming people) make up their own musical subcategory. But women in the music business still face more uphill challenges than Sisyphus. In Nashville specifically, the sheer volume of talent on the XX spectrum, combined with gender discrepancies in the field, make these otherwise gauche distinctions at least a temporary necessity. When asked why the city's country scene today is shaped predominantly by women, Doug Hall of Nashville's Big Feat PR slyly remarks that it's because "that's where the talent is." He's half-joking, but the other half is the stone-cold truth.
Given that the best music coming out of Nashville today is authored by women, and that women have to vault over the same damn hurdles just to get their music made, it makes perfect sense that Anne, Spence, Rae, and Waldon are close: They have similar goals and ambitions, and they've dealt with analogous experiences in the industry. They're kindred spirits.
"We're all going through the same things right now, I feel like, with our careers, the learning curve and the navigation of it," Waldon opines from the road while touring White Noise/White Lines. She, too, invokes the text chain, which is probably the best proof that something as seemingly trivial as text exchanges has enormous value: It's a reminder that "the company you keep is important." She's in pretty strong company.
"We all encourage each other to be ourselves and embrace ourselves," Waldon notes. "When any of us are feeling imposter syndrome or something completely ridiculous, or feeling the pressures of where we're at in our career, we all lean on each other and push each other forward."
The encouragement dynamic is her definition of community as well as one of her greatest influences; she rejects the social stigma that women are always in competition with each other and takes pride and joy in her friends' accomplishments. "It feels like a victory, when one of them does something good," she says. "I'm lucky to have friends like that in this town for sure."
Waldon relocated to Nashville when she was 19, then back home to Kentucky until she turned 21, then back again to Nashville (More or less—she now lives just outside the city), where she has stayed since. Living in Nashville as a country artist is a true blessing. It means waking up surrounded by the city's historical inspiration every day. For Waldon, it also meant connecting with women like Rae, Spence, Anne, and Margo Price, too, and in those connections she found camaraderie. "A lot of these ladies were some of my first friends in town," Waldon says fondly.
There's a pleasing irony to her story. Waldon set out in search of identity, what she describes as her personal "vision quest." Over the passage of time and the production of three studio albums (plus four EPs), she's found that identity, but in part that's credit to amity. Palling around with the gang helped her refine her voice and gave her backbone. So it goes for Spence, Rae, and Anne. Maybe that's what it means to find oneself in Nashville: to first find others like you, and from there figure out who you are as they cheer you on (and you them).
"Both men and women come into Nashville and they're like, 'Oh, shit, people are really doing music here, people are really good,'" Rae says. "Naturally, you hear that regularly, and you want to be better."
But being better, as she sees it, doesn't mean being at odds with others. She references an old interview with Linda Rondstadt, who when asked about Trio pointed out that she could either be jealous of Emmylou Harris, or she could be her good friend; the rest is history. "She chose to make that shift," Rae muses. "It's kind of an unconscious choice that's been passed on to new people that join the community." Seems like a better option than brutal dog-eat-dog competition. Everyone comes to Nashville with the same dreams, after all, and by sticking together—by swapping songs, shaking hands, making new introductions, sharing tips about self-releasing—those dreams become possible.
---
Bostonian culture journalist Andy Crump covers the movies, beer, music, and being a dad for way too many outlets, perhaps even yours. He has contributed to
Paste
since 2013. You can follow him on Twitter and find his collected work at his personal blog. He's composed of roughly 65% craft beer.