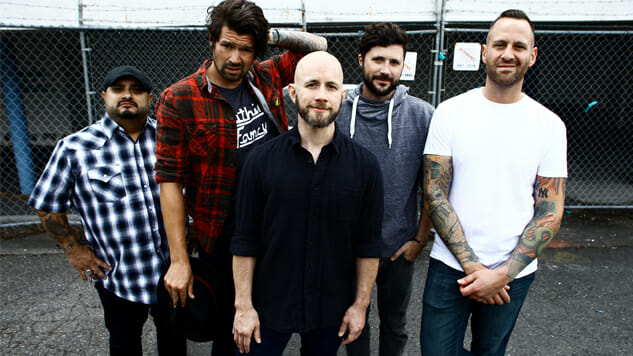 Extra long bangs. Dark eye makeup. References to death and funerals. These are all things that we saw a lot of when finding and ranking the best emo music videos. Narrowing down the 10 best was no easy feat. From the more cheesy videos to the elaborately produced ones, there are truly some gems in the emo videosphere.
It's not a secret that the emo scene is experiencing a revival that is just as strong than it was in the early-to-mid 2000s. Bands like My Chemical Romance, Mayday Parade, Cute Is What We Aim For, The Used and countless others have been celebrating 10 or even 15 year anniversaries of beloved albums that accounted for their big breaks. Emo night events sell out in major cities coast to coast, and there's going to be a Warped Tour Cruise this year.
Whether the revival is due to a continued love for the genre or an overwhelming wave of nostalgia (or a mixture of both), many fans have begun yo break out their black nail polish again. Whether you're watching these videos for the 12th time or the first, here are the 10 best emo videos that will help you get in touch with your emotions.
10. Say Anything, "Alive With The Glory of Love"
While Say Anything's music generally sounds happier than other bands, their lyrics do run deep. In fact, this song was inspired by frontman Max Bemis' grandparents' experience during the Holocaust, with references to gold fillings, bullets and work camps. The video centers around two little kids who sneak out with their flashlights late at night to share an adorable kiss…and then crowd surf on top of a bunch of other kids who have snuck out to watch Say Anything perform.
9. Jimmy Eat World, "The Middle"
Here's a video that gave us pretty unrealistic expectations of what high school parties would be like, with so many string lights and pretty, not-self-conscious girls prancing around in their underwear! The more realistic and relatable aspect of the video is portrayed by the main character who does not quite fit in at the rager. This is a great example of how music can make the listener feel less alone, because somebody else knows exactly how they feel.
8. Dashboard Confessional, "Screaming Infidelities"
No list about emo music is complete without a mention of Dashboard Confessional. Here's a song that is impossible to not scream-sing along with. In the video for "Screaming Infidelities," frontman Chris Carrabba and his girlfriend move in together and build their new life, celebrating milestones like Christmas and birthdays. Everything goes smoothly until, presumably, someone cheats on the other. The relationship falls apart, and the girlfriend even (gasp!) takes off her necklace that he gifted her earlier on in the video to really prove that things are over.
7. Saves The Day, "At Your Funeral"
This video is relatively simple, making it uncharacteristic compared to others in the genre. For such a morbid and serious song, you'd expect a much darker aesthetic (a la My Chemical Romance). And yet, part of the beauty of the video is its unpredictability. Shot in an empty room, we see new people move into the space, grow, and leave once again. It all seems to be a metaphor: the more things change, the more they stay the same.
6. Motion City Soundtrack, "Everything is Alright"
This video and song embody a lifestyle that so many of us lead—pretending that everything is okay, but actually hating everything (the ocean, theme parks, airplanes, talking with strangers, waiting in line). The scene is set in a therapist's waiting room, appropriately so, since the song loosely references mental illnesses. Lyrics such as "I'm sick of the things I do when I'm nervous / Like cleaning the oven or checking my tires / Or counting the number of tiles in the ceiling" hint at anxiety and OCD. Singer Justin Pierre goes into a therapy session in which the wall of books can move out of the way to allow for the band to play periodically.
5. The Used, "The Bird And The Worm"
The scene is set with a bunch of young adults in line, sporting archetypal emo and scene haircuts characterized by very long bangs and/or colored hair. Frontman Bert McCracken appears, bearing an eerie resemblance to Kurt Cobain, from his hair to his layered shirts to his chipped black nail polish. We follow him and his mind through a whirlwind journey: His wrist begins to bleed…or does it? He sees a dark-haired reflection in the mirror. He disappears right into the couch. The video illustrates symptoms of schizophrenia in a scary powerful way, while being a perfect visual for the song and the feelings it evokes.
4. The Starting Line, "Best Of Me"
This song was very commonly embedded on emo boys' MySpace pages. The video takes place in suburbia, where a teen is trying to woo a girl he likes by—of course—playing music out of a boombox outside of her house. This is how he plans to earn her love, in addition to gifts and advice he gets from passerbys. When the cassette (yes, cassette) breaks, The Starting Line appears and saves the day by playing live right out on the front lawn. Here, frontman Kenny Vasoli is living his best life, sporting his best look with bleach-blonde hair. Bonus points for the fact that a rain machine is involved.
3. Brand New, "The Quiet Things That No One Ever Knows"
It wouldn't be an emo music video without a hospital scene. This dark video is the perfect visual accompaniment to this song off of their iconic album, Deja Entendu. Lead vocalist Jesse Lacey and his video girlfriend get into a car accident, and we follow them through an emotional journey from the ambulance, through the halls of the hospital, into the operating room and back to the waiting room—which, of course, doubles as a performance space for the band.
2. Taking Back Sunday, "Cute Without the E"
Just the aesthetics are enough to earn this video a spot on our list. Frontman Adam Lazzarra is wearing black nail polish. His bangs are literally down to the tip of his nose. He's wearing a stack of plastic bracelets. But on a more serious note, this video is a great visual representation of the dynamic between Lazzarra and co-vocalist John Nolan. Plus, the entire video is a reference to Fight Club, which is pretty awesome.
1. My Chemical Romance, "Helena"
Gerard Way has very publicly stated that he does not think MCR is emo and that he doesn't even like emo music (?!). But whether or not he likes it, his band is strongly associated with the movement. There's no denying the impact that the band had on other bands in the genre and the effect that Way had on fashion in the era—from his colored hair to his eye makeup. This is for sure one of the most iconic videos of the bunch, with its choreography, elaborate costumes and bountiful dark eyeshadow. Emo kids can only wish their funerals will be as fabulous as Helena's.