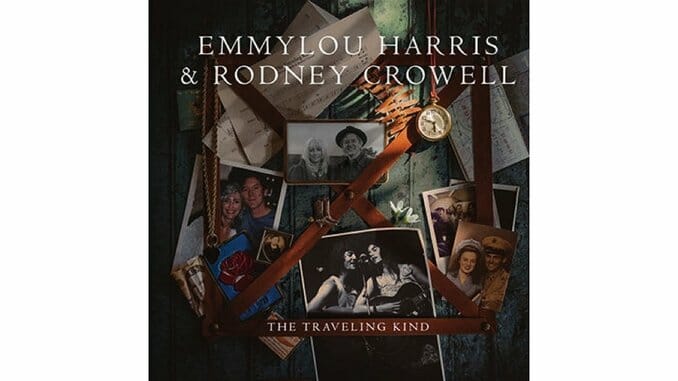 If Old Yellow Moon, Emmylou Harris and Rodney Crowell's first-ever duet album, felt like old friends catching up and remembering old times, The Traveling Kind seems like one for the road. Entrenched in the things they do well—roadhouse revelry, a funky kind of country honk, heart-aching ballads—the Joe Henry-produced project eschews the formalness of old friends finding their way for a playful jumble that bubbles ("Bring It On Home To Memphis"), sweetheart waltzes ("Just Pleasing You") and tracks that get down in the pocket ("If You Lived Here, You'd Be Home Now").
Crowell has always had a hip-tilt cool to his Texas urgency, while Harris' silvery voice is pristine, glistening, a perfect conduit for raw emotion. Though unlikely as partners in vocal style, especially with Crowell's word-punch phrasing, their roots resonance merges on the saddest song of romantic failure, "You Can't Say We Didn't Try," which ripples with the raw ache Tammy Wynette brought to her best work.
The ethereal "Higher Mountain" is seeking, believing—and Harris is a pilgrim on a path to transcendence, acoustic instruments creating a basket for all the emotions she sows. Equally gripping are the traded-off vocal lines on "No Memories Hanging 'Round," deliciously sung 30-some years ago as a duet between the burgundy-voiced Rosanne Cash and craggy tomcat Bobby Bare on her debut. Here the song moves from plea to surrender: two weathered grown-ups try to forget the past in another's arms. Clear-eyed, grown up, this is old-school icehouse country for people of complications and contradictions.
Not all is broken-hearted or vintage. "The Weight of the World" finds a shake-shake groove, drops a lot of half-spoke poetry and stares down the state of the world, with a waft of how we got here. The full-tilt lyrics—recalling Dylan's "Subterranean Homesick Blues"—tackle mountain top removal, plastic bottles, toxic water sources and beyond.
Lucinda Williams' "I Just Want To See You So Bad" is the only misstep. If it fails to match the writer's ragged urgency, the title track, perhaps the best benediction for those who cast their life in and to the songs, creates a counterbalance.
Having survived the '70s, divorces, career lulls and triumphs as well as parents gone and children grown, the pair realize music empowers them. Halfway through they sing, "We were born to brave this tilted world/ With our hearts laid on the line/ Be it Waycross boy or red dirt girl/ The song becomes the traveling kind."
So it is, and so it will be. Emmylou & Rodney, forever and Americana ever. Amen.