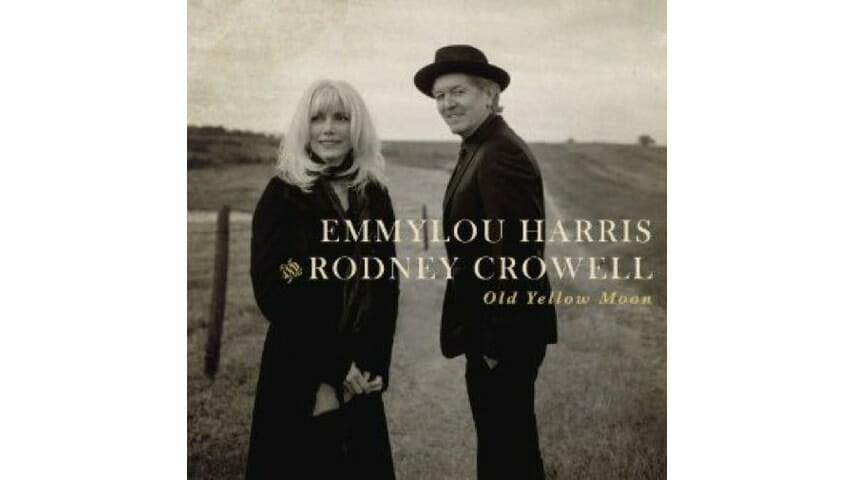 On "Hanging Up My Heart" and Roger Miller's vintage "Invitation To The Blues," Old Yellow Moon's opening tracks, Rodney Crowell and Emmylou Harris seem to embrace a randy hard-country throwdown, tinged with Texas shuffles and twin fiddles. But that's hardly the point.
Their duet project—the first for the man who became the Emmylou Harris to Harris' Gram Parsons on her solo debut, Pieces of the Sky—is certainly classic country, but its greater truth emerges as Harris' brooding take on Patti Scialfa's "Spanish Dancer" presages a contemplative journey through lives lived to the hilt, addictions and their costs and recognition of one's ultimate place on the horizon.
From there, an acoustic piano rises and falls as Crowell considers the narrowing portals and missteps along the path in the slow-moving "Open Season On My Heart." Harris offers harmonic bolstering on the chorus of Crowell's clear-eyed assessment, taking a chunk of a later verse as a plaintive steel pours tears across the sparse arrangement.
The running-on-the-rims acoustic guitar punch on Kris Kristofferson's "Chase the Feeling" serves to reinforce the rejoinder to a lapsed junkie who may not make it. The next track's slighter addiction—Hank DeVito and Donivan Cowart's smoky Texas blues "Black Caffeine"—adds staccato bravado and lightens the tone.
The highpoint is perhaps Allen Reynolds' jewel "Dreaming My Dreams With You," a bittersweet waltz that harvests lives lived in songs, hopes and the love of one who could never quite be. When the pair's voices merge in an ethereal "ooooh" over the bridge, the potency of their shared history enters a sublime realm beyond words.
They reprise Harris' solo debut's opener "Bluebird Wine," with Crowell taking lead vocals on the pumping acoustic guitar-driven rendition. Joyous and free, the thrill shared is palpable.
But it's the pensive moments that close Moon that matter. "Back When We Were Beautiful," Matraca Berg's chilling song of aging sung by an old woman to her much-younger listener, sets up Crowell's "Here We Are." The hushed ballad realizes what was sought was already within the singer's grasp.
The only misstep: the rodeo gusto of "Bull Rider" breaks what should've been a happily-ever-after one-two punch of grace and acceptance. "Old Yellow Moon," the closing track, finds Harris' voice slightly catching on the melody as Crowell gently rises to meet her soprano; voices merging, they suggest solace in the companionship of old friends as an accordion wheezes and the steel ripples. Ahh, the beauty of lives realized.