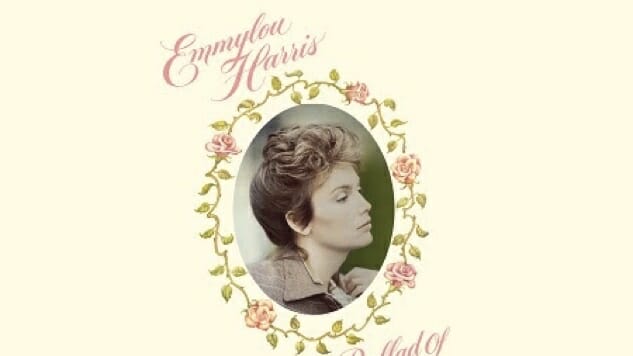 The Ballad of Sally Rose has been largely overlooked for more than 30 years, but the album was pivotal for Emmylou Harris—even if it wasn't apparent at the time. Despite hitting No. 8 on the Billboard Country Albums chart and getting Harris nominated for a Grammy, the singer has said her 1985 "country opera" concept album was a commercial disaster.
Yet The Ballad of Sally Rose, reissued June 1, did several important things for Harris. With vocal contributions throughout from Dolly Parton and Linda Ronstadt, the album helped jumpstart a collaboration the singers had been talking about since the late 1970s. The resulting Trio LP released in 1987 went platinum, and ranks among each woman's best-selling work. Sally Rose also showed that Harris could be as potent a songwriter as she was an interpreter: she had a hand in writing all 13 tracks on the album, marking the first time since her 1969 debut that Harris had included more than a handful of her own songs on a release. She wouldn't do it again until Red Dirt Girl in 2000.
"I felt if I didn't get the writing part of me going, I had just done everything," Harris told the Chicago Tribune in 1986. "I mean, I could continue to find good songs and make good records, but if I was going to keep on, I was going to have to prove myself to myself."
She succeeded: Harris has described The Ballad of Sally Rose as a favorite from her discography. The album tells the story of a young woman who meets a famous singer and joins his band. They fall in love as she develops her own voice, then part when complications ensue, and he dies in a car accident before they can reconcile. Harris had pieces of a few songs on the album dating as far back as the late '70s, but it wasn't until she teamed with the songwriter and producer Paul Kennerley that the writing took off. "I was completely stuck. And we set about and in 10 days finished six songs in the first writing we did together," she told the Chicago Tribune in 1985.
Like a lot of country records in the '80s, it has a glossy sheen, but the sleek production on some tunes (by Harris and Kennerley, who would soon become her third husband) never overshadows the songwriting. Harris is a deft lyricist on songs full of vivid imagery that includes allusions to hymns, gospel and the American west, and her melodies—or even just phrases—frame the ache in her voice in a way that can break your heart. She finds solace in her own perseverance on "Diamond in My Crown," lets her powerful voice carry the pulsing country-rocker "White Line" and mourns from a seemingly bottomless reservoir of feeling on "Sweet Chariot." With its layers of rich vocal harmony and elegiac lyrics—she sings on the chorus, "Swing down sweet chariot / The flesh will fall and the bones will rot / But from my sorrow you'll carry me not / My heart is bound, my soul is chained to the rock"—the song ranks among the best she has ever written.
"She's iconic," says Emory Gordy Jr., who played bass and acoustic guitar and wrote string arrangements for the album, which also includes contributions from Waylon Jennings, Albert Lee and Vince Gill. "You listen to her voice, it's unmistakable. You listen to her delivery, and her soul, it's just immaculate."
That's true even on the demos. The reissue includes bare-bones versions of 10 songs that feature Harris singing accompanied only by an acoustic guitar—and spellbinding vocal harmonies she overdubbed as a guide for Parton, Ronstadt and the other backing vocalists. "When I hear her voice, it moves me somehow. It touches my soul," Parton tells Paste. "I love our voices together. I love how our harmonies blend, our voices are enough alike that they're real compatible."
Parton says The Ballad of Sally Rose stands out to her as much now as it did in 1985. "I think it's one of the best albums ever in the business," she says. "It's got her heart and soul in it, at a time when she was still vulnerable and tender."
The vulnerability was part of a rare glimpse of autobiography in the songs. Most of the details vary considerably from Harris' own life, but the song cycle is loosely based on the brief stint she spent singing with Gram Parsons, who died in September 1973 from an overdose of morphine and alcohol. Harris contributed vocals to Parson's first solo album, 1972's GP, and was a full-on duet partner on the follow-up, Grievous Angel, which came out early in 1974, a few months after Parsons' death. Singing with Parsons helped turn Harris from a little-known folk singer based in Washington DC into a country star in her own right, and one of the most sought-after collaborators in American music. She has sung over the years with Bob Dylan, Johnny Cash, Elvis Costello, Ryan Adams, Bright Eyes, Cyndi Lauper, Beth Orton, Lucinda Williams, Neil Young and so many others that Wikipedia divides Harris' collaborations into four different sections.
Though Harris gave voice to her grief over Parsons' death when she wrote the wrenching "Boulder to Birmingham," from her major-label debut Pieces of the Sky in 1975, she didn't address the subject in her music again until The Ballad of Sally Rose. "These are songs I'd been wanting to write for a long time," she told The Washington Post in 1985. "The last 10 years of my life have definitely been influenced by Gram, and probably as long as I'm singing, I'll have to look at that as the turning point."
Harris' own music was a turning point for plenty of other musicians, including Vince Gill. He first heard Harris singing on a Linda Ronstadt album, but discovering Pieces of the Sky was revelatory. "Up to that point, I was this musical sponge," Gill tells Paste. "I learned to play a little bit of what Eric Clapton did, a little bit of what Bill Monroe did, and then I heard that record and knew for the first time in my life which way I wanted to point. I thought, 'This could be something I'd like to do right there.' I still remember it like it was yesterday."
Gill played guitar and sang on The Ballad of Sally Rose, but the experience wasn't exactly what he imagined it would be. Gill was in the studio with Kennerley one day, recording backing vocals. "It was long, tedious kind of work, and I made some offhanded comment about how, 'I've been waiting my whole life to sing with Emmy, and all I'm doing is singing some oohs,'" Gill says. Kennerley took offense, and told Gill he never wanted to work with the young guitarist again. Eventually they made up, and Gill says he learned an important lesson: "Paul taught me that no matter how small a part you played on a record, it's equally important to every part. It was a great life lesson, about the democracy of the record making process."
The lackluster commercial reception for The Ballad of Sally Rose didn't dissuade Harris from continuing to record her own songs. In fact, she's done it more often, especially on the four solo albums she has released since 2000. "I adore the songs that she has written," Gill says. "She has, and deservedly so, one of the best reputations in the world of being a song interpreter, but when you hear her heart on the paper, it's even better."
Parton, who knows a few things about songwriting, calls Harris "a natural." "She's so sensitive, she's so smart, she's so tender and so creative, she's so observant with everybody and everything," Parton says. "Even now, all she'd have to do is just sit. It just comes out of her. She's precious in every way."
As for why The Ballad of Sally Rose didn't become her eighth gold album, there were plenty of factors out of Harris' control. "What makes it successful is not what you do. It's what the record company does, and all the bits and pieces coming together," says Gordy, who's also played with Elvis Presley, Tom Petty, Neil Diamond and John Denver. He first met Harris in 1973 during sessions for Grievous Angel. "With Sally Rose, the record company was dysfunctional at that point. I don't think they realized what they had. Their heads were somewhere else."
Though record executives tend to focus on the bottom line, The Ballad of Sally Rose was a success in other ways. "It was just such an honest album," Parton says. "If you want to know about Emmylou, you'll know about her through this album. It's her story, and it's her telling it, and it's her singing it."