Listen to a Pre-Slim Shady Eminem Perform "My Name Is" in 1999
Marshall Mathers performed at Tramps in NYC just before releasing his breakthrough record.
Photo: Getty Images
Music
Features
Eminem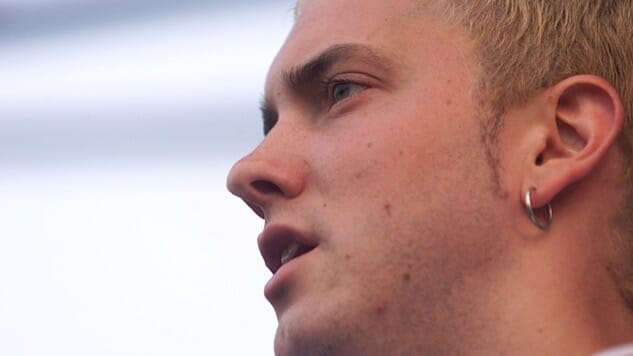 Did you know that Paste owns the world's largest collection of live music recordings? It's true! And what's even crazier, it's all free—hundreds of thousands of exclusive songs, concerts and videos that you can listen to and watch right here at Paste.com, from Dizzy Gillespie to The Kinks to The Police to LCD Soundsystem. Every day, we'll dig through the archive for the coolest recording we have from that date in history. Search and enjoy!
Before "stan" entered the pop-culture lexicon, Eminem was just another unknown rapper trying to make a name for himself. In February 1999, that name was Slim Shady, when the eponymous LP's release made Eminem the quintessential rap star of the new millennium.
Just before that, on Jan. 9, 1999, Eminem performed at the now-defunct Tramps in New York City. Today, we're listening back to that recording from 19 years ago, when audiences were first getting to know the real Slim Shady. The Slim Shady LP came out just a few weeks later, and the rest, as they say, is festival headliner history.
For a deeper dive into Eminem and more iconic hip-hop, check out our roundup from the Paste archive here.