Eminem Returns with Surprise Album Music to Be Murdered By
Images via Dave J Hogan/Getty, Interscope Records
Music
News
Eminem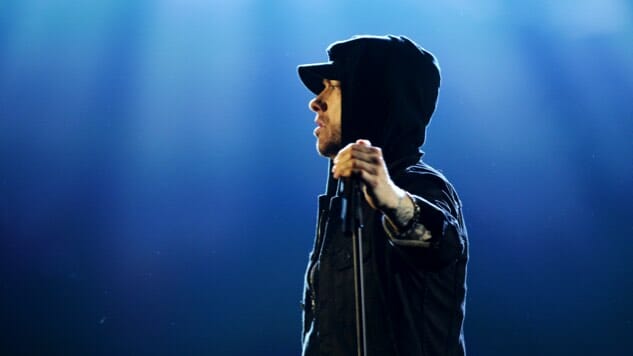 Eminem addressed the nation early Friday morning with a surprise album release titled Music to Be Murdered By. The 20 tracks include diverse features from Young M.A, Ed Sheeran, the late Juice WRLD, Anderson .Paak and more.
It's your funeral…#MusicToBeMurderedBy Out Now – https://t.co/q4TAFJUVGVpic.twitter.com/6PqnTjCKgu

— Marshall Mathers (@Eminem) 17 January 2020
Music to Be Murdered By is the first Eminem album since 2018's Kamikaze, which the rapper also surprise-released.
Mathers has also released a video for the album's eighth track, "Darkness." This song is an open diary of sorts for (or from?) the Las Vegas shooter, Stephen Paddock. Mathers' point-of-view is peculiar: Sometimes he speaks about the shooter, but most times he speaks as the shooter. The camera cuts back and forth between footage of the shooter drinking and taking pills in a hotel room surrounded by guns, and Eminem alone in a dark room. The two wear matching hoodies. We're assaulted by images of drugs, liquor and guns as the shooter prepared to fire on the crowd at Route 91 Harvest Festival before he committed suicide. The depiction of his genocide is accurate even down to the cameras outside his door.
Stylistically, the video emphasizes the isolation and depression that is relevant to conversations surrounding mental health and gun control in America, and even concludes with a public service announcement urging viewers to care about these problems and use the internet to get informed. Check out his website for ways to get involved, and as always, get registered to vote.
Watch the "Darkness" video, revisit a 1999 Eminem performance from the Paste archives and see the details of Music to Be Murdered By below.
Music to be Murdered By Album Art: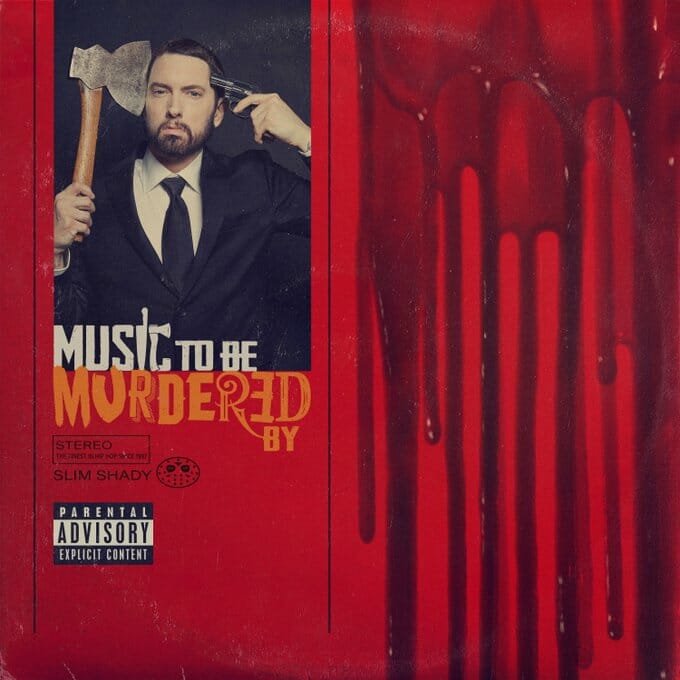 Music to be Murdered By Tracklist:
01. Premonition (Intro)
02. Unaccommodating (feat. Young M.A)
03. You Gon' Learn (feat. Royce da 5'9" & White Gold)
04. Alfred (Interlude)
05. Those Kinda Nights (feat. Ed Sheeran)
06. In Too Deep
07. Godzilla (feat. Juice WRLD)
08. Darkness
09. Leaving Heaven (feat. Skylar Grey)
10. Yah Yah (feat. Royce da 5'9", Black Thought, Q-Tip & Denaun)
11. Stepdad (Intro)
12. Stepdad
13. Marsh
14. Never Love Again
15. Little Engine
16. Lock It Up (feat. Anderson .Paak)
17. Farewell
18. No Regrets (feat. Don Toliver)
19. I Will (feat. KXNG Crooked, Royce da 5'9" and Joell Ortiz)
20. Alfred – Outro